Strategies
Fanduel NBA Lineup for Wednesday March 11th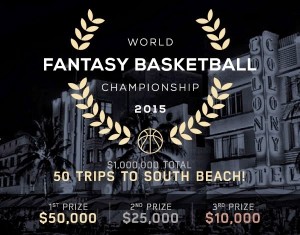 Russell Westbrook is the centerpiece on FanDuel
but who will support him in your lineup tonight? The NBA has a busy ten game lineup that features not only Westbrook but the other top fantasy scorer James Harden. Westbrook will look to protect his home floor against the Los Angeles Clippers.
Meanwhile Harden will lead his Houston Rockets into Portland for a showdown with the Trailblazers. Some owners may consider going with Harden over Westbrook but it is hard to imagine going with any over him with five triple doubles in his last six games.
That being said we won't spend much time on why you should use Westbrook as everything except his salary is a plus. Now since we are using Westbrook the question we had to ask is can we find a few FanDuel sleepers to make another top scorer work as you have a little over $5,800 left to spend after selecting Westbrook.

Here is our FanDuel
Lineup for Wednesday February 11th.
PG – Russell Westbrook ($13,300): Westbrook should be in most fantasy lineups tonight so it makes sense to use him to off-set any type of performance he may generate. He is also a triple double waiting to happen almost any night of the week.
PG – Dennis Schroder ($5,000): The Atlanta Hawks backup point guard has a great matchup tonight against the Denver Nuggets. Along with the matchup, Schroder has also posted at least 24 fantasy pints in five straight contests.
SG – Gary Neal ($4,300): Neal has been up and down all season but if you can catch him on a good night he can post over 30 fantasy points for your team. This has been the case of late with two 33 plus fantasy performances in his last four games.
SG – J.J. Redick ($5,600): Redick is benefitting from the absence of Jamal Crawford with the early reports today that he will miss another game. The Clippers shooting guard has posted six straight 22 plus fantasy performances and should be part of a high scoring contest tonight in Oklahoma City.
SF – Andrew Wiggins ($6,500): While the matchup might not look great we like Wiggins tonight against the Phoenix Suns.  The Suns are ranked second in terms of pace of play while this contest is expected to be around a combined score of 210 points. Wiggins also gives you a guy that can drop 30 plus fantasy points almost any night.
SF – P.J. Tucker ($5,400): Again this is more of a play based on the pace of how this game could go tonight. That being said Tucker has shown at times he can put up big games with four 33 plus fantasy point performances in his last ten games.
PF – Markieff Morris ($6,500): We debated with Markieff and Marcus tonight for the Suns so if you are looking for cheaper options go with the other Morris. Markieff has the ability to post big time fantasy performances including a 47.7 game over his last ten.
PF – Serge Ibaka ($8,200): Ibaka should be able to put up some fantasy numbers tonight against a Los Angeles Clippers team allowing the fifth most fantasy points to opposing power forwards over the past three weeks.
C – Andrew Bogut ($5,000): This was a difficult decision as we looked at a lot of factors and would have loved a guy like DeMarcus Cousins tonight. That being said at $5,000 he gives you salary cap flexibility with a matchup a favorable fantasy matchup against a Detroit Pistons team that has allowed the fifth most fantasy points over the past three weeks to opposing centers.