Strategies
Fanduel NBA Lineup for Wednesday March 18th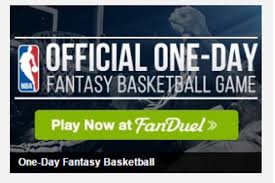 Russell Westbrook set for another big time fantasy performance tonight against the Boston Celtics. Westbrook and the entire Oklahoma City Thunder are great options tonight as well as members of the Celtics squad. The Celtics enter this game as the fourth fastest team in the NBA based on pace of play.
Just behind them the Thunder sit on that same list of top teams in the NBA based on pace of play. This one key factor helped Vegas Sportsbooks to set this game as an over/under tonight of 212.50 while the Thunder are a seven-point favor. If this game gets started quick we can see this matchup reaching the 225-235 combined point mark.
Along with Westbrook you can consider using a handful of Thunder members including a gamble play of Mitch McGary as well as Steven Adams who should see his minutes increase without  Serge Ibaka in the lineup. The second game to consider building your lineup from features the top seed from the Eastern Conference battling it out with the top seed in the Western Conference.
This matchup between Atlanta and Golden State opened up as the second highest over/under at over 210 points expected tonight.
Here is our complete FanDuel
lineup for Wednesday March 18th.
PG – Russell Westbrook ($13,200): The best fantasy player is on the court tonight so you have to decide to off-set his points or find a better combination of players. That being said this is a no brainer tonight against a fast paced moving team like the Celtics.
PG – Marcus Smart ($4,900): We love this matchup tonight as two of the faster paced teams in the NBA meet. While Smart might not give you that big fantasy performance he does provide consistent fantasy numbers at under $5,000. Now you could use some of the left over salary to upgrade to someone like Ishmael Smith, Dennis Schroder or Ray McCallum.
SG – J.J. Redick ($6,400): Redick continues to be a fantasy option with Jamal Crawford out of the lineup. Crawford is expected to miss tonight's game against the Sacramento Kings. The Kings enter tonights matchup allowing the most fantasy points all season to the shooting guard position.
SG – Joe Johnson ($5,600): The Brooklyn Nets shooting guard has a favorable matchup tonight against the Cavaliers. The Cavs have struggled to slow down opposing shooting guards over the past three weeks allowing the second most fantasy points in the league to the position.
SF – Andrew Wiggins ($6,100): The Timberwolves small forward has been up and down over the past few weeks. On the flip side when playing well Wiggins can post over 30 fantasy points almost any night. Tonight should be that night against a Toronto Raptors team that ranks third in the NBA in fantasy points allows to opposing small forwards.
SF – Jae Crowder ($5,000): We were looking for a FanDuel
Bargain and landed on Jae Crowder tonight against the Thunder. These two teams have a  chance to put up some points as both teams are fast paced.
PF – Nerlens Noel ($7,500): We considered going a little cheaper with this play and a little more expensive at the center position with Enes Kanter. In the end Noel's past performance including nine games with over 30 fantasy points in his last 10 outings.
PF – David West ($5,700): Looking for production in this price point was hard to find as we debated using West or Thaddeus Young. We like West a little more as Young  should see less options on the glass against the Cleveland Cavaliers tonight.
C – Andrew Bogut ($5,000): The Golden State Warriors center has the top match up tonight based on how his opponent has played against the position. That being said we would also recommend monitoring DeMarcus Cousins as a late scratch could land you another great option.