Strategies
FanDuel NBA Playoff Lineup for Thursday May 21

The 2014-15 NBA season is wrapping up as we all look to cash in on FanDuel
. While the action is limited to just one game a night as the Conference Finals are taking place the opportunity to win some cash is still alive. FanDuel is offering two day tournaments that will combine tonight's Western Conference game with Friday Night's Eastern Conference game.
That being said we are loading up the salary on the big three taking the floor over the next two nights. Tonight you have to go with Stephen Curry for the Golden State Warriors while James Harden is another perfect play for the Houston Rockets. We expect Harden to go toe to toe with Curry for this entire series even if the Rockets get swept in four games.
Then when we flip to tomorrow night we are going with LeBron James for the Cavaliers as he looks to deliver another series win to the city of Cleveland. James returned this off-season to bring a title to his home town and the team that originally drafted him. While Kyrie Irving has been dealing with some injury concerns and Kevin Love is out, James will continue to put 110 percent effort in each night.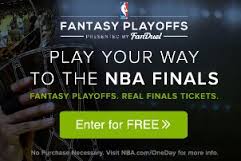 Here is our NBA FanDuel
Lineup for Thursday/Friday for the Conference Finals:
PG – Stephen Curry ($10,400): Curry is an easy choice at the point guard position especially with Irving not at 100 percent. Curry has posted at least 50 fantasy points in three of his teams last four playoff games including 51.7 as he finished with 34 points in game one.
PG – Shaun Livingston ($2,700): We debated going with Matthew Dellavedova for the Cavaliers as well but liked Livingston's salary cap number. We typically don't like to go with a pair of teammates for the same position but we are limited and Livingston is coming off a big game one performance.
SG – James Harden ($10,100): No need to explain using the runner up in the MVP award race on any night of the week. Harden is riding back to back 50 plus fantasy performances and we expect another strong game on Thursday to keep the pace up with Curry.
SG – J.R. Smith ($4,800): If we could have gotten our article listed earlier yesterday Smith was on our roster. That being said the Cavaliers will need a big series out of Smith with Irving dealing with his leg/ankle issue. Smith has posted at least 20 fantasy points in three straight contests for his fantasy owners.
SF – LeBron James ($11,700): While James deliver a mammoth performance in game one for fantasy owners he did post his tenth straight contest with over 40 fantasy points. James had some help from Smith in game one but look for him to continue his triple double numbers throughout the remainder of the playoffs
SF – Harrison Barnes ($4,300): Barnes has been a solid contributor for the Warriors all season and now in the playoffs. The Warriors small forward has posted double digit points in eight of his last 10 games along with at least three rebounds in eight of those games.
 PF – Josh Smith ($6,000): The Rockets will need someone else to step up to take off the pressure from Harden as well as to keep up with the Splash Brothers. Smith was solid in game one posting 17 points to go with seven rebounds, five assists and three blocked shots. Another option is to go with Klay Thompson in for Harden and upgrade to Draymond Green at this spot.
PF – Terrence Jones ($4,500): Jones has been up and down all season dealing with injuries as well as playing time. That being said Jones has the ability to post a big night almost any night of the week for the Rockets. Overall Jones has four 20 plus fantasy performances over his last 10 contests.
C – Timofey Mozgov ($4,800): We looked a few different matchups including going with a less expensive option at the shooting guard position for Harden. That being said the concerns with Howards knee doesn't warrant that play. Al Horford would be a nice play but if the Cavaliers beat them up on the boards like in game one , Mozgov is just as good of play but cheaper.