Strategies
Fantasy Baseball Starting Pitcher Guide for 2016

The key to building a solid fantasy baseball lineup begins with two key positions. One of those positions is the outfield position that features players that take the field in left, center and right field. Meanwhile the other key position that we will be taking a look at in this Daily Fantasy Guide is the starting pitcher slot.
Now this fantasy position will vary for fantasy owners taking part in season long leagues as well as ones taking part in daily fantasy leagues. For season long fantasy owners the key is selecting at least one if not two starting pitchers within the first few rounds of their draft since they carry no salary cap restriction on each of those starters.
In daily fantasy leagues fantasy owners must do there research as a top tier option such as Clayton Kershaw, David Price and Jake Arrieta all will carry a heavy price tag that will assume a large portion of the available salary cap number. In 50/50 leagues as well as head to head matchup we always suggest going with one of the top 3-5 starters. In tournament action we like to take a look at a few of the sleeper options to provide us with extra cap space for the rest of our lineup.
Most fantasy baseball seasons will hinge on the starting pitcher slot that includes daily fantasy owners. We can all ride the top tier starters but we all could all cash in on one of the many fantasy sleepers that will take the mound in 2016. Here is our 2016 MLB Fantasy Baseball Starting Pitching Guide.
DraftFury's (up to) $500 DEPOSIT BONUS!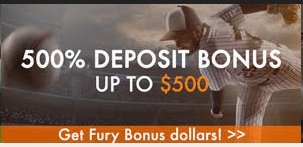 Top Fantasy Starting Pitcher Options in 2016:
Madison Bumgarner, San Francisco Giants: The Giants ace is one of the best starters in all of baseball making it an easy decision. Add in the fact he has won 18 games in each of the last two seasons while posting below a three earned run average in each of the past three seasons adds to the fuel. The final key to Bumgarner is the fact that he pitches in one of the best pitchers ballparks in baseball. Last season AT&T Park  ranked first in fewest runs and home runs according to ESPN MLB Park Factors.
Clayton Kershaw, Los Angeles Dodgers: Entering 2016 the Dodgers will lean on Kershaw even more than they have over the past few seasons with the departure of Zack Greinke. Kershaw despite only winning 16 games last season he dominated opposing hitters and teams while finishing with the third lowest earned run average in all of baseball. The Dodgers aces has not allowed an earned run average of three or above since his rookie season.

Starting Pitchers to avoid in 2016:
Jake Arrieta, Chicago Cubs: Despite coming off of his first Cy Young Award we don't like Arrieta entering the 2016 season. While we expect another solid season out of the Cubs starter we just don't value having to draft him early in season long leagues while his fantasy salary cap number will be near the top of all starters.
Dallas Keuchel, Houston Astros: Much like Arrieta, Keuchel took home the Cy Young Award last season. Now for us Keuchel is at a disadvantage pitching at Minute Maid Park a stadium that ranks ninth in all of Major League Baseball in home runs according to the MLB Parks Factors numbers on ESPN.
Breakout Candidates at Starting Pitcher in 2016:
Steven Matz, New York Mets: While the Mets young starter breakout on to the scene in 2015 in a short sample size we expect bigger and larger numbers out of him in a full season. Now we like Matz more in the daily fantasy setup over the season long setup just based on the fact the Mets will look to watch his work load down the stretch which could result in a pitch count or a inning restriction. Matz went 4-0 in six starts with 34 strikeouts and a 2.27 earned run average.
Lucas Giolita, Washington Nationals: The big question entering the season is who will fill the void left in the Nationals rotation now that Jordan Zimmerman left in free agency. Many had considered Bronson Arroyo as one of those options but an injury will sideline him for the next few weeks of the spring. This could open up the door for Giolita who finished with a 3.15 earned run average last season in the minors with a 7-7 record with 131 strikeouts in 117 innings.
Fantasy Position Outlook:
The key to any great fantasy roster or lineup revolves around the starting pitcher slot. Now while we the other positions have a ton of concerns outside of the top few options, the starting pitcher slot is filled with a ton of top tier options as well as fantasy sleepers that are ready to breakout this season.