Strategies
Fantasy Hockey Fanduel Bargains for November 4th
Fanduel's NHL Goal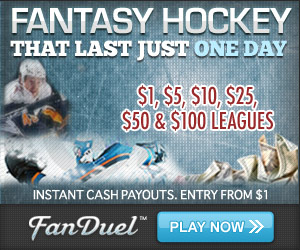 Sidney Crosby, Alexander Ovechkin both in action for Fantasy owners on Tuesday but what sleeper will step up to help their fantasy owners. In all 24 teams will be in action for fantasy owners to build their lineups for FanDuel including seven of the top ten goal scoring teams in the entire league.
This includes the Pittsburgh Penguins, Minnesota Wild and Washington Capitals all in the top five. The other four teams include the Vancouver Canucks, Philadelphia Flyers, Dallas Stars and Toronto Maple Leafs. The Penguins are the only team averaging over four goals a game and also have three players in the top ten in scoring with Crosby, Evgeni Malkin and Patric Hornqvist.
The problem for fantasy owners is selecting someone like Crosby or Malkin will cost you over $10,000. This lowers your average cost per player to $5,588 per player to use for you next eight picks. That is where players like Steve Downie $3,500 and Jori Lehtera $3,900 could help you pick up a few of the more expensive players in action.
The fantasy bargains will also help you go after one of the top goalies in action. Eight of the top ten teams in the NHL in goals allowed per game is in action. Now that also means their will be some bargains in the net the problem is how long before game time will you know so you can put them in the net.
Here are some of the top fantasy bargains we like for Tuesday, November 4th:
Josh Jooris, Calgary Flames ($3,000): Jorris is coming off a big fantasy game scoring 8.5 after netting two goals. The Flames center should have an opportunity to score again against a Capitals team allowing over three goals again.
Tom Wilson, Washington Capitals ($3,000): The Capitals like to score goals giving Wilson plenty of opportunities to score points. On Sunday, Wilson was able to score a goal and set up one helping him finish with 6.8 fantasy points.
Justin Fontaine, Minnesota Wild ($3,500): Fontaine had posted three straight games with at least 4.4 fantasy points before only scoring .4 in his last outing. The Wild take on a Penguins team allowing a league high 4.10 goals per game on the season.
Simon Despres, Pittsburgh Penguins ($3,300): Finding a defensive player that can put up some fantasy points unless you spend the money. Despres has a great matchup against a Wild team allowing the third most goals per game.
Eric Johnson, Colorado Avalanche ($4,800): The Avalanche defenseman has posted over 6.6 fantasy points in two of his last three games making him an exceptional play at the cost.
Other top FanDuel Bargains for the NHL for November 4th: Jori Lehtera ($3,900), Antoine Roussel ($4,300) and Mike Green ($4,600).


Fanduel's NHL Breakaway