Strategies
Leafs: A Fantasy Hockey Nightmare of Late


Reimer returned to the net less than 24 hours after his performance in Detroit was criticized by Carlyle. His night against the Lightning started just as poorly as the night previous had ended, with Radko Gudas sailing a point shot through a maze of traffic and beyond the surprised 26-year-old.
Rarely looking comfortable, though not helped at times by his support staff, Reimer yielded five at the end of the evening on just 30 shots. He owns a .901 save percentage in his last five appearances, all coming consecutively in the past week.
Bothered by a groin injury, Bernier took to the ice Wednesday morning for the first time since he exited a long-awaited return to the Staples Center last week. He was expected to skate again in full equipment again on Friday with his status for a weekend back-to-back still in doubt.
On a side note, with the hat trick Wednesday, Stamkos now has 13 goals and 25 points in 20 career games against his hometown team.
Steven Stamkos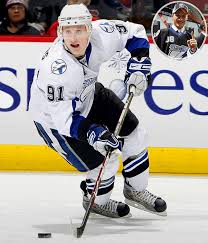 Seven games back into his comeback from a broken tibia, he scored his first of the night on a power-play – David Clarkson in the box – lost back-door by Gleason and the Toronto penalty kill. He added a second marker less than three minutes later, just a step ahead of Dion Phaneuf for position in front of Reimer.
The Lightning captain completed the trifecta early in the middle frame. Capitalizing on a failed clearing attempt by Lupul, Stamkos beat his counterpart to a Brewer rebound, banging it past Reimer for the fourth Tampa goal.
Offensive depth for the Leafs has gone almost completely quiet.
Lupul and one-time linemate Kadri– they were split against the Lightning – have just two apiece in the past 14 games. Clarkson has totaled just four all season and one in the past 23 games. Nik Kulemin scored Wednesday for just the second time in the past 18. Peter Holland has gone 20 straight without a single marker, potting just one point in that span. And Jay McClement, a source of eight goals in 48 games a year ago, has just three in 70 games.
All of which has upped the pressure on the team's top line to produce, their failure to do so often meaning defeat. Phil Kessel snapped a four-game goal drought with his 35th of the year against the Lightning and though dangerous, his line was held off the scoresheet otherwise.
Toronto forwards have just seven goals in the past six games, carried by the defence which has eight, including four from Gardiner.