Strategies
MLB FanDuel Lineup for Friday May 13th, 2016

The daily fantasy success continues to roll with the big guns as we look to cash in on Friday the 13th. The latest big time fantasy performance came from the Los Angeles Dodgers ace Clayton Kershaw who we had anchored atop of our rotation on Thursday Night against the New York Mets.
Kershaw didn't disappoint his FanDuel owners firing a three hit shutout striking out 13 Mets to take home 78 fantasy points. Tonight that success with the top tier starting pitching options falls into the hands of Chris Sale who has been possible the best starter in the American League to start 2016.
On the season Sale has been steady and consistent for his fantasy owners finishing with at least 32 fantasy points in each of his seven starts. That includes starts against some of the better hitting lineups in baseball including the Toronto Blue Jays and Baltimore Orioles who teams have had a difficult time slowing down at the plate this season.

Now for us we are going to stick with Sale tonight as he looks to continue his success but we also like Edinson Volquez tonight for the Kansas City Royals against the Atlanta Braves. Entering this game the Braves have failed to score more than three runs in seven of their ten games in the month of May while two of the other three games topping out at just four runs.
In the end we like each of these guys to build a FanDuel lineup around tonight. Along with landing the right starting pitching we also need to find a potential big time fantasy stack to cash in on. Yesterday we rolled with the red hot Baltimore Orioles stack featuring Manny Machado, Adam Jones and Jonathan Schoop. The three combined to reward us with 44.6 fantasy points.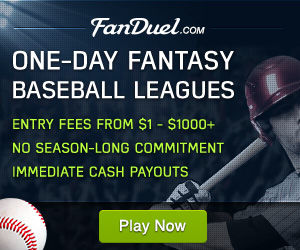 That being said here are a few MLB Fantasy Stacks to consider tonight.
Lucas Duda/David Wright/Yoenis Cespedes (Coors Field ranks 4th in Homeruns)
Jonathan Lucroy/Aaron Hill/Ryan Braun (Miller Park ranks 5th in Homeruns)
Todd Frazier/Jose Abreu/Melky Cabrera (Yankee Stadium ranks 1st in Homeruns)
Ryan Zimmerman/Bryce Harper/Ben Revere (25 for 70 against Koehler with eight home runs)
SP – Chris Sale ($12,000): In the end we couldn't pass up Sale tonight but we also strongly considered going with Volquez to free up some additional salary cap numbers. On the Fantasy Sleeper side for someone looking for a big time pay day you might want to consider Brandon Finnegan against the Philadelphia Phillies.
C – Matt Wieters ($2,100): While Wieters isn't the same hitting catcher we saw a few seasons ago he does have the potential to hit the long ball nearly any night of the week especially when the Orioles are at home at Camden Yards. If you go on the cheaper side at another position you might want to consider someone like Francisco Cervelli who has had success against Jason Hammel.
1B – Jose Abreu ($3,900): We could have gone a few routes here including Chris Davis for the Baltimore Orioles as well as Ryan Zimmerman for the Washington Nationals. In the end we are riding the White Sox lineup at a very hitter friendly ball park in New York.
2B – Kolten Wong ($2,200): In need of a fantasy sleeper to free up some space, Wong will fit that bill. The St. Louis Cardinals second baseman has produced a little for his fantasy owners over the past two days recording 9.2 and 12.7 fantasy points. If you go with a sleeper option on the mound we suggest going with either Daniel Murphy or Jason Kipnis as more expensive options.
3B – Todd Frazier ($4,200): Don't forget to pay close attention to the MLB Lineups when they are released later today to make sure Frazier will be in the lineup. If not you could consider freeing up cap space for Manny Machado or go with someone a little less expensive like Travis Shaw.
SS – Nick Ahmed ($2,300): Despite his goose egg performance yesterday we like the Arizona Diamondbacks short stop tonight at home. That being said we needed another cheap fantasy option here after going with Sale on the mound so if you have free space consider going with Adrubal Cabrera for the New York Mets at Coors Field or Carlos Correa for the Houston Astros at Fenway Park.
OF  – Adam Jones ($2,600): Were sticking with Jones tonight as we have seen a track record of hot streaks with the Orioles outfielder in his career. Jones is currently riding a five game hitting streak that has saw him go nine for 24 with two home runs and seven runs batted in.
OF – Melky Cabrera ($3,000): Cabrera will enter tonight's contest riding back to back double digit fantasy performances. Add in the fact we love using hitters hitting at Yankee Stadium makes this an easy decision. That being said if you go with a Volquez on the mound consider going with Bryce Harper in this slot.
OF – Coco Crisp ($2,700): Looking for hot hitters landed us with the Oakland A's outfielder. Crisp despite failing to produce any fantasy points last night had produced at least 13 fantasy points in threes straight games. Another fantasy bargain you might consider is Kirk Nieuwenhuis for the Milwaukee Brewers.