Strategies
MLB FanDuel Lineup for Monday August 22nd 2016

The Monday Morning Blues are for some but not for FanDuel Owners looking to cash in on some MLB Action. Tonight the MLB lineup features an eight game slate that features a few interesting fantasy options to build around including starters like Stephen Strasburg, Jon Lester and David Price on the mound.
Now before we get into the FanDuel options we like we want to throw out some numbers that will help us all build a winning lineup tonight. Starting with selecting that winning starting pitcher that could help you take home the cash prize in tonights FanDuel contests.
Over the past week we have looked back at six different GPP Tournaments on FanDuel. Here is the results of the Top 3 teams in each of those contests and where the dollar amount was slotted to each of those starters.
Starters Costing over $9k – 6
Starters Costing between $8-9k – 3
Starters Costing between $7-8k – 2
Starters Costing between $6-7k – 6

Now that we tossed those numbers out here are the FanDuel options we like tonight.
MLB FanDuel Advice – Monday August 22nd, 2016
Starting Pitchers
Jon Lester, Chicago Cubs: The Chicago Cubs starter has been solid of late for his fantasy owners posting over 30 fantasy points in four straight games including three of those contests going for at least 50 fantasy points. Tonight he will look to continue that success against a San Diego Padres team he had some early success on back on May 10th when he finished with 33 fantasy points.
Zack Godley, Arizona Diamondbacks: When looking at those numbers above we started looking at starters that fit the $6k-7k mark. That landed us with Godley who is coming off an impressive outing in his last start against the New York Mets while finishing with 40 fantasy points.
Other option Stephen Strasburg
Catcher 
Miguel Montero, Chicago Cubs: Looking for fantasy matchups that stood out tonight landed us with the Cubs catcher going up against Edwin Jackson. In his career Montero has picked up six hits in 15 career at bats with four of those hits going for extra bases.
Other Catcher Options we like include Wilson Ramos and Martin Maldonado.
First Baseman 
Chris Davis, Baltimore Orioles: We can't pass up the Orioles first baseman tonight after his recent hot streak. Davis prior to his struggles on Sunday still has five home runs over his last five games with four of those games posting at least 18.7 fantasy points.
Other First Base Options we like include Paul Goldschmidt and Ryan Zimmerman.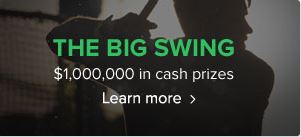 Second Baseman 
Scotter Gennett, Milwaukee Brewers: Looking at the possible best second baseman options we turned to Miller Park (one of top hitters ball parks in all of MLB). Gennett while he has been up and down provides us with some salary cap relief but has posted some fantasy games over 20 fantasy points over the past few weeks.
Other Second Base Options we like include DJ LeMahieu and Jonathan Schoop.
Third Baseman
Kris Bryant, Chicago Cubs: Much like looking to use Davis at first base we elected to go with Bryant tonight. Bryant has posted at least 18.4 fantasy points in four of his last eight games with two of those games going for 35.4 and 66.3 fantasy points.
Other Third Base Options we like include Manny Machado, Nolan Arenado and Alex Bregman.
Short Stop
Marcus Semien, Oakland A's: The A's short stop has been a great fantasy option for his FanDuel owners this season. Looking back Semien has picked up at least a hit in seven of his last ten games with three of those games featuring multi hit performances.
Other Short Stop Options we like include Chris Owings and Brad Miller.
Outfielder
Andrew McCutchen, Pittsburgh Pirates: The Pirates outfielder is a solid option tonight with a salary that sits at just $3,400. Entering tonight, McCutchen has double digit fantasy numbers in five of his last nine games. Add that with the fact he is five for 11 in his career off of Doug Fister makes him a great option in the outfield.
Keon Broxton, Milwaukee Brewers: Now looking for another solid bat in the outfield that doesn't cost a fortune landed us with Broxton. The Brewers outfielder will benefit from hitting at Miller Park and has been hot of late hitting three home runs over his past three games to go along with five hits.
Mookie Betts, Boston Red Sox: Heres another fantasy play we have liked a lot of late based on his play on the field as well has his performance this season. Betts is hitting .314 on the year with 28 home runs to go along with 89 runs driven in.
Other Outfielder Options we like include Carlos Gonzalez, Jake Smolinski, Nelson Cruz and Bryce Harper.