Strategies
MLB FanDuel Lineup for Monday June 12th 2017

The dreaded Monday Morning Blues won't slow us down tonight with a solid MLB Schedule to build around for our daily fantasy baseball action on FanDuel. In all tonight's MLB schedule delivers us a nine game slate featuring some solid starting pitching options as well as some solid hitters to round out our lineup.
As we get set to build tonight's slate we took a look around the slate to see which games are taking place at the top hitting ball parks and which games are not. Here are the top three games to target for your stacks tonight as the top three games to target for your starting pitching options.
Join FanDuel's $150K Mon MLB Squeeze Today!
Top 3 Hitter Friendly Ball Park Matchups For Monday June 12th, 2017
Seattle Mariners VS Minnesota Twins @ Target Field
(Ranks 5th in runs, 6th in home runs and 3rd in hits)
Baltimore Orioles VS Chicago White Sox @ Comerica Park
(Ranks 4th in hits, 6th in doubles and 10th in runs)
New York Yankees VS Los Angeles Angels @ Angel Stadium of Anaheim
(Ranks 6th in runs, 7th in hits and 4th in triples)
Top 3 Pitcher Friendly Ball Park Matchups For Monday June 12th, 2017
Texas Rangers VS Houston Astros @ Minute Maid Park
(Ranks 29th in runs, 29th in hits and 26th in extra base hits)
Atlanta Braves VS Washington Nationals @ Nationals Park
(Ranks 25th in runs and 20th in doubles)
Chicago Cubs VS New York Mets @ Citi Field
(Ranks 27th in runs, 29th in home runs and 30th in hits)
Based on the numbers we will be looking very deeply at guys like Yu Darvish, Stephen Strasburg and John Lackey on the mound. Meanwhile at the plate we like the idea of stacking Aaron Judge, Gary Sanchez and Matt Holiday together for the Yankees.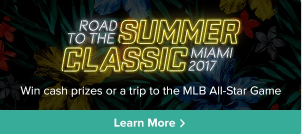 Here is our Daily Fantasy Baseball Options for Friday June 9th, 2017
Starting Pitcher – John Lackey
Tonight MLB Schedule delivers us a few solid pitching options to build around including both Stephen Strasburg and Yu Darvish. In the end we value Lackey as more of a GPP style play tonight as we expect both of those other guys to be used a bunch. For us along with pitching in a pitchers ball park, the current Mets lineup is just 37 for 163 against Lackey in their careers with just 13 total runs scored.
Top Tier Option: Stephen Strasburg & Yu Darvish
Mid Tier Option: Masahiro Tanaka
Fantasy Sleeper: Luis Perdomo
Catcher – Mike Zunino
For us tonight we could easily go with three options Sanchez, Jason Castro and Zunino. In the end Zunino provided us with the salary cap space to stack heavy in the outfield. Zunino is one of those high risk options who has the power to reward us and should have a chance hitting tonight at Target Field. Meanwhile Castro is eight for 24 against Yovani Gallardo in his career with one home run.
Top Tier Option: Gary Sanchez
Mid Tier Option: Jason Castro
Fantasy Sleeper Option: Austin Hedges
First Base – Chris Davis
In the end we just couldn't look past the idea of stacking the Orioles tonight despite their recent struggles. While we tossed around a few names including Hanley Ramirez tonight we like Davis hitting at Comerica Park against Mike Pelfrey who he is three for nine against with three doubles. Another solid option we like is Joe Mauer who is eight for 19 against Gallardo in his career.
Top Tier Option: Matt Holliday
Mid Tier Options: Hanley Ramirez
Fantasy Sleeper: John Jaso & Matt Adams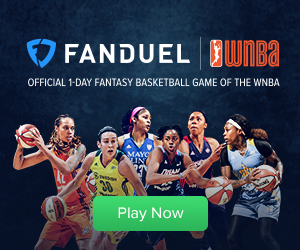 Second Base – Robinson Cano
We just don't want to turn away from tonight's Mariners/Twins matchup at Target Field. We expect to see some runs scored making both Cano and Brian Dozier both solid fantasy options. In the end Cano has the higher upside based on his salary cap hit of just $3,100 tonight. Cano enters tonight's contest riding a four game hitting streak while picking up 11 home runs on the season.
Top Tier Option: Brian Dozier
Mid Tier Option: Yolmer Sanchez
Fantasy Sleeper: Jose Peraza
Third Base – Chase Headley
As we looked around the game tonight we had a few big question marks and one of those was with the third base position. In the end we valued the cheaper options including Headley, Maikel Franco and Jose Reyes to free up the salary cap space. In the end we turned to Headley who has a .339 wOBA and a .340 BABIP on the season against right handers.
Top Tier Option: N/A
Mid Tier Option: Todd Frazier & Maikel Franco
Fantasy Sleeper: Jose Reyes
Join FanDuel's $150K Mon MLB Squeeze Today!
Short Stop – Ruben Tejada
After spending freely at a few of the other positions it left us looking for cap space moves and one was here at the short stop position. Before looking at each game we turned to our three games taking place at hitter friendly ballparks turning us to Tejada as well as JJ Hardy. In the end, Tejada brings a higher upside being much healthier and faster at this point of his career. While we suggest monitoring to see if Manny Machado is in the lineup we expect to see Tejada in the lineup after picking up four hits over his last three games played.
Top Tier Option: Trea Turner & Xander Bogaerts
Mid Tier Option: Didi Gregorius & Eduardo Escobar
Fantasy Sleeper Option: JJ Hardy
Outfielders – Aaron Judge, Nelson Cruz & Seth Smith
At the top of our list of overall options entering today was the Yankees outfielder who is red hot. Entering play today, Judge has seven hits over his last eight at bats with three home runs. Along with Judge we love Cruz tonight who has a .336 wOBA against right handers to go along with the fact he will be hitting at Target Field. The last of our options was a relatively easy option as Smith costs under the $3k mark tonight and he is hitting .450 in 20 career at bats against Mike Pelfrey with one home run.
Top Tier Option: Bryce Harper
Mid Tier Option: Mookie Betts, Mark Trumbo & Adam Jones
Fantasy Sleeper Option: Jose Osuna