Strategies
MLB FanDuel Lineup for Thursday April 13th 2017

The 2017 MLB Season has taken front page as Daily Fantasy Sports owners just begin to start cashing in. The action continues tonight with a solid five games slate taking to the diamond this evening including a matchup out west featuring one of the games top starters taking the hill.
That starter is Madison Bumgarner who will be taking the mound for the third time this season as he looks to lead the San Francisco Giants to a win tonight against the Colorado Rockies.  In his previous two starts this season Bumgarner posted 37 and 49 daily fantasy points on FanDuel.
While Bumgarner looks to be at the top of the options on the mound the debate can be made over a few of the top fantasy options that could fill out our roster. One of those options is Marcell Ozuna who is hitting .400 on the year with three home runs and 12 runs batted in.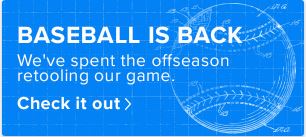 Here is a look at our Daily Fantasy Baseball Options for Thursday April 13th, 2017.
Starting Pitcher – Madison Bumgarner
On a night with just five games and a very thin list of top tier fantasy options on the mound it helps open the door for the Giants ace. While a few of the current Rockies have had success against Bumgarner the team as a whole has hit just .256 over 221 plate appearances with 48 total strikeouts. The other option we like as a cost saving move is Jason Vargas of the Kansas City Royals against an Oakland A's team hitting just .243 against him.
Fantasy Sleeper: Luis Severino
Catcher – Wellington Castillo
Looking at the catcher position opened up the door for a few different options including Castillo. The Baltimore Orioles catcher enters tonight picking up hits in three straight games as well as  five of his six games played this season. Over that stretch, Castillo has three multi hit games as he enters tonight's matchup against the Toronto Blue Jays and Francisco Liriano. Over 19 career at bats against Liriano, Castillo has six hits including two home runs.
Fantasy Sleeper: Tucker Burnhart
First Base – Eric Thames
Once an up and coming power hitter, Thames has returned to the Majors League this season and has swung a decent bat to start the season. The Milwaukee Brewers first baseman is hitting .318 with one home run  with three runs batted in. That success has showed up over the past week as Thames has picked up hits in five straight games with two of those games seeing at least 12 daily fantasy points. Tonight he will look to conintue that success against Bronson Arroya who struggled in his only start of the season. In that game Arroya finished with six earned runs allowed while allowing two home runs.  Another more expensive option that will really like tonight is Chris Davis of the Baltimore Orioles who is off to a quiet but strong start in 2017.
Fantasy Sleeper: Justin Smoak
Second Base – Jonathan Schoop
As we looked for a few Daily Fantasy Baseball Sleepers we landed on a few solid options at the second base position. Those options include Starlin Castro, Jed Lowrie as well as Schoop. In his career the Orioles second baseman is hitting .286 at the Rogers Centre with four career home runs.
Fantasy Sleeper: Jed Lowrie & Starlin Castro
Third Base – Josh Donaldson
Sometimes playing the matchups is the simplest way to build our daily fantasy baseball lineup on a night to night basis. That is the case tonight for Donaldson who will look to continue his success against Kevin Gausman. In his career, Gausman is six for 18 with one home run over the past few seasons against the Orioles starter. Along with Donaldson we also considered building around Manny Machado as well as Chase Headley who has gotten off to a red hot start.
Fantasy Sleeper: Ronald Torreyes
Short Stop – Brandon Crawford
The Short Stop position might be one of the most interesting positions of the group tonight with no clear cut must use options on the board. One option we do like is Asdrubal Cabrera who has been solid to start the season with hits in eight of his last nine contests while hitting .342 to start the season.  Another option that we like tonight is Brandon Crawford who will look to take advantage against Jon Gray who has struggled at times this season. Entering tonight, Gray has allowed 10 hits including a home run and six earned runs in 9.1 innings of work this season.
Fantasy Sleeper: J.J. Hardy
Outfielder 3 – Aaron Judge, Marcell Ozuna & Lorenzo Cain
Tonight we tossed around a few combinations of options including stacking both Ozuna and Giancarlo Stanton together tonight. In the end we elected to go with just Ozuna who has started the season with four multi hit contests to start the season while posting over 18 fantasy points in three of those contests. The second of those options we elected to go with is Cain who much like Ozuna has started the season hot. While Cain won't put up big home run totals, he has shown his ability to get on base, steal bases and score runs will help his daily fantasy owners night in and night out. The last of the outfielder options we like is Judge who is still underpriced entering tonight despite watching him post six hits over his last 11 at bats while posting over 21 fantasy points in three straight games.
Other Outfielder Options: Adam Jones, Giancarlo Stanton & Billy Hamilton
Fantasy Sleepers: Matt Joyce