Strategies
MLB FanDuel Lineup for Thursday August 17th 2017

The MLB Schedule delivers a light slate tonight for Daily Fantasy Baseball owners to cash in on. In all just five games are on tap for tonight to go along with a solid five game afternoon slate. For us we are turning our attention to tonight's MLB Schedule as we look to get back in the winner's column on FanDuel.
With that light slate of games on the schedule it offers us only ten total options on the mound to build around. A group of starters that include guys like Aaron Nola, Luis Severino and Jeff Samardzija. While all three matchups look solid tonight, overall the slate lacks a true lock on FanDuel opening the door for a variety of options.
Based on the matchups tonight, here are a few of the solid starting pitching candidates we like based on those numbers.
Aaron Nola VS San Francisco Giants
Giants rank 30th in Team OPS, 30th in Home Runs & 28th in Runs Scored
Adam Wainwright VS Pittsburgh Pirates
Pirates rank 29th in Home Runs, 12th Most Strikeouts & 29th in Slugging
Edwin Jackson VS San Diego Padres
Padres rank 28th in Team OPS, 4th Most Strikeouts & 26th in Extra Base hits
Now before we get to our top Daily Fantasy Baseball options for Tuesday August 8th, 2017, let's take a look at a few quality stacks that you could consider building around.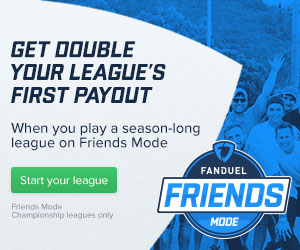 MLB Fantasy Stack Options for Thursday August 17th, 2017
Anthony Rendon – Ryan Zimmerman –Daniel Murphy
Aaron Judge – Gary Sanchez – Ronald Torreyes
With that said let's get to the rest of the guys we like to build our daily fantasy baseball rosters around.
Here is our Daily Fantasy Baseball Options for Thursday August 17th, 2017
Starting Pitcher – Aaron Nola
After looking at the numbers it is hard to look past Nola as one of the top 2-3 options tonight on the mound. The Giants rank near the bottom in every offensive category opening up the door for Nola to turn in a solid fantasy performance tonight. Over his last ten starts the Phillies starter has turned in eight games with at least 40 fantasy. Other options we considered include Jackson Samardzija and Severino while Wainwright could be a surprise pick for GPP lineups if he takes the hill tonight.
Top Tier Option: N/A
Mid-Tier Option: Luis Severino& Jeff Samardzija
Fantasy Sleeper:Edwin Jackson & Tyson Ross
Catcher – Robinson Chirinos
The catcher position is one of those slots where the right pick may depend on which starter you elect to go with. At the top of our list is Gary Sanchez but we like the value Chirinos brings to the table at just $2,700. Entering tonight, the Texas Rangers catcher is five for his last eight with one double, one home run and three runs batted in. Meanwhile Sanchez should benefit from taking on Stephen Matz who has struggled at times while allowing righties to post a .377 wOBA and .253 ISOPower mark against him.
Top Tier Option: Gary Sanchez
Mid-Tier Option: Yadier Molina
Fantasy Sleeper Option: Kevan Smith

First Base – Ryan Zimmerman
For us the first base position might be one of the stronger positions of tonight's MLB Schedule and one that FanDuel owners will want to build around. While we had Wil Myers and Josh Bell as solid candidates as well as Jose Abreu, we elected to go with the Washington Nationals first baseman. On the year Zimmerman has had success against righties posting a .381 wOBA to go along with a .256 ISOPower mark.
Top Tier Option: N/A
Mid Tier Options: Wil Myers, Jose Abreu & Josh Bell
Fantasy Sleeper: Tommy Joseph
Second Base –Ronald Torreyes
We love the Yankees tonight against Matz and the New Yrok Mets. This includes Torreyes who might have some of the best value of the night at just $2,300 helping to offset some of the other top tier talents salaries we have in our lineup tonight. Entering tonight, Torreyes has back to back multi-hit performances as well as picking up hits in eight of his last ten games. On the higher side we would turn our attention to Daniel Murphy as well as Rougned Odor if the cash was available.
Top Tier Option: N/A
Mid Tier Option: Daniel Murphy &Rougned Odor
Fantasy Sleeper: Josh Harrison
Third Base – Anthony Rendon
Here is another one of our MLB Stack options tonight and one of the top fantasy plays of the night at third base. On the year Rendon has been fairly consistent for his fantasy owners while providing the upside we like in GPP formats with 22 home runs on the year. While JhouylsChacin has solid numbers against righties, Rendon has posted a .386 wOBA mark against righties this season. Looking a little deeper, Chacin likes to work inside and down to righties a zone that Rendon has had a ton of success on this year.
Top Tier Option:N/A
Mid Tier Option: Todd Frazier
Fantasy Sleeper: Pablo Sandoval

Short Stop – Jordy Mercer
A name that lands in our daily fantasy baseball lineups has arrived again tonight. That name is Jordy Mercer and he continues to have the upside we love in our GPP lineups. While we value a few of the other plays at short stop tonight, Mercer does allow us to go heavy in the middle as well as going mid to upper level in the outfield. On the year, Mercer has posted a .312 wOBA mark against opposing righties while also staying near the .300 mark with his BABIP.
Top Tier Option: N/A
Mid Tier Option:Elvis Andrus & Freddy Galvis
Fantasy Sleeper Option: Brandon Crawford
Outfielders – Aaron Judge, Tommy Pham & Aaron Hicks
Despite his second half struggles and his high strikeout numbers, Judge is a must play option as the top outfielder on FanDuel tonight. Judge has shown some life of late picking up hits in four straight games including home runs in two of his last three games. Meanwhile Pham has been red hot picking up hits in eight straight games to raise his average to .310 on the year whle also providing some pop with his 14 home runs on the year. The last of the options we like tonight stays with the Yankees as we elected to stack their outfield. That option is Hicks who has a .373 wOBA mark on the year against opposing lefities.
Top Tier Option: N/A
Mid Tier Option:NomarMazara& Andrew McCutchen
Fantasy Sleeper Option: Delino Deshields, Gorkys Hernandez & Hunter Renfroe