Strategies
MLB FanDuel Lineup for Thursday June 8th 2017

One last minute scratch last we saw last night with Dallas Keuchel left many Daily Fantasy Baseball owners scrambling to rework their rosters on average night on the MLB Schedule. The same here as we expected to load up our FanDuel entries with Kuechel as our main option while also turning to Buck Farmer as more of a high risk high reward type option. Hopefully for you most of you turned that direction as starting pitching was a concern on Wednesday Night.
That is now in the past as we turn all of our attention over to tonight's slate of games and which Daily Fantasy Baseball options stand out as the best options tonight. Just remember to continue to follow the daily lineups throughout the day all the way up to game time to ensure the options are in play tonight while avoiding a locked roster with a scratch on your team.
Now before we get to our top Daily Fantasy Baseball Options from tonight's MLB Schedule of games here is a quick look at a few of the stacks we like for Thursday June 8th, 2017.
3 MLB Stacks We Like For Thursday June 8th, 2017
Jose Altuve / Carlos Correa: Despite some solid success at times, Jason Hammel is a starter who hitters can take an advantage on. Luckily for us tonight those hitting options will come from a Houston Astros team that is loaded from the top to the bottom. While we stuck with just these two we could also throw Alex Bregman in to offset each of their higher fantasy salaries.
J.T. Realmuto / Christian Yelich: When you look at the numbers these two Miami Marlins options stand out based on their success against Gerrit Cole over their careers. Entering tonight the two are 16 for 25 off of the Pittsburgh Pirates starter with four home runs and six runs batted in.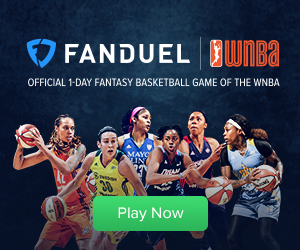 Here is our Daily Fantasy Baseball Options for Thursday June 8th, 2017
Starting Pitcher – Jake Odorizzi
Despite having starters like Lance McCullers, Jon Lester and David Price all as options tonight we elected to shy away from those higher priced options. This opened up the door for the Tampa Bay Rays starter against a Chicago White Sox team that has their troubles on offense. For the evening slate tonight, the White Sox rank last in team wOBA and near the bottom of the pact in team ISOpower while ranking fourth in strikeout percentage.
Top Tier Option: Lance McCullers Jr
Mid Tier Option: Derek Holland
Fantasy Sleeper: Ben Lively
Catcher – J.T. Realmuto
Tonight we debated a few options behind the plate including both J.T. Realmuto and Matt Wieters. In the end we turned to the Marlins catcher based on the fact he has some solid production against Cole in his career picking up nine hits in 11 total at bats.
Top Tier Option: N/A
Mid Tier Option: Matt Wieters
Fantasy Sleeper Option: Elias Diaz
First Base – John Jason
After spending on the rest of the infield we elected to go with one of our two options we like under the $3k mark tonight. That option is John Jason who has limited production off of Edinson Volquez in his career (3 for 10). That being said two of those three hits went for extra base hits including a home run. The other option we like tonight is Chris Carter as a high risk high reward option while seeing limited usage against David Price.
Top Tier Option: Ryan Zimmerman & Chris Davis
Mid Tier Options: Tommy Joseph
Fantasy Sleeper: Chris Carter

Second Base – Jose Altuve
The top of the options at second base all sound like solid options and players you could build around including both Daniel Murphy and Jonathan Schoop. In the end Altuve is one of those players who could put up a four hit game nearly any night of the week against any starter. Entering tonight, the Astros second baseman has hits in three straight games while picking up multi hit performances in five of the last ten.
Top Tier Option: Daniel Murphy & Jonathan Schoop
Mid Tier Option: Cesar Hernandez
Fantasy Sleeper: Daniel Robertson
Third Base – Evan Longoria
Now if we could make the numbers work tonight we would shy away from Longoria while going with either Kris Bryant or Nolan Arenado as the ball should be flying well at Wrigley Field tonight. In the end the salary cap number just doesn't fit in without going with a lower tier option at either second base, short stop or one of the three outfield slots. This turned us to Longoria who is nine for 28 off of Derek Holland in his career with three of those hits going for home runs.
Top Tier Option: Kris Bryant & Nolan Arenado
Mid Tier Option: Josh Harrison
Fantasy Sleeper: Ehire Adrianza

Short Stop – Carlos Correa
When we looked around at the starting pitching options and saw that Hammel has been consistenly bad following a strong performance it opened us up to stacking the Astros tonight. With that said it is hard to build around the Astros without putting Correa in the lineup on most nights based on the fact he might be the most productive option at the position in the game right now. Entering tonight, Correa has six double digit fantasy performances over his last 11 games.
Top Tier Option: N/A
Mid Tier Option: Tim Anderson
Fantasy Sleeper Option: Freddy Galvis
Outfielders – Christian Yelich, Steven Souza & Seth Smith
While it might not look like we would all want it to look tonight our group of outfielders all have an upside tonight. At the top is Yelich who is seven for 14 in his career off of Cole with one home runs. Meanwhile Souza and Smith should both benefit from their matchups against starters that rank first and second among starters tonight in hard contact percentage opening up the chance for some extra base hits and run producing options. On other option is you could look to Hyun Soo Kim as a deep sleeper if he is in the lineup freeing up cap space to go with Corey Dickerson, Mookie Betts or George Springer.
Top Tier Option: Bryce Harper & Mookie Betts
Mid Tier Option: Aaron Altherr or Odubel Herrera
Fantasy Sleeper Option: Hyun Soo Kim & Rickie Weeks