Strategies
MLB FanDuel Lineup for Thursday September 15th 2016

Prime Time Thursday as arrived as daily fantasy owners have a chance to cash in double. The fun gets started at 7:05 pm ET with a solid eight game MLB slate while daily fantasy football players get their week started a little later as Thursday Night Football kicks off week 2 of the 2016 NFL Season.
For us we have our attention on the MLB action as the final few weeks of the 2016 MLB season has arrived. One name that we have high on our list to build around on Thursday Night is Mashiro Tanaka of the New York Yankees. The Yankees starter has been really good of late posting at least 37 fantasy points in five of his last six starts.
Over that six game stretch Tanaka managed to go at least seven innings in four of six starts while striking out at least eight batters three different times. While Tanaka is at the top of the fantasy starters on the mound Thursday Night there are also a few other options to consider as well.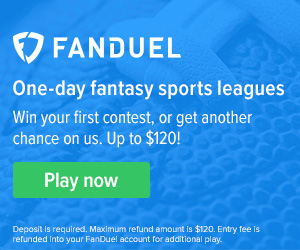 Here is who we like tonight to build our MLB FanDuel Lineup around.
FanDuel Starting Pitcher Options Thursday September 15th, 2016
Masahiro Tanaka, New York Yankees: The Yankees starter has been on a run of late for his daily fantasy owners. Add that to the fact he went six strong innings posting seven strikeouts in his last outing against the Boston Red Sox makes him a very easy option to build around.
Other FanDuel Starting Pitcher option to consider is Edinson Volquez and Adam Wainwright.
Fantasy Sleeper Option: Chad Kuhl
FanDuel Catcher Options Thursday September 15th, 2016
Matt Wieters, Baltimore Orioles: We tossed around a few names at the catcher position including Gary Sanchez. In the end Wieters is a perfect fantasy option at the position while providing us with some salary cap relief. Entering Thursday's showdown, Wieters is 10 for 37 this season against the Tampa Bay Rays with two home runs.
Other FanDuel Catcher Options include Gary Sanchez and Willson Contreras.
FanDuel First Base Options Thursday September 15th, 2016
Kendrys Morales, Kansas City Royals: Looking to ride a hot bat landed us with the Royals first baseman. The Royals first baseman has posted double digit fantasy performances in six of his last eight games. In that stretch, Morales posted five home runs and 15 runs batted in.
Other FanDuel First Base Options include Chris Davis, Matt Adams (Fantasy Sleeper) and Paul Goldschmidt.
FanDuel Second Base Options Thursday September 15th, 2016
Logan Forsythe, Tampa Bay Rays: We strongly considered going with Jonathan Schoop fromt his contest as well but wet with the Rays second based on his past success against Yovani Gallardo. In 19 career at bats Forsythe has seven hits including one home run.
Other FanDuel Second Base Options include Jonathan Schoop and Jean Segura.
FanDuel Third Base Options Thursday September 15th, 2016
Ryon Healy, Oakland A's: The youth movement has begun in Oakland and Healy is at the front of the list. The A's third baseman has been red hot of late picking up two hits in three of his last four games. That success has helped him post 21.7, 22 and 31.4 fantasy points for his fantasy owners.
Other FanDuel Third Base Options include Kris Bryant and Manny Machado.
FanDuel Short Stop Options Thursday September 15th, 2016
Didi Gregorius, New York Yankees: Now here is a position we could have easily gone cheap at as no player has stood out of late. For us Gregorius is a solid fantasy option at a very hitter friendly Fenway Park. Currently Fenway ranks 3rd in runs and 2nd in doubles in all of baseball.
Other FanDuel Short Stop Options include Corey Seager and Chris Owings.
FanDuel Outfielder Options Thursday September 15th, 2016
Brandon Drury/Yasmany Tomas, Arizona Diamondbacks: Prior to their Thursday Night contest the Diamondbacks teammates have been hot picking up five home runs and 17 runs batted in over their last seven games combined. Add that with the fact that Chase Field ranks second in all of baseball in home runs according to MLB Park Factors and they make perfect sense.
Andrew McCutchen, Pittsburgh Pirates: Sticking with the Ball Park Factors numbers we landed with McCutchen as he looks to take advantage of Citzens Bank Ball Park (6th in home runs). Along with the Pirates outfielder we would also consider going with his teammate Gregory Polanco as well as Odubel Herrera.
Kevin Kiermaier, Tampa Bay Rays: For us we could ride a handful of Rays on Thursday Night based on their perfect matchup against Gallardo. Now that being said Kiermaier has been red hot batting .423 over his last seven games with three home runs.
Other FanDuel Outfielder Options include Mark Trumbo, Jorge Soler (Fantasy Sleeper), Dexter Fowler, Joc Pederson and Michael Saunders.