Strategies
MLB FanDuel Lineup for Tuesday May 10th, 2016

Finally it's Tuesday and the action is in full force with a 15 game slate taking to the Diamond tonight for MLB FanDuel owners to cash in on. Now while we have all the top options at the plate tonight the big question mark lies on the mound with only a few top tier options mixed with a bunch of options that will either surprise us or cost us.
The top of that list features Jon Lester for the Chicago Cubs, Jacob deGrom for the New York Mets, Masahiro Tanaka for the New York Yankees and Drew Smyly for the Tampa Bay Rays. Of that group, Lester stands out at the top after posting four straight fantasy performances with at least 40 points and five total in his first six starts. The second of those options we like tonight is Smyly who had been red hot firing off four straight games with at least 36 fantasy points before running into his last start.
Join FanDuel's $150K Tue MLB Grand Slam Today!
Now as we suggest building your daily fantasy cash lineups around the options above we strongly suggest considering one of those options that have the potential to surprise us. Two of those options will face off tonight as Matt Wisler will lead his Atlanta Braves against Adam Morgan for the Philadelphia Phillies.
Entering tonight's contest the Braves sit dead last in the league in team OPS, last in home runs and last in runs scored. Meanwhile the Phillies sit in 29th in team OPS, 27th in home runs and 28th in runs scored. These are both great gamble options tonight along with Kevin Gausman to help deliver a big time payday in tournament style leagues on FanDuel.

Other thing to take into consideration tonight is the potential for bad weather that could play a sudden role in the output of your lineup. That was the case yesterday as we saw the Minnesota Twins/Baltimore Orioles game and the Chicago Cubs/San Diego Padres game both get postponed.
Here are the games that could get postponed or see a delay tonight that could force you to lose your starting pitcher early.
Detroit Tigers @ Washington Nationals: (Zero Percent at start of the game but potential rain increasing up over 50 percent by 10pm).
Philadelphia @ Atlanta Braves: (50 Percent chance of rain from 7pm to 11pm tonight).
Arizona Diamondbacks @ Colorado Rockies: (25 Percent chance of rain at 8pm increasing to over 40 percent by 8pm).
San Diego Padres @ Chicago Cubs: (50 Percent chance at 8pm slowly dropping to under 20 percent chance by 10pm).
Pittsburgh Pirates @ Cincinnati Reds: (60 Percent chance at 7pm increasing to nearly 75 percent chance by 10pm).
Chicago White Sox @ Texas Rangers: (Zero Percent chance at 8pm increasing slowly to 25 percent by 10pm).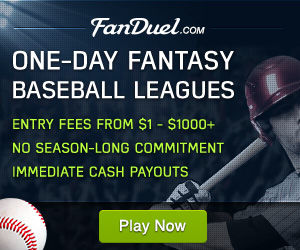 In the end here is our MLB FanDuel Lineup for Tuesday May 10th, 2016.
SP – Kevin Gausman ($7,700): We tossed around the idea of Lester as well as both Wisler and Morgan but the rain situations have us worried in each of those starts. Now that doesn't mean to stay away but we strongly suggest monitoring their weather situation. In the end we went with Gausman who turned in two starts with at least 33 fantasy points in his first three starts of the season.
C – Matt Wieters ($2,200): Wieters is a big time gamble entering tonight's contest against the Twins. The Baltimore Orioles catcher is hitless in is last seven at bats while failing to pickup at home run or a run batted in over his last ten games. If the weather looks good in Colorado we also like Tony Wolters as a little pricer of an option.
1B – Brandon Moss ($2,900): The first base position was an interesting position for us as we considered a ton of options tonight such as Paul Goldschmidt hitting at Coors Field, Eric Hosmer who has been hot and Albert Pujols who is due to break out. In the end Moss is a very solid bargain play while providing his owners with two big fantasy games over his last four.
2B – Jonathan Schoop ($2,700): The Orioles second baseman continues to swing a hot bat and we can't pass it up. Schoop is currently riding an eleven game hitting streak including posting multi-hit performances in two of his last four games. Other options we like include Chris Owings for the Diamondbacks depending on the weather as well as Jason Kipnis for the Cleveland Indians.
3B – Todd Frazier ($3,900): Since this lineup is coming out early we passed on Nolan Arenado at Coors Field landing us with Frazier. The Chicago White Sox third baseman has been red hot picking up six hits over his last three games with three hoe runs and nine runs batted in.
SS – Alcides Escobar ($2,600): We tossed around a few names tonight at short stop including Didi Gregorius for the New York Yankees and Aledmys Diaz for the St. Louis Cardinals. In the end we like Escobar tonight hitting in the friendly hitters ball park in New York.
OF – Mike Trout ($4,800): We love Trout tonight but we could also have gone with a combination of Giancarlo Stanton and Bryce Harper as well. In the end Trout has posted four games with at least 10 fantasy points over his last ten games.
OF – Mookie Betts ($4,000): Now we like a few of the outfielders in the Rockies/Diamondbacks game at Coors Field tonight but the rain has us staying away from them. If you like strongly consider going with Carlos Gonzalez instead of Betts at this spot.
OF – Dexter Fowler ($4,200): Continue to monitor the weather situation but we couldn't pass up on Fowler tonight. The Cubs outfielder has posted back to back 21 plus fantasy performances over his last two games.