Strategies
MLB FanDuel Lineup for Tuesday May 16th 2017

The daily fantasy baseball action bounces back tonight with an exciting 13 game slate taking to the diamond this evening. For tonight's slate the big question mark is whether or not to go with one of the top tier starters such as Dallas Keuchel or to turn to a mid tier option to open up some additional salary cap space.
Now for us tonight we love Keuchel as our top tier option for Cash Lineups as he delivered over 34 fantasy points in all but one start this season. As for our GPP lineups the Houston Astros starter has upside to also reward us with a big time fantasy performance.
With that said our only doubt for Keuchel tonight might be the extra usage he will see against a mediocre Miami Marlins offense. The Marlins enter tonight ranked 20th in MLB in runs scored, 20th in team OPS and 18th in team on base percentage. All three of those numbers makes for Keuchel to be a solid option for us on the mound.
Looking a little deeper though we have found a few mid to lower tier options among the MLB Schedule for tonight that offer a higher reward for their cost but with more of a risk. Two of those options we like tonight are Jimmy Nelson for the Milwaukee Brewers and Matt Boyd for the Detroit Tigers.
As for at the plate the options are endless with a variety of top tier options as well as lower tier options to build around. In the end it will really depend on which direction you go on the hill tonight.

Here is our Daily Fantasy Baseball Options for Tuesday May 16th, 2017
Starting Pitcher – Jimmy Nelson
While yesterday's gamble didn't pay off we are still not going to shy away from going with the high risk high reward option in our GPP lineups. For us one of those options is Nelson who has shown at points this season with three 40 plus fantasy performances he can produce. As we looked at the matchups we looked at both Nelson and Clayton Richard from this matchup as both the Brewers and San Diego Padres rank near the top of the league in strikeouts.
Top Tier Option: Dallas Keuchel (Safe play in most lineups)
Mid Tier Option: John Lackey
Fantasy Sleeper: Clayton Richard & Matt Boyd
Catcher – Miguel Montero
For us we had two options at the top of our FanDuel lineup board tonight at the catcher position. One of those hitters is Montero and the other is the red hot Buster Posey. Much like on the mound we could go either way depending on which positions you elect to spend heavy on or save money with. In the end Montero and the Chicago Cubs will be at home tonight against a struggling Bronson Arroyo who has been hit solid all season. Add that with the fact that Montero is eight for 19 off of him with three home runs makes him a safe play tonight as well.
Top Tier Option: Buster Posey
Mid Tier Option: Jonathan Lucroy
Fantasy Sleeper Option: Chris Hermann
First Base – Albert Pujols
The potential future Hall Of Famer doesn't look like his normal self at the plate this season but we have seen this from him in the past. In the end Pujols still has a solid upside for GPP lineups especially when he carries a salary south of the $3k mark. For Pujols tonight he should have a chance to get back on track against Derek Holland and the Chicago White Sox. Pujols enters tonight's contest hitting .294 off of the White Sox lefty with four career home runs. On the higher side of we could go with Anthony Rizzo or Paul Goldschmidt who both look to have friendly hitter environments tonight.
Top Tier Option: Paul Goldschmidt & Anthony Rizzo
Mid Tier Options: Marwin Gonzalez
Fantasy Sleeper: Lucas Duda & Tommy Joseph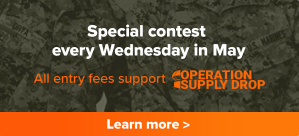 Second Base – Brandon Drury
Now for us we love tonight's Reds/Cubs matchup as well as the Mets/Diamondbacks matchup from a stack perspective. With that being said we won't look past Drury again tonight as we liked him last night as well hitting at Chase Field. The Diamondbacks second baseman has hits in five of his last six games including two home runs over that stretch. On the higher side we love Daniel Murphy tonight for the Washington Nationals while someone like Javier Baez should benefit from the wind and pitching matchup at Wrigley Field tonight.
Top Tier Option: Daniel Murphy
Mid Tier Option: Javier Baez
Fantasy Sleeper: Scooter Gennett
Third Base – Joey Gallo
In the end we built the rest of our lineup before heading back to the third base slot, as we wanted to see what type of salary cap number we might be working with. While we considered going with Kris Bryant as well as Manny Machado before deciding to go with the Texas Rangers power hitting infielder. Gallo should benefit from hitting at home tonight where he has seen most of his production. If you elect to go with a cheaper outfield option you should look to spend on Bryant tonight.
Top Tier Option: Kris Bryant & Manny Machado
Mid Tier Option: Chase Headley
Fantasy Sleeper: Josh Harrison
Short Stop – Elvis Andrus
After playing the matchups yesterday with Crawford today we will turn to a little more expensive of an option at shortstop position. In the end it's hard to look past the Andrus tonight hitting at one of the typical hitter friendly ballparks. Entering tonight Andrus has been hot picking up five hits over his last eight at bats while producing back to back 20 plus daily fantasy performances. Along with Andrus we could look back to Brandon Crawford tonight or go with someone like Addison Russell.
Top Tier Option: Xander Bogaerts
Mid Tier Option: Addison Russell, Aledmys Diaz & Brandon Crawford
Fantasy Sleeper Option: N/A
Outfielders – Mookie Betts, Bryce Harper & Yasmany Tomas
Now we could easily plug and play a few players into this the outfield slot including Mike Trout for Bryce Harper or Kyle Schwarber for Tomas. In the end after spending cheap above it allowed us to stack our lineup with some big bats. Tomas for us is a hard one to pass up on hitting at Chase Field and despite making us wait last night he did reward us with a home run. Meanwhile Betts enters tonight's game with six double digit fantasy performances over his last seven games with four of those going for at least 30. Than there is Harper who is playing like the NL MVP from two years ago making him a difficult pick to look past on most nights.
Top Tier Option: Mike Trout
Mid Tier Option: Ian Desmond & Khris Davis
Fantasy Sleeper Option: Magneuris Sierra
Worth The Gamble Option: Jay Bruce