Strategies
MLB FanDuel Lineup for Wednesday September 14th 2016

The Mid Week has arrived as we all have our eyes on another action packed weekend of Fantasy Sports. For us though we will keep our eyes on tonight as the 2016 Major League Baseball schedule continues to inch toward some October Post Season Baseball.
As the pennant races continue to heat up the fantasy production continues to rise for some of the top stars while some surprise performances continue from players we might not have expected it from. One of those options has been Michael Bourn when manager Buck Showalter elects to put him in the starting lineup. In each of his last two starts, Bourn has posted 25.2 and 21.7 fantasy points in each of those contests.
Meanwhile, out in Texas Adrian Beltre has been swinging a hot bat picking up hits in six straight games including four multi-hit performances. Who will be a key contributor tonight for us to cash in on some daily fantasy baseball action at the plate?
On the mound the top option looks to be a very favorable option for FanDuel owners tonight and that is Jose Fernandez. The Miami Marlins starter is coming off an impressive 75 point fantasy performance in his last outing while postin over 33 fantasy points in four of his last six starts. Tonight he will have a very favorable matchup against the Atlanta Braves.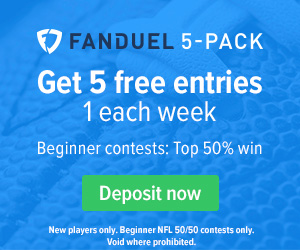 Here is who we like tonight to build our MLB FanDuel Lineup around.
FanDuel Starting Pitcher Options Wednesday September 14th, 2016
Jose Fernandez, Miami Marlins: Fernandez is the safe bet tonight, as he has been solid over his last six games. Add that to the fact the Atlanta Braves rank 29th in runs scored, 30th in home runs and 27th in team OPS makes him almost a lock especially for owners in 50/50 leagues.
Other FanDuel Starting Pitcher option to consider is Yordano Ventura.
Fantasy Sleeper Option: Steven Brault
FanDuel Catcher Options Wednesday September 14th, 2016
Kurt Suzuki, Minnesota Twins: While we love a few of the top options we also really like Suzuki tonight as an option to offset Fernandez's high salary. The Twins catcher is five for 11 off of Anibal Sanchez in his career. Now if you go with someone like Ventura or Brault you can spend freely at the catcher position.
Other FanDuel Catcher Options include Jonathan Lucroy and Tucker Barnhart.
FanDuel First Base Options Thursday September 14th, 2016
Joey Votto, Cincinnati Reds: It is hard to pass up on the Reds first baseman right now as he may be the hottest in all of baseball. Votto ho picked up three hits last night has three games with at least three hits over his last five while posting a plus .400 batting average in the second half of the season.
Other FanDuel First Base Options include Chris Davis, Kendrys Morales and Mark Reynolds (Fantasy Sleeper).
FanDuel Second Base Options Wednesday September 14th, 2016
Carlos Sanchez, Chicago White Sox: Here is another one of those fantasy sleeper/bargains we like to free up some additional salary. The White Sox second baseman is a big time fantasy gamble but he has rewarded his fantasy owners with three double digit performances over his last five games. Monitor the lineup to consider this play and use it more towards GPP formats.
Other FanDuel Second Base Options include Brian Dozier and Dustin Pedroia.
FanDuel Third Base Options Wednesday September 14th, 2016
Adrian Beltre, Texas Rangers: We are going to continue to ride the hot bat and Beltre is one of those options at third baseman. The Rangers third baseman has a very solid salary at $3,200 despite posting a .298 batting average and delivering 30 home runs.
Other FanDuel Third Base Options include Ryan Flaherty (Fantasy Sleeper/Monitor Lineup), Jonathan Villar and Jung Ho Kang.
FanDuel Short Stop Options Wednesday September 14th, 2016
Carlos Correa, Houston Astros: The short stop position is one of those slots where we could have easily said go with a sleeper option. That being said we really like Correa tonight at home against Derek Holland of the Texas Rangers. Holland has given up at least four runs in three of his last seven starts while surrendering home runs in seven of his last ten contests.
Other FanDuel Short Stop Options include J.J. Hardy and Alcides Escobar.
FanDuel Outfielder Options Thursday Wednesday September 14th, 2016
Mookie Betts, Boston Red Sox: Despite going hitless in four at bats last night the Red Sox outfielder has still dominated Baltimore Orioles pitching this season. Entering tonight, Betts is 23 for 59 against the Orioles this season with four doubles, eight home runs to go with 19 runs batted in.
Brandon Drury, Arizona Diamondbacks: Here is another great Fantasy Value play tonight to build your lineup around. The Diamondbacks outfielder has posted at last 12.5 fantasy points in five straight games while three of those contests have gone for over 21 (21.7, 37.1 and 25.2).
Adam Eaton, Chicago White Sox: Eaton is one of those options you could ride tonight based on his recent hot stretch or the fact he has a very favorable matchup tonight. Over his last six games, Eaton has posted two hits in five of those contests. Add that with the fact he will face off against Josh Tomlin who is tied for second with 35 home runs allowed makes him a great play.
Other FanDuel Outfielder Options include Norichika Aoki, Mark Trumbo, Marcell Ozuna, Yasmany Tomas and Nelson Cruz.