Strategies
NBA FanDuel Lineup for Friday January 15th, 2016

The NBA action rebounds tonight with a nice nine game lineup for FanDuel owners to cash in on. The action includes a few of the top fantasy options around the NBA including Russell Westbrook, Anthony Davis, LeBron James, Kevin Durant and John Wall to name just a few.
For us all of those options sound great but the first game we wanted to take a look at featured two of the NBA's fastest teams based on Hollingers pace of play statistics. That contest features the number fourth ranked Phoenix Suns team heading to Boston to take on the number three ranked Celtics.
As we start to look at these two teams the first player that stands out is Amir Johnson. The Celtics center continues to put minutes on the board giving fantasy owners a chance for a big game. Johnson has put up at least 20 fantasy points in nine of his last ten games including his 47.6 fantasy output against the Indiana Pacers just two nights ago.
A few of the other options that we like in this contest includes Isaiah Thomas, Jae Crowder, Brandon Knight (monitor injury status), Avery Bradley and T.J. Warren. The second contest we like tonight features the Washington Wizards traveling to Indiana to take on the Pacers. Much like the first contest each of these team rank in the top ten in pace of play as the Wizards sit fifth in the NBA while the Pacers sit in seventh.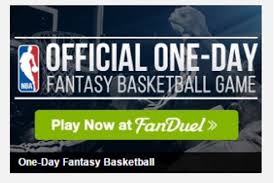 Here is our NBA FanDuel lineup for January 15th, 2016.
PG – Isaiah Thomas ($8,600): Looking at tonight's Suns/Celtics contest led us to Thomas. While we like John Wall as well we elected to save a few bucks to build the rest of our FanDuel lineup. Thomas has at least 34 fantasy points in eight of the teams last ten games.
PG – Tyler Johnson ($4,200): We looked at both Johnson as well as the Miami Heats second option Beno Udrih. Udrih got the start in the Heats last game and should continue to see time with Goran Dragic out. That being said Johnson could see himself emerge as the top option for the team.
SG – Garrett Temple ($4,800): Temple is coming off a solid 35 point fantasy performance in the Wizards last contest. While we have him slated in our roster we suggest monitoring the injury status a few members of the Wizards lineup including Otto Porter.
SG – James Harden ($9,600): We could have spread out a little bit of this salary to other positions by going with a someone like Jimmy Butler or Will Barton. In the end we couldn't pass up the opportunity to go with one of the top fantasy scorers in the NBA.
SF – Nikola Mirotic ($5,600): After a disappointing 10 point fantasy performance in his last outing, we have elected to go with the Bulls small forward tonight. Mirotic had posted at least 23 fantasy points in seven straight games.
SF- Kevin Durant ($10,000): Durant continues to dominate posting at least 40 fantasy points in three straight games. Tonight the Oklahoma City Thunder take on the Minnesota Timberwolves.
PF – Markieff Morris ($4,600): Morris is another solid fantasy option tonight during the Suns/Celtics contest. Only concern for us is whether or not Morris can put in the minutes after missing six of the teams last ten games well as logging just six minutes in another game.
PF – Serge Ibaka ($6,100): The Thunder's power forward is a hit or miss on most nights but we like him tonight against the Timberwolves. That being said it is to hard for us to pass Ibakas fantasy upside.
C – Amir Johnson ($5,500): Johnson is a solid fantasy option tonight in a contest that features two of the fastest moving teams in the NBA. While Johnson is a solid option to post at least 20 fantasy points he does however has posted 35.2 and 47.6 fantasy points over his last five games.