Strategies
NBA FanDuel Lineup for Friday, November 13, 2015

The weekend has arrived but what better way to kick it off than taking home a top prize of $25k on FanDuel? Yes you read that correct as you have a chance to do exactly that in FanDuel's $300k NBA Shot for just a $2 entry fee. (Click here to join) Along with this contest the site has a ton of additional daily fantasy leagues for you to select from for tonight's lineup of NBA games.
That being said that is where we come in with our NBA daily FanDuel Lineup and suggestions for tonight's action. In all 12 NBA games are taking to the hardwood delivering you a wide range of fantasy options to consider. That includes Russell Westbrook, DeMarcus Cousins, LeBron James, James Harden and Carmelo Anthony.
Join FanDuel's $150K Fri NBA Layup Today!
Now typically we have to debate our top fantasy option but tonight we have an easy decision and that play is Westbrook. While always a top option, Westbrook and the Oklahoma City Thunder will be without Kevin Durant for the next 7-10 days. This leaves all the scoring options to Westbrook. This also means the team will be looking for another scoring option opening up the door for Dion Waiters to have a big game.
Add in the fact that the Thunder take on a struggling Philadelphia 76ers team makes a few of them viable fantasy options tonight. Along with the Thunder/76ers matchup, we also like the Los Angeles Lakers heading to Dallas to take on the Mavericks with an over/under of 209 combined points.
Part of us has a feeling that we should use Kobe Bryant tonight as we expect the veteran to put together a big game since he has struggled at times this season. Only reason we are keeping him out of our lineup tonight is the fact we aren't quite sure if he will be in the Lakers lineup as he is currently listed questionable.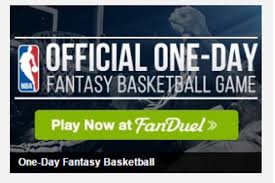 Here is our NBA FanDuel lineup for Friday, November 13th.
PG – Russell Westbrook ($11,200): How can you not go with Westbrook tonight against the 76ers? Entering this contest, Westbrook had posted five straight games with at least 44 fantasy points. Only reason you may consider it is due to the fact we expect him to be used in between 45-60 percent of all fantasy lineups tonight.
PG – Kyle Lowry ($8,500): Lowry has been unstoppable over the teams last two games turning in back to back 40 plus fantasy performances. Tonight that success should continue against the New Orleans Pelicans. Other options we liked included Ishmael Smith if Jrue Holiday ends up missing the contest.
SG – Dion Waiters ($4,800): Waiters is an interesting option tonight coming off back to back solid fantasy performances. Now add in the fact the team will be looking at him to step up while Durant is out of the lineup with a hamstring injury. We also like his bargain salary below $5k. Another cheap option is Zach LaVine if Ricky Rubio misses a second straight game.
SG – Marcus Thornton ($4,800): Along as Thornton continues to see minutes and his salary stays low he is a great fantasy option. Thornton has scored at least 22 fantasy points in six straight games including a 45 point fantasy performance in his last outing for the Houston Rockets.
SF – Omri Casspi ($4,300): We are looking at a few FanDuel Bargains for tonight's lineup of NBA games. One of those is the Sacramento Kings small forward Casspi who is coming off back to back 20 plus fantasy performances. We expect Casspi to continue to see 24-30 minutes a game making him a solid fantasy option.
SF – Evan Turner ($6,000): The love for Turner continues to grow among daily fantasy owners after a third straight 30 plus fantasy performance. For now we have to ride him but we suggest monitoring the situation as he has seen extended minutes of late due to injuries to the Boston Celtics.
PF – Dwight Powell ($4,500): Looking at the Lakers/Mavericks game tonight landed us with Powell. Powell when giving the minutes has shown he can contribute for fantasy owners including four games with at least 23 fantasy points over his last six outings. Another fantasy sleeper/bargain for tonight is Cody Zellar for the Charlotte Hornets if he ends up playing.
PF – Kristaps Porzingis ($5,600): The New York Knicks center is slowly emerging as a top tier play for the team this season. Porzingis has turned in at least 27 fantasy points in five of his last six games including two performances over 31.
C – DeMarcus Cousins ($10,200): Cousins is the top option at center making him a top fantasy play. We do suggest monitoring his status despite not being listed as questionable after missing four of the teams last six contests.