The NBA Schedule looks promising tonight with a six game slate for DFS owners to take advantage of. That said tonight's schedule looks pretty interesting early on with a few key question marks surrounding a few of the NBA's top fantasy stars. One of those stars is Russell Westbrook who suffered an ankle injury in the teams last contest while Kevin Durant continues to deal with a hand injury
While Durant looks like he still is in line to get the start tonight, Westbrook may be the one key injury that could throw a big wrench in the game planning for every DFS owner tonight. If the Oklahoma City Thunder elect to give Westbrook the night off against the lackluster Los Angeles Lakers, the list of top tier fantasy options shortens. For now we expect to see both in the lineup but strongly recommend monitoring the injury reports throughout the day up to the 7pm ET lock.
Before we take a look at our Fantasy Sleepers and Fantasy Basketball Options for DFS owners to consider tonight, here is a quick look at the six games on the NBA Schedule for Thursday February 8th, 2018.
NBA Schedule for Thursday February 8th, 2018
Atlanta Hawks @ Orlando Magic
New York Knicks @ Toronto Raptors
Boston Celtics @ Washington Wizards
Charlotte Hornets @ Portland Trailblazers
Dallas Mavericks @ Golden State Warriors
Oklahoma City Thunder @ Los Angeles Lakers

Now that we know who else is in action around the NBA tonight, let's take a look at our Fanduel Fantasy Sleepers for DFS owners to take advantage of tonight.
NBA FanDuel Fantasy Sleepers for Thursday February 8th, 2018
Raymond Felton ($3,500) & Alex Abrines ($4,000)
Now for these two DFS options tonight it will all come down to whether or not Westbrook is active for tonight's contest. If Westbrook is ruled out we expect to see both Felton's and Abrines minutes to increase. While Abrines has seen at least 23 minutes in four straight games, the increased opportunity to score will be present without the Thunder's best playmaker on the floor. Meanwhile for Felton over his last five games with at least 16 minutes, he has posted three 20 plus fantasy performances.
Khem Birch ($4,100)
Another interesting name to consider tonight is Birch who could see additional minutes as Aaron Gordon continues to miss time. In the Magic's last contest against the Cavaliers, Birch posted eight points, five rebounds in route to a sold 20.5 point fantasy performance.
Other fantasy sleepers/bargains to consider includePascal Siakam, Marcus Morris, Marcin Gortat, Tyler Dorsey & Kyle O'Quinn.
That said here are the NBA Daily Fantasy Basketball options we like for Thursday February 8th, 2018
Point Guards Options for FanDuel on Thursday February 8th, 2018
Top Point Guard Options: Russell Westbrook (Injury), Steph Curry & Damian Lillard
Mid-Tier Point Guard Options: Elfrid Payton & Dennis Schroder
Fantasy Sleeper Options: Tyler Dorsey & Raymond Felton
The big question of the day is whether or not Westbrook suits up tonight against the Lakers. While he is still a top option on the court this evening if he suits up, if he is out it leaves DFS owners looking for another top option to build around. That said a combination of Curry and Lillard would look like a nice stack while saving additional cap space at both center and power forward Along with those two options, Payton and Schroder will face off in Atlanta in a contest that could see both options posting 40 plus fantasy points. The Magic enter this contest ranked 7th in DVP against the position over the past month while the Hawks sit at 5th. On the fantasy sleeper side Felton is a solid option if Westbrook is out while Dorsey continues to put together solid contests when he sees 20 plus minutes.
Shooting Guard Options for FanDuel on Thursday February 8th, 2018
Top Shooting Guard Options: DeMar DeRozan & Bradley Beal
Mid-Tier Shooting Guard Options: Kent Bazemore, Wesley Matthews & CJ McCollum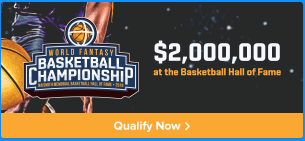 Fantasy Sleeper Options: Alex Abrines & Kentavious Caldwell-Pope
While tonight's NBA Schedule is solid it lacks a top tier fantasy option DFS owners will be looking for. That said both DeRozan and Beal have shown at times this season they can put together big contests the big concern has been their lack of 6-7 time performances. Beal enters tonight with just two contests over 50 fantasy points over his last ten contests while DeRozan has zero. This makes it difficult for us to look at them for GPP contests while opening up the door for us to save some salary cap space. One option that is well worth the look is fantasy sleeper Abrines who has seen the floor for at least 23 minutes in four straight and could see additional minutes tonight against a Lakers team that ranks 8th in DVP against the position. Meanwhile all three of our mid tier options are worth building around as Bazemore looks to take advantage of a Magic team that has struggled against shooting guards (2nd in DVP). Matthews and McCollum also have matchups against two teams that rank 3rd and 4th in DVP against the position over the past month.
Small Forward Options for FanDuel on Thursday February 8th, 2018
Top Small Forward Options: Kevin Durant & Paul George
Mid-Tier Small Forward Options: Mario Hezonja, Jayson Tatum & Otto Porter
Fantasy Sleeper Options: Jeremy Lamb & Kelly Oubre Jr
The small forward position will all come down to the injury reports later in the day as both top options Durant and George will be affected. For DFS owners looking to build around Durant only time will tell if he gets the night off as he continues to deal with his hand injury Meanwhile owners looking to ride George will have to wait to see if Westbrook will suit up. If Westbrook is out of the lineup tonight, George will be a solid lock for both cash and GPP lineups. That said, the small forward position is also a position with some solid options that can save you some cash. One of those options is Porter who has been solid at times with Wall out of the lineup. Entering tonight, Porter has topped the 40 plus fantasy mark in two of his last six contests while adding three 32 plus fantasy point performances over the same stretch. Other mid tier options include Hezonja who could see extended minutes against a Hawks team that ranks 3rd in DVP against the postion.
Power Forward Options for FanDuel on Thursday February 8th, 2018
Top Power Forward Options: N/A
Mid-Tier Power Forward Options: Markieff Morris, Jerami Grant, Serge Ibaka & John Collins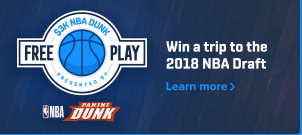 Fantasy Sleeper Options: Pascal Siakam, Patrick Patterson & Marcus Morris
Now the one position for us tonight that has the biggest question marks is the power forward position who lacks a true top tier threat. Add that with the fact that Aaron Gordon will miss another contest and Draymond Green could potentially take the night off opens up the door for other options. Two players we are keeping our eyes on are the Morris brothers who will look to face off in Washington DC tonight. The Wizards Morris has been solid with Wall out posting over 32 fantasy points in five of seven contests. Along with the brothers, it will be hard to look past two sets of teammates. The first set is Ibaka and Siakam who will look to take advantage of a Knicks defense that has been shredded by power forwards (1st in DVP over the past month), while Grand and Patterson could be in line for big time minutes if Anthony is out as well as Westbrook.
Center Options for FanDuel on Thursday February 8th, 2018
Top Center Options: Dwight Howard
Mid-Tier Center Options: Steven Adams, Julius Randle & Al Horford
Fantasy Sleeper Options: Marcin Gortat & Kyle O'Quinn
Could tonight be the night DFS owners look to gamble with a sleeper at the center position? For us the options are less than stellar with Howard looking as the top option but one that could see a ton of usage around the GPP landscape as well as cash leagues. One option we really like is Adams who could see additional opportunities with either Westbrook or Anthony out tonight. Meanwhile both Randle and Horford have had some success against their opponents tonight as each posted 35 plus fantasy performances in their last meetings. On the lower side if you elect to load up at the guard positions you could save with a guy like O'Quinn who will take over as one of the Knicks main big man.
Will tonight's NBA schedule deliver us some big time fireworks or just a long night of basketball?