Strategies
NBA FanDuel Lineup for Monday January 30 2017

The Monday Morning Blues don't have to keep us down as we all look to cash in on some NBA FanDuel action. Despite a very limited five game NBA Slate tonight, the Daily Fantasy Basketball Options are solid build around a few big name fantasy options including both Karl-Anthony Towns and LeBron James.
One other name that stands out tonight, as a solid option to build our Daily Fantasy Basketball lineup around is Isaiah Thomas. Thomas enters tonight averaging over 40 fantasy points a night while also offering fantasy owners a huge upside. While in GPP Tournaments he may not offer the 6-7 times value many are looking for he does have the potential to post over 50 fantasy point nearly every night.
Thomas isn't the only member of tonight's Boston Celtics/Detroit Pistons contest we like as this game is expected to be a high scoring affair. One combination you could consider is Thomas and Reggie Jackson at the point guard position while you could also turn to Kentavious Caldwell-Pope to save you a few dollars at the shooting guard position.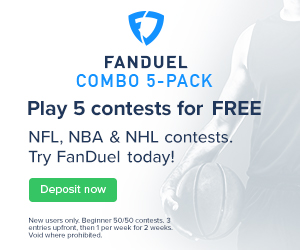 Here is our complete list of Daily Fantasy Basketball Options for Monday January 30th, 2017.
Point Guards – Goran Dragic & Reggie Jackson
For each of these point guard options much of their usage and success will depend on a few key injury situations. That being said Dragic has a very good matchup against a very bad Brooklyn Nets team while Jackson should capitalize on the fast momentum pace that the Celtics like to play. Jackson has posted over 32 fantasy points in four straight games while Dragic posted 42.3 fantasy points in his only meeting against the Nets this season.
Top Tier Fantasy Option We Like: Isaiah Thomas & Kyrie Irving
Mid Tier Fantasy Option We Like: Ricky Rubio
Fantasy Sleeper Option We Like: Spencer Dinwiddle & Yogi Ferrell
Shooting Guards – Seth Curry & Kentavious Caldwell-Pope
Here is one of those positions where we are looking to capitalize on the high upside of Curry while opening up some salary cap space. Curry has seen over 30 minutes in three straight games while seeing at least 32 fantasy points in two of those two games. Meanwhile we love KCP tonight only if Avery Bradley is out for the Boston Celtics based on the potential change of play pace.
Top Tier Fantasy Option We Like: N/A
Mid Tier Fantasy Option We Like: Wesley Matthews & Zach LaVine
Fantasy Sleeper Option We Like: Iman Shumpert
Click HERE to join FanDuel's $10K Mon NBA Shot Today!
Small Forwards – LeBron James & Shabazz Muhammad
The big injury news of the morning is the fact Kevin Love has been ruled out tonight making both James and Irving as top tier fantasy options. That news made James a key fantasy play for us while Muhammad is more of a GPP Style play for us tonight. Muhammad has produced three 21 plus fantasy performances over his last four games.
Top Tier Fantasy Option We Like: N/A
Mid Tier Fantasy Option We Like: Harrison Barnes & Aaron Gordon
Fantasy Sleeper Option We Like: Justin Anderson
Power Forwards – Zach Randolph & James Johnson
The lack of options at the power forward position has us digging to find some real value. For us we like James Johnson, Zach Randolph and Gorgui Dieng as three solid options at the power forward position. In the end we could not pass up Johnson based on having the best fantasy matchup of the night against a very bad Nets team. Meanwhile Randolph has posted 38.1 and 41.3 fantasy points back to back games leading up to a very solid matchup against the Suns.
Top Tier Fantasy Option We Like: N/A
Mid Tier Fantasy Option We Like: Gorgui Dieng &
Fantasy Sleeper Option We Like: Trevor Booker & Dwight Powell
Center Option – Marc Gasol
The toss up for us tonight was whether or not we should go with Karl-Antony Towns or Marc Gasol.  In the end we valued them both as our top two options at the position but love Gasol's matchup against a very fast paced Suns team opening up additional fantasy scoring potentials. On the cheap side if Al Horford is out you could turn to Kelly Olynyk as a solid fantasy sleeper.
Top Tier Fantasy Option We Like: Karl-Anthony Towns
Mid Tier Fantasy Option We Like: Nikola Vucevic
Fantasy Sleeper Option We Like: Kelly Olynyk