Strategies
NBA FanDuel Lineup for Monday January 4th 2016

The FanDuel action heats up on Monday Night as the NBA takes center stage with the NFL regular season in the books. In all 20 NBA teams are in action giving us a handful of solid fantasy options to build around. One player we will avoid is Stephen Curry who is currently battling a shin injury.
While it is hard to imagine us telling you to stay away from Curry, but after missing back to back games, Curry managed to play only 14 minutes last night before reinjuring the shin. On the other hand you might not have to pick against Curry if news breaks later today that he will miss the Golden State Warriors contest with the Charlotte Hornets tonight.
Join FanDuel's $80K Mon NBA Layup today!
Now before any gets down on Curry, the NBA lineup still delivers a bunch of top fantasy options including Russell Westbrook and Kevin Durant. Add in the fact the teammates will lead their Oklahoma City Thunder team against a Sacramento Kings team that ranks first in the NBA in pace of play makes them both a great option tonight.
A few of the other top fantasy options include LeBron James, James Harden and DeMarcus Cousins. That being said here is our NBA FanDuel Lineup for Monday January 4th, 2015.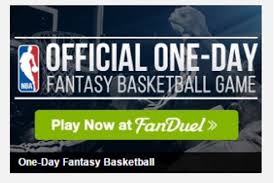 PG – Russell Westbrook ($10,700): Yes Westbrook supports the second highest salary of the night. That being said we have all heard the phrase you get what you pay for. That is the case with Westbrook who has turned in five fifty plus fantasy performances over his last seven games as well as two additional games with at least 46 fantasy points.
PG – Shane Larkin ($4,500): With Jarrett Jack out for the remainder of the season, Larkin is inline to take over the starting point guard duties for the Brooklyn Nets. While Larkin is a question mark he should be able to put together a solid stat line against a Boston Celtics team that likes to move the ball up and down the court.
SG – Evan Fournier ($5,300): We are tossed up between Fournier and Victor Oladipo Tonight against the Detroit Pistons. In the end Fournier has been more consisten of late turning in three 30 plus fantasy points as well as four additional games with at least 25 fantasy points over his last ten games
SG – Gerald Green ($3,800): Green is one of those sleeper type options tonight as the Miami Heat take on the Indiana Pacers. Add in the fact that the Heat will be playing a second straight game makes Green a solid option to continue to play above 25 minutes. We could have also gone with Klay Thompson with this pick and went cheaper at one of the other positions.
SF – Evan Turner ($5,400): The Boston Celtics small forward is a solid option tonight against a Brooklyn Nets team that is allowing the most fantasy points to opposing small forwards on the season. Turner is also currently riding a four game stretch with at least 20 fantasy points while getting at least 27 minutes in three of those four games.
SF – Kevin Durant ($9,900): Like we said up above with Westbrook the Thunder are a great team to build around tonight against the leagues top fast pace team in the NBA. Durant has turned in at least 45 fantasy points in four of the teams last five games. We could go cheaper with this pick and go with someone like Kawhil Leonard or expensive with someone like James and be very happy with the play.
PF – Tristan Thompson ($4,600): As long as Thompson continues to get 25 plus minutes on most nights while he salary sticks to under $5k he is a solid fantasy option. Thompson has turned in back to back games with at least 21 fantasy points while turning in five of those games over his last eight games.
PF – Nerlens Noel ($6,300): We tossed around a few names here including going a little more expensive with someone like Chris Bosh or LaMarcus Aldridge. In the end we elected to save on Noel who has shown his ability to post some solid fantasy nights for his FanDuel owners.
C – Andre Drummond ($9,300): Now we could have gone cheaper than Noel at the power forward position to allow us to use Cousins against the Thunder. In the end we like Drummonds matchup against the Orlando Magic more than we do Cousins against a Thunder team that he finished with less than 30 fantasy points against the last time they faced off.
Join FanDuel's $275K Mon NBA Shot Today! ($2 Entry)