Strategies
NBA FanDuel Lineup for Monday November 16th 2015

The NBA fantasy action continues on FanDuel with a six game lineup for owners to capitalize on. One of those games features the Oklahoma City Thunder traveling to Memphis to take on the Grizzlies. While everyone would have loved to stack both Kevin Durant and Russell Westbrook together we will have to settle for one.
Durant who has missed the teams last two games is expected to miss at least 7-10 days of action as he continues to deal with a hamstring issue. This leaves the workload for Westbrook to pick up something he has shown he can do with or without Durant on the floor.
Westbrook has not posted less than 44 fantasy points over his last seven games that includes two 53 plus fantasy performances. Now the downside to using Westbrook tonight will be the high percentage of usage on FanDuel. These users could turn to someone like James Harden another high priced option or look to spread this money out across the rest of the roster.
Join FanDuel's $150K Mon NBA Slam Today!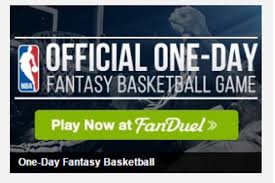 Here is our complete NBA FanDuel lineup for Monday November 16th, 2015.
PG – Russell Westbrook ($11,400): Only thing that could cause any fantasy owner to stay awy from Westbrook is his high salary cap number. Westbrook has only delivered one game with less than 40 fantasy points over his last ten games.
PG – D'Angelo Russell ($5,100): Looking for a cheaper option at the point guard position landed us with the Los Angeles Lakers point guard. Russell has posted at least 20 fantasy points in four of the teams last six games.
SG – Jimmy Butler ($7,900): The Chicago Bulls shooting guard continues to be inconsistent for fantasy owners this season. Over his last ten games, Butler has three games scoring between 11 and 17 points, two games scoring under 10 points and five games with at least 23 points. This type of scoring has shown up in his fantasy output despite only registering one fantasy game under 20 fantasy points over that stretch.
SG – Dion Waiters ($4,800): Waiters is our gamble play of the night with another cheap option coming in the name of Devin Harris for the Dallas Mavericks. Waiters should see his minutes increase with Kevin Durant out of the lineup and fantasy owners are looking for him to deliver tonight.
SF – Paul George ($9,200): We tossed around a few options tonight including going with a Fantasy Sleeper in Metta World Peace. In the end we elected to go with George who has delivered four 44 plus fantasy performances over his last six games as well as nine 35 plus fantasy performances over his last ten.
SF – Jae Crowder ($5,000): Since we went expensive with Westbrook, we needed to bargain shop at a few of the other positions. That landed us with the Boston Celtics small forward. While the play is a gamble, Crowder has shown his ability to drop 30 plus fantasy performances including two of his last five games.
PF – Terrence Jones ($5,900): Jones seems to be healthy again for the Rockets after back to back games scoring at least 23 points. Along with helping his team he delivered 37 fantasy points in his last two games for FanDuel owners. We expect his salary cap number to slowly rise now after missing five straight games.
PF – Dwight Powell ($4,900): Powell continues to be a bargain for the Dallas Mavericks. That includes back to back 29 plus fantasy performances for his owners while getting over 20 minutes. When Powell logs over 20 minutes he has delivered 20 plus fantasy points including back to back 30 plus fantasy games.
C –Zaza Pachulia ($5,800): The list of top options at the center position are limited for Monday Night. The only big names taking the floor are Dwight Howard for the Houston Rockets and Marc Gasol for the Grizzlies. We elected to go with a little cheaper of a option to allow us to spend a little heavier at the other positions. Another solid option in this price range is Tyson Chandler for the Phoenix Suns tonight.