Strategies
NBA FanDuel Lineup for Monday November 23rd, 2015

The NBA fantasy action continues tonight on FanDuel with superstars Russell Westbrook, DeMarcus Cousins and LeBron James looking to carry the load. The big question is which of these top fantasy stars can we combine to build the best NBA FanDuel lineup to deliver us all some cash tonight.
The easy choice of all the top fantasy options for us tonight is Westbrook who enters tonight with four straight games over 58.5 fantasy points. As long as Kevin Durant continues to miss time with his hamstring injury, Westbrook continues to be the top scoring option in Oklahoma City. The downside is the $11,900 salary the Thunder's point guard carries tonight during the action.
As we debated between both James, Cousins as well as other top fantasy stars we elected to go with Cousins tonight as the Sacramento Kings head to Charlotte. Tonight's matchup between these two feature the highest over/under line of all seven NBA games taking to the hardwood floor.
That beings said the big question is how can we make the $22,500 salary work when it equals nearly a third of our team salary. The answer to that question is simple, we have to find a few solid Fantasy Bargains that can make it all work together.
Join FanDuel's $150K Mon NBA Slam Today!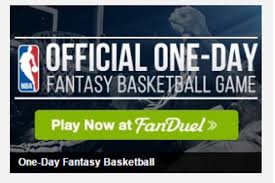 Here is our NBA FanDuel lineup for November 23rd, 2015.
PG – Russell Westbrook ($11,900): Westbrook is an easy choice for any fantasy lineup tonight. The Thunder's point guard has the ability to drop 50 plus fantasy points every night of the week.
PG – Kemba Walker ($7,500): While we could have gone a few direction at the backup point guard position we ended up going with Walker. Walker has scored no less than 28 fantasy points in five straight games including two 40 plus fantasy performances in that stretch.
SG – Jeremy Lamb ($4,600): Tonight's Kings/Hornets contest is slated with the highest over/under score making multiple players a solid fantasy option. One of those option is Lamb who has turned in at least 20 fantasy points in eight of their last ten contests.
SG – Alec Burks ($5,400): Tonight's contest between the Utah Jazz and the Oklahoma City Thunder should be a solid fantasy contest. That includes shooting guard Alec Burks who has posted at least 29 fantasy points in three of his last six games.
SF – Omri Casspi ($4,200): Looking for a cheap fantasy bargain landed us with Casspi for the Kings. Now Casspi is a big time gamble as we have seen is drop a 13.8 and 9.1 fantasy performance over his last five games. The upside is his salary is just $4,200 and he has at least four 23 fantasy performances over his last six games.
SF – Khris Middleton ($5,500): Middleton has been all over the board for fantasy owners this season. One option was to go with Marcus Morris but we would have had to gone cheaper than Walker. In the end we like Middleton's upside tonight against the Detroit Pistons.
PF – Frank Kaminsky ($3,700): Kaminsky is another FanDuel Bargain with a little higher gamble tonight. Now this play could change later in the day if news of Cody Zeller playing tonight. If Zeller doesn't play tonight, Kaminsky is a steal with a salary under $4k.
PF – Kristaps Porzingis ($6,300): The New York Knicks center has been up and down for fantasy owners this season. That being said we have seen Porzingis turn in a 43.2 point fantasy performance as well as 54.8 point fantasy performance over his last three games earning him a spot on our roster tonight.
C – DeMarcus Cousins ($10,600): When you see the type of fantasy performance, Cousins delivered in his last outing it makes him another very good fantasy option Cousins has posted at least 41 fantasy points in five of his last six games.