Strategies
NBA FanDuel Lineup for Saturday January 21st 2017

The action packed weekend of sports has arrived as the NBA sits front and center tonight with a nine game slate taking to the hardwood. Now before looking at our Daily Fantasy Basketball options for tonight we looked a little deeper at tonight's slate of games.
Of the 18 teams in action tonight, nine of those teams will be on back to backs giving of all something to worry about as some players could see additional rest. While we expect to see star powers likes James Harden, DeMarcus Cousins and Giannis Antetokounmpo all play their consistent minutes.
For players like Joel Embiid who have become a key fantasy option for fantasy owners he should get the night off. The Philadelphia 76ers have been cautious with his playing time this season, add that with the fact he left last night's game with a left knee contusion should land him a night off opening up the door for Jahlil Okafor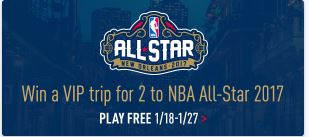 With that said here is our top Daily Fantasy Basketball Options for Saturday January 21st, 2017.
Point Guards – Kemba Walker & Austin Rivers
The point guard position is an interesting slot tonight with no real clear cut top tier fantasy option taking to the floor. That being said Walker looks to be a clear cut option with his upcoming matchup against a Brooklyn Nets that ranks fist in the NBA in fantasy points allowed. Rivers meanwhile should continue to see consistent minutes with Chris Paul out including tonight against a Denver Nuggets team that ranks 2nd in fantasy points allowed to the position. While we value Rivers more of a cash option he does have a high upside for GPP lineups as well.
Top Tier Fantasy Option We Like: Kyrie Irving
Mid Tier Fantasy Option We Like: Goran Dragic & George Hill
Fantasy Sleeper Option We Like: Ty Lawson (Monitor Status)
Shooting Guards – Devin Booker & Nicolas Batum
Two of the NBA's top fantasy options suit at the shooting guard position tonight but looking to cash in on GPP formats they could see a ton of usage. While we like both the Greak Freak and Harden we like value the matchups our two options will see. Earlier this season, Batum managed to post 42.5 fantasy points against this same Nets team. Booker on the other hand has posted four games over 37 fantasy points over his last five games.
Top Tier Fantasy Option We Like: James Harden & Giannis Antetokounmpo
Mid Tier Fantasy Option We Like: Will Barton
Fantasy Sleeper Option We Like: J.J. Redick/Jamal Crawford (Both High Upsides)
Small Forwards – Carmelo Anthony & Gordon Hayward
At the small forward position we debated going two different directions with us leaning towards the combo of Anthony and Hayward. The other option we also like is teaming up Kawhi Leonard/Jimmy Butler up with Robert Covington. In the end we expect the Knicks/Suns contest to be a fast pace game while Anthony is coming off a 40 point contest. Meanwhile Hayward has posted three 40 plus fantasy performances over his last five games.
Top Tier Fantasy Option We Like: Kawhi Leonard & Jimmy Butler
Mid Tier Fantasy Option We Like: Robert Covington & Michael Kidd-Gilchrist
Fantasy Sleeper Option We Like: Bojan Bogdanovic
Power Forwards –Ersan Ilyasova & Zach Randolph
With Nikola Jokic and Kevin Love both dealing with injury concerns they could be limited tonight. This opened up the door to stack two mid tier fantasy options together to free up some additional salary cap space. In the end we couldn't pass up Randolphs matchup against Houston Rockets team that has struggled against opposing power forwards. We do however recommend monitoring his situation since the Grizzlies are coming off a game last night. Meanwhile, if Embiid is out we like the value upside of both  Ilyasova and Okafor tonight.
Top Tier Fantasy Option We Like:  N/A
Mid Tier Fantasy Option We Like: Jabari Parker & Kristaps Porzingis
Fantasy Sleeper Option We Like:  Marvin Williams
Center Option – Tyson Chandler or Jahlil Okafor 
In GPP Formats icould see going with a few of those mid tier options at small forward freeing up some additional space to make a run at both Dwight Howard and DeMarcus Cousins. In the we love Chandlers upside against the Knicks while Okafor becomes our first option is Embiid is ruled out tonight. Okafor saw the a spot start last Saturday for Embiid posting 26 points to go with nine rebounds leading to a 37.8 night fantasy performance.
Top Tier Fantasy Option We Like: DeMarcus Cousins
Mid Tier Fantasy Option We Like: Dwight Howard & Brook Lopez
Fantasy Sleeper Option We Like: Cody Zeller