Strategies
NBA FanDuel Lineup for Thursday February 23rd 2017

The second half of the 2016-17 NBA Season tips off tonight as Daily Fantasy Owners look to cash in. Tonight's lineup features six games taking to the hardwood including what looks to be a solid fantasy matchup in New Orleans as the Pelicans welcome the Houston Rockets to town.
For Daily Fantasy Basketball Options this games offers a ton of top tier fantasy options now that the Pelicans have added DeMarcus Cousins to their lineup. Along with Cousins the other two top tier fantasy options tonight from this contest features James Harden as well as Anthony Davis.
With all that said we are turning most of our attention tonight to a wide range of options including some potential big time fantasy sleeper options. One of those fantasy sleepers we like tonight is Willie Cauley-Stein for the Sacremento Kings who should see a bump in playing time opening up his fantasy value. In two previous games when the Kings big man posted over 20 minutes he provide fantasy owners at least 22.9 fantasy points.
While Cauley-Stein is one of our fantasy sleeper options we like tonight, here is the rest of our NBA Daily Fantasy Basketball Options to build around.  Despite liking these options we still suggest monitoring the trade market prior to the 3pm ET deadline to ensure no key players are moved that could increase the playing time of others.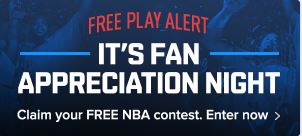 Point Guards – Kemba Walker & Damian Lillard
Tonight's slate of point guards offers a solid list of options including both Walker and Lillard who both have solid fantasy matchups. Walker entered the break posting back to back 43 point fantasy performances as he looks to continue his success against the Detroit Pistons. In three previous meetings, Walker has averaged 26.7 points to go with four rebounds and four assists. Meanwhile, Lillard scorched the Orlando Magic in January for 33 points in route to a 43 point contest.
Top Tier Fantasy Option We Like: Stephen Curry
Mid Tier Fantasy Option We Like: Elfrid Payton
Fantasy Sleeper Option We Like: Ty Lawson
Shooting Guards – E-Twaun Moore & Will Barton
The Pelicans shooting guard is projected to start tonight at the shooting guard position after the team shipped out both Buddy Heild and Tyreke Evans in the Cousins trade. Over his last two games where Moore has seen over 20 minutes he has posted over 20 plus fantasy points. Barton meanwhile face off against a Sacramento Kings team that ranks third in the NBA in fantasy points allowed to opposing shooting guards. Along with the matchup, Barton provides a big time upside with three 44 point fantasy performances over his last six games.
Top Tier Fantasy Option We Like: James Harden
Mid Tier Fantasy Option We Like: Nicolas Batum
Fantasy Sleeper Option We Like: Tyreke Evans & Ben McLemore
Small Forwards – Carmelo Anthony & Aaron Gordon
As of now Anthony is one of those fantasy options we really like tonight against the Cleveland Cavaliers but we strongly recommend monitoring his trade status later this afternoon. Entering tonight, Anthony has posted over 40 fantasy points in three of his last four games. While Anthony is always a threat for a big time fantasy performanc, Gordon is a sleeper type of option but one that should see some solid fantasy production as he returns to the power forward position.
Top Tier Fantasy Option We Like: LeBron James
Mid Tier Fantasy Option We Like: Marcus Morris & Michael Kidd-Gilchrist
Fantasy Sleeper Option We Like: Jeff Green
Click HERE to join FanDuel's $30K Thu NBA Dribbler Today!
Power Forwards – Frank Kaminsky & Willie Cauley-Stein
Kaminsky will continue to see an increased workload at the center position with both Cody Zeller and Miles Plumlee out. Kaminsky posted three straight games of at least 35 minutes while also posting at least 33 fantasy points. Cauley-Stein on the other hand is a high risk high reward play but we expect the Kings big man to take on a more expanded role now that Cousins has been traded.
Top Tier Fantasy Option We Like: Anthony Davis
Mid Tier Fantasy Option We Like: Draymond Green
Fantasy Sleeper Option We Like:  Juancho Hernangomez
Center Option – DeMarcus Cousins
We tossed around a few names at the center position including going with Nikola Vucevic and Mason Plumlee. In the end we couldn't pass up the chance to go with Cousins tonight in a contest that should provide some scoring on both sides of the floor as well as a ton of chances to grab rebounds. Cousins is a double double potential every night of the week and should have a potential for assists playing alongside Anthony Davis.
Top Tier Fantasy Option We Like: N/A
Mid Tier Fantasy Option We Like: Nikola Vucevic
Fantasy Sleeper Option We Like: Guillermo Hernangomez