Strategies
NBA FanDuel Lineup for Thursday February 9th 2017

The NBA action tonight will look to deliver some big time surprises around the Daily Fantasy Basketball world. Much of those surprises should come from Oklahoma City where the Thunder will welcome a very good Cleveland Cavaliers teams. Unfortunately for Daily Fantasy Basketball owners looking to cash in on some of those key Cavalier fantasy options the big three will not be available.
Yes that is correct as the Cavalier are expected to rest LeBron James, Kevin Love and Kyrie Irving tonight as they team comes off three games over the last four nights. For us this is a good thing as this opens up the door to not only play Russell Westbrook in this contest but also look for some fantasy sleeper options.
A few of those options we like including point guard Kay Felder who should see as much as 30 minutes tonight. Meanwhile someone like Kyle Korver becomes nearly a lock for us in most of our lineups as he is coming off an impressive 34 point fantasy performance in his last contest.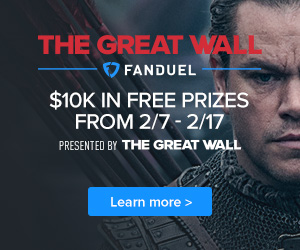 With all that said let's take a look at the rest of our Daily Fantasy Basketball Options for Thursday February 9th, 2017.
Point Guards – Russell Westbrook & Elfrid Payton
When you look at the point guard position it is nearly impossible to look past Westbrook tonight against a Cavaliers team that could be without their key weapons. Only concern for us is not that he won't post at least 45/50 fantasy points but how much rest he could see if they find a way to blow out the Cavaliers. Meanwhile Payton has a very favorable matchup against a Philadelphia 76er team that ranks fourth in the NBA in fantasy points allowed to the point guard position.
Top Tier Fantasy Option We Like: Kemba Walker
Mid Tier Fantasy Option We Like: Patrick Beverley
Fantasy Sleeper Option We Like: Kay Felder
Shooting Guards –Nicolas Batum & Kyle Korver
Now if you go with say someone like Kay Felder in place of Payton you should be able to wiggle James Harden with Westbrook into your lineup. That being said looking to spread the wealth around landed us with both Batum and Korver at the shooting guard position tonight. Korver should see 30 plus minutes with the big three off the court while Batum has the second best fantasy matchup of the night at the position.
Top Tier Fantasy Option We Like: James Harden
Mid Tier Fantasy Option We Like: Evan Fournier
Fantasy Sleeper Option We Like: Nik Stauskas
Join FanDuel's $10K Thu NBA Russ Today!
Small Forwards – Gordon Hayward & Andre Roberson
Sticking with that Cavaliers/Thunder matchup turned us to Roberson who has been solid of late for his fantasy owners posting over 31 fantasy points in back to back games. Meanwhile Hayward is the top fantasy option expected to suit up tonight as he looks to lead his Utah Jazz past the Dallas Mavericks. Over his last five games, Hayward has posted three games over 44 fantasy points while the other two games over the 30 fantasy point mark.
Top Tier Fantasy Option We Like: N/A
Mid Tier Fantasy Option We Like: Michael Kidd-Gilchrist
Fantasy Sleeper Option We Like: Jeff Green
Power Forwards – Marvin Williams & Frank Kaminsky
With no real top tier fantay option at the power forward position tonight we turned to the md tier level tonight while also considering going with someone like Amir Johnson or Dwight Powell to allow us to make the move to James Harden. In the end Williams has the best fantasy matchup of the night at the power forward position while Kaminsky has posted over 34 fantasy points in two of their last three games.
Top Tier Fantasy Option We Like: N/A
Mid Tier Fantasy Option We Like: Derrick Favors & Ersan Ilyasova
Fantasy Sleeper Option We Like:  Dwight Powell & Amir Johnson
Center Option – Nikola Vucevic
Here is our lock of the night as we expect Vucevic to put together a big time fantasy performance against a 76ers team that has struggled against opposing centers. Vucevic is coming off a near 50 point fantasy performance as well as posting over the 40 point mark in three of last six games.
Top Tier Fantasy Option We Like: Al Horford
Mid Tier Fantasy Option We Like: Steven Adams & Tristan Thompson
Fantasy Sleeper Option We Like: Jahlil Okafor