Strategies
NBA FanDuel Lineup for Thursday January 7th, 2016

The NBA action on the hardwood tonight is limited but that won't slow us down on FanDuel. In all only four games are taking to the hardwood tonight for daily fantasy owners to cash in. Those contests feature the Atlanta Hawks heading to Philadelphia to take on the 76ers, the Utah Jazz heading to Houston to take on the Rockets, the Boston Celtics traveling to Chicago to take on the Bulls while the Los Angeles Lakers clash with the Sacramento Kings to wrap up the action.
That being said with the light slate of games to build from it leaves us very few top fantasy options to go with. Two of those options feature DeMarcus Cousins going up against the Lakers while James Harden will look to lead the Rockets to a win at home over the Jazz. One option is to stack the two together and ride with a few cheaper options. While that option is one that we have considered going with but at the moment we are leaning on using just one of those options.
For us the key to building that winning lineup tonight is to start by looking at what Las Vegas thinks of each of these teams. Currently the three teams Vegas likes tonight is the Hawks (projected for 106.75 points), the Bulls (projected 104 points) and the Rockets (projected for 103.75). The only game not projected tonight with an over/under line on most sites is the Lakers/Kings matchup.
Join FanDuel's Thursday TNT $250K Slam Today!
This leaves us a few very solid top end picks with the likes of Jimmy Butler, Paul Millsap and even Harden. This also leaves us with a few bargain types to build with as well including someone like Ken Bazemore who will only cost you $5,700 against a very bad team.
Other bargains we like around the NBA tonight include Ishmael Smith (little higher than the $5k mark we like but he has posted three 40 plus performances over his last five games), Darren Collison (if Rondo is out of the lineup tonight) and Rodney Hood (posted 34.7 fantasy points against the Rockets just a few nights ago).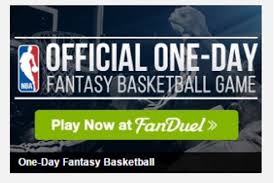 Here is our NBA FanDuel lineup for Thursday January  7th, 2016.
PG – Ishmael Smith ($6,100): While Smith is a gamble type of play tonight he has shown his ability to post big time fantasy performances. Add in the fact both of these teams rank in the top 12 in pace of play around the NBA and some fantasy points should be scored tonight.
PG – Isaiah Thomas ($8,100): With Rondo in question tonight for the Kings, Thomas should be a very high play at the point guard position. The Celtics point guard is riding at least 34 fantasy points in five straight games as well as at least 30 fantasy points in nine of his last ten games.
SG – Marco Belinelli ($4,300): Sticking with another FanDuel Bargain type player has landed us with the Kings shooting guard. Belinelli has four straight solid fantasy performances including two of those games with over 30 fantasy points with the other two cover at least 23. While the 30 points would be great if we can get the 23 plus at just a little over the $4k mark makes him a steal tonight.
SG – Jimmy Butler ($8,500): Yes we went cheap at the other shooting guard position but we couldn't resist going with Butler. We debated using Bazemore and you could at the other shooting guard position we just liked the more expensive play here in a game that should be fast paced on both sides.
SF – Thabo Sefolosha ($4,000): For us this play is more about getting Pau Gasol into our lineup tonight against the Celtics. Add in the fact the Hawks could decide to rest a few of their normal starters and Sefolosha's fantasy value increases. While it's a gamble we like the Hawks small forwards potential against the 76ers tonight.
SF – Nikola Mirotic ($4,800): While we would have loved to been able to go with a more expensive play here we just didn't have the cap room. A few options including goin with Collison if Rondo is out would free up the cap space to go with Rudy Gay against the Lakers in place of Sefolosha and stick with Mirotic against the Celtics.
PF – Pau Gasol ($8,900): For us we loaded up with the Bulls tonight against the Celtics in a game that should be high scoring and very fast pace. That being said the fast pace that both teams like to play should allow for Gasol to get a few extra rebounds making him one of the top fantasy options tonight.
PF – Larry Nance Jr ($4,300): Nance is a great bargain tonight and while we left him off our list up top we do like his matchup against a Kings team that ranks number one in the NBA in pace of play. The Lakers have played three straight teams that have ranked in the top six in the NBA in pace of play, Nance has posted at least 21 fantasy points picking up at least seven rebounds in each contest.
C – DeMarcus Cousins ($10,400): The price tag is steep on the Kings center tonight but he should continue his recent surge against a bad Lakers team. Cousins is currently riding back to back 60 plus fantasy performances. Add in the fact that both of these teams have the tendancy to move the ball up and down the court should give Cousins a chance to dominate the glass. On the other end we suggest monitoring the lineups incase the Kings decide to rest him tonight against the Lakers.
As always monitor the NBA Lineups and if you see a top named star land his name on the inactive list, look to capitalize on a cheap play with the pick.
Join FanDuel's Thursday TNT $275K Shot Today!