Strategies
NBA FanDuel Lineup for Thursday November 17th 2016

The weekend is just around the corner but that won't take our eyes off of the NBA action Tonight. While many daily fantasy owners are turning their attention to the Thursday Night Football game we are turning our full attention to another action packed night in the NBA.
While the action tonight is limited compared to yesterday's slate of games we still have a few solid fantasy options tonight to build our lineup around. At the top of everyones wish list tonight will be the Houston Rockets shooting guard James Harden who is averaging 54 fantasy points per game.
Prior to his 40.9 fantasy point performance last night the Rockets shooting guard had turned in seven straight games with at least 50 fantasy points. Now the top tier options don't stop their as we have a nice duo at the point guard position we would like to build around as well.
That duo consists of the Portland Trailblazers point guard Damian Lillard and the Washington Wizards star John Wall. These are the only two point guard options tonight that are averaging over 45 fantasy points. Another The other option we like Is to sub in Ricky Rubio in for one of those two points guards.
Here is our top NBA FanDuel Options for Thursday November 17th, 2016.
NBA FanDuel Point Guard Options
Damian Lillard, Portland Trailblazers: This might be the matchup of the night as we expect to see a ton of scoring while both Lillard and Harden do everything in their power to lead their team to a big win. Lillard has posted over 40 fantasy points in four of his last five games.
Ricky Rubio, Minnesota Timberwolves: We still love Wall tonight as well but we liked the fantasy cap savings we clear when going that direction. Since his return after missing five games the Timberwolves guard has posted 22.2, 33.8 and 30.6 fantasy points in the last three games.
Other Point Guard Fantasy Options we like is Derrick Rose.
Fantasy Sleeper Option we like is Matthew Delladova
NBA FanDuel Shooting Guard Options
James Harden, Houston Rockets: Harden is one of those fantasy options you just can't pass up on night in night out. For us the Rockets guard might be the top scorer we have seen for a very long time. If you go with Harden with that point guard combo above you will need to start looking for some
Zach LaVine, Minnesota Timberwolves: LaVine continues to be a mystery night in and night as his consistency continues to grow. Over his last three games played the Timberwovles shooting guard has posted 24.4, 30.6 and 48.3 fantasy points.
Other Shooting Guard Fantasy Options we like is Eric Gordon.
Fantasy Sleeper option we like is Courtney Lee.
Click HERE to Join FanDuel's $400K Thu NBA Shot Today!
NBA FanDuel Small Forward Options
Andrew Wiggins, Minnesota Timberwolves: Despite picking up the win last night the Philadelphia 76ers still struggled to slow down their opponents allowing the Washington Wizards to post over 100 points. Add that with the fact the 76ers are allowing the most fantasy points in the league to the small forward position makes Wiggins a great option.
Otto Porter, Washington Wizards: One thing we know for sure is that the Wizards are not a very good team on paper or on the floor. That being said Porter has been one of the more consistent players in the league in terms of minutes per game getting at least 34 per game in three of their last four games.
Other Small Forward Fantasy Options we like include Jimmy Butler and Trevor Ariza.
Fantasy Sleeper option we like is Joe Johnson.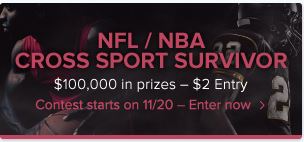 NBA FanDuel Power Forward Options
Ryan Anderson, Portland Trailblazers: Anderson is an interesting fantasy option tonight at the power forward position. That being said we couldn't pass up his fantasy potential while also saving us some salary cap numbers. The Rockets power forward will get a chance to take advantage of a Rockets team that ranks sixth in fantasy points allowed to opposing power forwards.
Taj Gibson, Chicago Bulls: Tonight is the night where you could save a few bucks at the power forward position. While we like Kristaps Porzingis tonight for the Knicks we really like the Bulls power forward as a much cheaper fantasy option.
Other Power Forward Fantasy Options we like include Young.
Other Power Forward Fantasy Options we like is Markieff Morris.
Fantasy Sleeper Option we like is Dario Saric.
NBA FanDuel Center Options
Joel Embiid, Philadelphia 76ers: Now before inserting the 76ers center into your lineup tonight we strongly suggest monitoring his injury stats. That being said if he is in the lineup you must build around him as the Timberwolves rank 1st in the NBA in fantasy points allowed to opposing centers.
Other Center Fantasy Options we like include Clint Capela and Marcin Gortat.
Fantasy Sleeper Option we like is Nene Hilario.