Strategies
NBA FanDuel Lineup for Thursday October 29th, 2015

The excitement has arrived for daily fantasy owners as the 2015-16 NBA season is in full swing. That includes a very limited lineup of teams in action tonight to take advantage of on all the top sites including a chance to take home a top prize of $20k on FanDuel tonight in the FanDuel Thursday On TNT $200k Slam.
Now despite the limited action tonight on the hardwood around the NBA we still like a few key players to build our lineup from. One of those players is Blake Griffin for the Los Angeles Clippers. Griffin opened up the season with a solid 46.6 fantasy output for FanDuel owners as he finished with 33 points to go with eight rebounds.
Along with Griffin we could look to stack some of his teammates against the Dallas Mavericks tonight including point guard Chris Paul or even a FanDuel bargain with Austin Rivers. In that same game we also like Raymond Felton as a solid Fantasy Sleeper with just a $4k salary.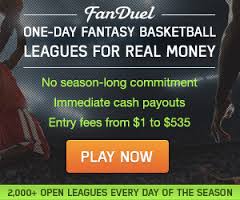 That being said here is our NBA FanDuel Lineup for Thursday October 29th, 2015.
PG – Chris Paul ($9,800): The Los Angeles Clippers point guard is the top option among players in action tonight. That being said we expect the Clippers contest tonight against the Dallas Mavericks to be a high scoring contest opening up opporutnities for fantasy owners to cash in on.
PG – Raymond Felton ($4,000): For now Felton is classified as a point guard but many expect him to be one of the Mavericks key scorers taking the floor as the teams shooting guard with Chandler Parsons out. Felton delivered a solid 18 point, four rebound and six assist in the teams first game of the season.
SG – Sasha Vujacic ($3,500): Looking for FanDuel Bargains landed us with the New York Knicks shooting guard. Vujacic rewarded his fantasy owners on Wednesday Night with a solid 30.7 fantasy night output. We like his high ceiling for his extremely low salary cap figure.
SG – Tony Allen ($4,700): With the limited action on the court tonight we had to look at fantasy plays that could be a very low percentage. One of those plays is Allen for the Memphis Grizzlies tonight against the Pacers. Despite really liking Langston Galloway and Kyle Korver.
SF – Paul George ($8,500): The debate could be made to go with Carmelo Anthony tonight but we elected to go with the Indiana Pacers star. George looked good in the teams opener finishing with 17 points to go with 12 rebounds and eight assists in route to a 46.4 fantasy night on FanDuel.
SF – Carmelo Anthony ($9,400): In the end couldn't pass up the opportunity to put Anthony in our lineup as we found a few key FanDuel Bargains to allow this to happen. That being said Anthony is still recovering from offseason knee surgery that might slow his burst down early in the season.
PF – Blake Griffin ($9,900): Griffin will remain a top fantasy option all season long the difficult decision will be figuring out which nights will be his off night. We don't expect that tonight as the Mavericks/Clippers have a current over/under line of 212 points as Las Vegas expects points to be scored in this game.
PF – Kristaps Porzingis ($4,800): We could have went with either of the Knicks power forward tonight in a game we expect to see some scoring in. That being said Porzingis does carry the starting title so we expect him to see the court for more minutes.
C – Ian Mahinmi ($4,800): He might not be the big name center that many fantasy owners like to build around but we like his salary cap figure tonight to work in three of the top fantasy scoring options into our lineup. Mahinmi finished with 31.1 fantasy points in his first game of the season despite fouling out in just 25 minutes.