Strategies
NBA FanDuel Lineup for Tuesday April 4th 2017

The final few weeks of the 2016-17 NBA Season have arrived leaving Daily Fantasy Basketball owners just a few more chances to cash in. That includes a chance to cash in tonight with a heavy 11 game slate taking to the hardwood opening up a ton of different options to plug in our lineups.
One name that should be atop everyone's wish list is Russell Westbrook who continues to put up MVP like numbers as he shoots to finish the season averaging a triple double. Despite the high salary, Westbrook has been outstanding as the top Daily Fantasy Basketball Option over the past week putting up over 60 fantasy points in five straight contests.
That being said with a move to build around at least one of the top Daily Fantasy Basketball Options it will open up the door for a few Fantasy Sleeper plays that will offset some of that salary. One of those cheaper options we like tonight is Yogi Ferrell of the Dallas Mavericks who has put up over 20 fantasy points in four of his last five games while providing a upside for GPP tournaments.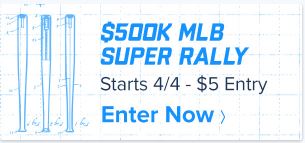 Along with Ferrell here is a few of the other Fantasy Sleeper & Bargains we like for Tuesday April 4th, 2017.
Nik Stauskas – Brooklyn Nets rank 7th in FPG allowed to shooting guards
Boris Diaw – Portland Trailblazers rank 4th in FPG allowed to power forwards.
Here are the rest of the NBA Daily Fantasy Basketball Options we like for Tuesday April 4th, 2017.
Point Guards – Russell Westbrook & Yogi Ferrell
We are all in on Westbrook tonight as we look to see his fantasy dominance continue as he looks to a sixth straight 60 plus fantasy performance. Tonight Westbrook will look to out do his first performance against the Milwaukee Bucks this season where he finished with 30 points to go with seven rebounds and six assists. On the bottom end of the spectrum sits Ferrell who we like tonight despite his up and down trends. Ferrell has shown at points he can be a solid fantasy contributor while he warrants a salary below the $5k mark. Another option here is to go with Alfrid Payton and Jrue Holiday who would combine to save you $3,300 against your cap number.
Top Tier Fantasy Option We Like: Steph Curry
Mid Tier Fantasy Option We Like: Ricky Rubio & Kemba Walker
Fantasy Sleeper Option We Like: Spencer Dinwiddie
Shooting Guards – Nik Stauskas & Evan Fournier
In cash game lineups we would say go cheaper at the point guard position while spending a little more freely at the shooting guard slot. Meanwhile for GPP tournaments we expect the top options to see a ton of action tonight opening up the chance for some solid fantasy performances from both Stauskas and Fournier. Stauskas faces a very bad Brooklyn Nets defense. Meanwhile Fournier has been consistently putting up mid 20 point fantasy performances while delivering a big time performance from time to time.
Top Tier Fantasy Option We Like: Giannis Antetokounmpo
Mid Tier Fantasy Option We Like: Bradley Beal & Gary Harris
Fantasy Sleeper Option We Like: Sean Kilpatrick
Small Forwards – Paul George & Andre Roberson
With a  solid cast of top tier fantasy options as the small forward position we turn to George in a game that Indiana Pacers need to win to keep there playoff hopes alive. This type of energy has been showcased of late as George has topped 34 fantasy points in six straight games including a 72.3 fantasy point performance on Monday against the Cleveland Cavaliers. The Roberson move might not look pretty but he has posted over 25 fantasy points in four of his last five games. This move allows us to spend more aggressive with George tonight.
Top Tier Fantasy Option We Like: Jimmy Butler
Mid Tier Fantasy Option We Like: Gordon Hayward & Danilo Gallinari
Fantasy Sleeper Option We Like: Justin Anderson
Power Forwards – Kevin Love & Boris Diaw
As we looked at the power forward position all we could think of is teaming up Westbrook with Antony Davis. While that would work we valued the additional cap space across the board as we elected to go with Love and Diaw who both have very favorable matchups. Love will look to take advantage of an Orlando Magic team that ranks 3rd in the NBA in fantasy points allowed while Diaw should get another chance to see solid minutes against a Portland Trialblazers team that has struggled against opposing power forwards.
Top Tier Fantasy Option We Like: Anthony Davis
Mid Tier Fantasy Option We Like: Dario Saric & Marvin Williams
Fantasy Sleeper Option We Like: Thaddeus Young
Center Option – Brook Lopez
While Lopez might not be the biggest name on the slate tonight at the center position he is our top fantasy play option. Lopez is riding back to back 42 plus fantasy performances while topping the 30 point mark in four of his last five games. Tonight that success should continue against the same Philadelphia 76ers team he posted 48.8 fantasy points against last week. While we like Karl-Anthony Towns as well we like the savings with Lopez tonight.
Top Tier Fantasy Option We Like: Karl-Anthony Towns
Mid Tier Fantasy Option We Like: Myles Turner
Fantasy Sleeper Option We Like: Steven Adams