Strategies
NBA FanDuel Lineup for Tuesday January 24th 2017

The 2016-17 NBA stays consistent on Tuesday Night as Daily Fantasy Basketball owners look to take advantage of the six game slate. The good news for those owners is a solid list of fantasy options that includes John Wall, Karl-Anthony Towns, Jimmy Butler and Isaiah who are all averaging over 40 fantasy points a game.
On the downside Tuesday Night's slate offers a wide range of uncertainty among some of the NBA's other top fantasy options. This includes Blake Griffin who could return to the Los Angeles Clippers lineup and Kawhi Leonard who might be available after missing Monday Night's contest with a hand injury.
Other injuries that will force players to miss action on Tuesday Night that should open up the door for other fantasy options to step up are DeMar DeRozan and Joel Embiid. These injuries open up the door for players like DeMarre Carroll, Terrance Ross, Jahlil Okafor and Ersan Ilyasova all to have big time fantasy performances.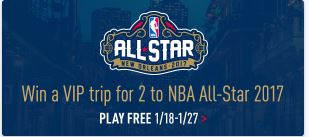 With that said here is our top Daily Fantasy Basketball Options for Tuesday January 24th, 2017.
Point Guards – Austin Rivers & Elfrid Payton
The point guard position has a few top tier options but the big concern is whether or not they can reward us with 6 to 7 times their value for what you need to take home GPP tournaments. For us with Chris Paul out, Rivers becomes a near certain play night in and out. Meanwhile, Payton has delivered at least 36 fantasy points in four of the last five games including a 57.3 fantasy points.
Top Tier Fantasy Option We Like: Isaiah Thomas
Mid Tier Fantasy Option We Like: George Hill & Marcus Smart
Fantasy Sleeper Option We Like: Jamal Murray/Jameeer Nelson (If Mudiay Is Out)
Shooting Guards – Alec Burks & Bradley Beal
Tonight's lineup of contests limits us with a guaranteed lock at the shooting guard position. With that being said we love Beal tonight based on his matchup against a Boston Celtics team that ranks second in fantasy points allowed to the position. On the other end Burks has the top fantasy matchup of the night against the Denver Nuggets. Entering tonight, Burks is supporting a salary cap number of $3,600 while seeing back to back solid games as he has seen an increase in his minutes.
Top Tier Fantasy Option We Like: N/A
Mid Tier Fantasy Option We Like: Devin Booker & Zach LaVine
Fantasy Sleeper Option We Like: Danny Green
Small Forwards – Jimmy Butler & Andrew Wiggins
Despite the lack of fantasy options at a few of the positions on Tuesday Night the small forward looks to deliver a few top tier options. This includes Butler and Wiggins who both have the top two fantasy matchups of the night at the small forward position. Butler has posted over 51 fantasy points in two of his last five games while Wiggins had success against the Phoenix Suns in a meeting back on December 19th.
Top Tier Fantasy Option We Like: N/A
Mid Tier Fantasy Option We Like: Jae Crowder & Aaron Gordon
Fantasy Sleeper Option We Like: DeMarre Carroll
Click HERE to join FanDuel's $25K Tue NBA Dribbler Today!
Power Forwards –Ersan Ilyasova & Markieff Morris
Now as you anchor down your lineups you could go a few directions including going with Aldridge as a must start fantasy options. Aldridge has a ton of fantasy value with his matchup tonight as well as the fact the San Antontio Spurs continue to deal with several key injuries. In the end we like Ilyasova's upside with Joel Embiid out.and Morris's recent stretch of solid fantasy contribution a little more to free up additional salary cap space.
Top Tier Fantasy Option We Like: LaMarcus Aldridge
Mid Tier Fantasy Option We Like: Serge Ibaka & Gorgui Dieng
Fantasy Sleeper Option We Like: Amir Johnson
Center Option – DeAndre Jordan 
Big questions surround the Clippers tonight as there is an outside chance that Blake Griffin could see the floor for the first time since December 18th. While it could limit some potential production for Jordan it should take some of the down low coverage away opening up the door for Jordan to control the glass. Jordan has five four plus fantasy contests over his last eight games.
Top Tier Fantasy Option We Like: Karl-Anthony Towns
Mid Tier Fantasy Option We Like: Tyson Chandler & Marcin Gortat
Fantasy Sleeper Option We Like: Jahlil Okafor