Strategies
NBA FanDuel Lineup for Tuesday, November 10th 2015

The NBA action continues to deliver night in and night out for FanDuel owners. Tonight will be no different as 14 teams take to the hardwood to continue to fight for a chance to make the playoffs. For fantasy owners that means any great night to cash in on FanDuel with superstars such as Kevin Durant, LeBron James and Russell Westbrook.
Two of those three stars will take the floor tonight in the Nations Capital against John Wall and the Washington Wizards. This game is the only game slated tonight with an over/under score of over 200 points. While we love Westbrook in this contest, Durant is the guy we like even more.
Durant who is a free agent at the end of this season is from nearby Maryland and some speculations he would return this offseason. That being said we expect the local fans to fill the Verizon Center to root on the Wizards while showing Durant they want him to come home.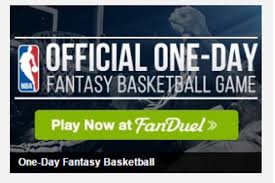 Here is our NBA FanDuel lineup for November 10th, 2015.
PG – Russell Westbrook ($10,900): It's almost impossible not to go with Westbrook any night he takes the floor. Entering tonight's contest, Westbrook has posted at least 44 fantasy points in four straight games as well as six of his first seven games this season.
PG – John Wall ($9,500): Looking at all the viable options tonight at the point guard position landed us with Wall. Wall will look to lead his Wizards past one of the top scoring teams in the NBA. The Wizards need Wall to go blow for blow with Westbrook tonight if they want a chance to keep the game close.
SG – Jeremy Lamb ($4,100): Lamb is interesting case tonight despite coming off his worst fantasy performance of the season. Prior to his 6.8 fantasy performance, Lamb posted two games with 20.8 fantasy points and 32.3 fantasy points over the past three games.
SG – Langston Galloway ($4,800): The New York Knicks shooting guard has anchored himself into the teams sixth man. Galloway has four 21 plus fantasy performances this season while scoring less than 19.8 fantasy points in only one contest.
SF – Kevin Durant ($10,400): We tossed and turned on the idea of using LeBron James instead of Durant. In the end we expect Durant and Westbrook to have big games in a high scoring contest against the Wizards tonight.
SF – Jae Crowder ($4,700): Crowder showed in the Boston Celtics last game he can be a great option as a top tier fantasy starter with a nice valuable salary cap figure at just $4,700. The Celtics small forward finished with 38 fantasy points in the teams last game against the Wizards.
PF – Dwight Powell ($4,600): Since we went expensive at a few other of the key areas we needed a few salary cap bargains. One of those options is Powell who has posted four straight games with at least 23 fantasy points.
PF – Luis Scola ($4,300): Our one gamble tonight is Scola who can post 20 plus fantasy nights the downside he will turn in a 11.5 fantasy point performance as well. One option is to go cheaper than John Wall and spend heavy on at the power forward position.
C – Karl-Anthony Towns ($6,700): The former Kentucky Wildcats star is turning into one of the top fantasy options at center this season. This has shown up in back to back games after posting 36.9 in the last game and 45.6 just two games ago.
Join FanDuel's $150K Tue NBA Layup Today!