Strategies
NBA FanDuel Lineup for Tuesday November 15th 2016

The excitement continues on the NBA Hardwood tonight helping us all walk away winners on FanDuel. In all the 2016-17 NBA Schedule delivers an action packed five game lineup that features a big time showdown in Cleveland as the Cavaliers welcome the Toronto Raptors to town.
This contest features two of the games top fantasy scoring options through the first four weeks of the 2016-17 NBA Season. For the Cavaliers James will look to continue his early success while he continues to dominate for his fantasy owners. James has posted over 40 fantasy points in eight of his first nine games.
On the other side DeMar DeRozan continues his incredible start something that helped him land in an elite class of NBA Legends. The Raptors shooting guard has has taking home the NBA Player Of The Week award while starting the season scoring at least 30 points in eight of his first nine games. In that same stretch, DeRozan has rewarded his fantasy owners with eight 40 plus fantasy performances.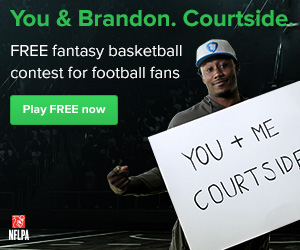 Along with DeRozan and James here are the rest of our top NBA FanDuel options for Tuesday November 15th, 2016.
PG – Damian Lillard, Portland Trailblazers: After moving around the numbers we found a way to work Lillard into the same lineup that consists of both DeRozan and Lebron James. The Trailblazers point guard is just one of four players averaging over 40 fantasy points a game this season.
PG – Tyler Johnson, Miami Heat: With Goran Dragic expected to be out tonight Johnson and Josh Richardson are both solid option including the fact that Richardson is slotted in at the shooting guard position. Johnson has posted at least 29 minutes a game in four of his last five games providing him an option to put up some solid fantasy numbers.
SG – DeMar DeRozan, Toronto Raptors: Going against DeRozan is nearly impossible for us based on his hot start. Entering tonight, DeRozan has turned in three straight 45 plus fantasy performances. The downside to teaming up James and DeRozan is the limited salary cap space that will be left to build the rest of our lineup around leaving us in search for a few good fantasy sleeper options.
SG – Lou Williams, Los Angeles Lakers: We tossed around both Williams as well as his teammate Nick Young as solid options. While Young will provide more salary cap space while Williams has produced at least 25 fantasy points in five straight games. Along with Williams we also like Josh Richardson as he is the suggested starter at point guard for the Miami Heat tonight.
Join FanDuel's $350K Tue NBA Shot Today!
SF – LeBron James, Cleveland Cavaliers: The limited lineup of NBA Games tonight leaves us with a limited amount of top tier fantasy options that were available. Much like DeRozan, James has been dominating for his fantasy owners producing over 48 fantasy points in four of his last five games.
SF – Michael Kidd-Gilchrist, Charlotte Hornets: Prior to finalizing your lineups tonight we suggest monitoring the news headline to ensure MKG is in the Hornets starting lineup. After sitting out against the Raptors, MKG bounced back with a solid 28 fantasy point performance while playing 41 minutes.
PF – Julius Randle, Los Angeles Lakers: We have a few options here including going with Kemba Walker in place of Lillard to open up a chance to use either Kevin Love or Paul Millsap. In the end we couldn't pass up Randle tonight against a Brooklyn Nets team allowing that is allowing the third most fantasy points to opposing power forwards.
PF – Nikola Mirotic, Chicago Bulls: Despite his struggles as well as an up and down line of playing night in and night out we still like Mirotic. The Bulls power forward is coming off a solid 39.7 fantasy performance after posting 17 points and 11 rebounds. If the Bulls power forward can get hot early from three point territory, Mirotic could be the fantasy sleeper to power us to the cash tonight.
C – Mason Plumlee, Portland Trailblazers: Tonight's lineup of NBA games provides us with a few center options we like including Roy Hibbert as a deep fantasy sleeper and Robin Lopez as another Fantasy sleeper option. In the end we like Plumlee tonight against a Chicago Bulls team that ranks fifth in most fantasy points allowed to opposing centers.