Strategies
NBA FanDuel Lineup for Tuesday November 17th 2015

Stephen Curry, LeBron James looks to carry the load for FanDuel owners tonight. On a night when only 14 teams are in action the top fantasy options will be key in delivering cash. Along with those two superstars taking to the floor the other top names including Anthony Davis, Andre Drummond, John Wall, Carmelo Anthony and Kyle Lowry.
The big question for tonight is whether or not to stack a few of the big fantasy guns together or if we should spread our salary cap money across the board. For us it will be almost impossible for us to pass up Curry despite knowing that he will be used in a high percentage of lineups.
Entering this game Curry has scored at least 43 fantasy points in eight of his last ten games. Add in Curry's ability to score as well tonight's matchup against the Toronto Raptors and Curry should reward his fantasy owners with another big time fantasy performance. Tonight's Warriors/Raptors matchup is just one of two matchups tonight with an over/under of at least 207.5 points.
Along with the Warriors/Raptors matchup the only other game tonight that features an over/under of over 200 points is the New Orleans Pelicans taking on the Denver Nuggets.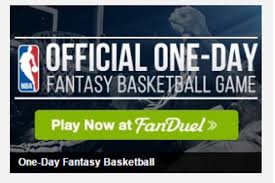 Here is our NBA FanDuel lineup for Tuesday November 17th, 2015.
PG – Stephen Curry ($11,000): Curry is the easiest of the fantasy options tonight though we also debated using Davis tonight as well. We could also consider going cheaper with a John Wall/Kyle Lowry combination.
PG – Jerryd Bayless ($4,300): Since we are going with Curry we elected to go cheaper at the point guard slot as well. Entering this game, Bayless has posted at least 25 fantasy points in three of his last four games including a 41.2 point fantasy performance just a few games ago.
SG – Will Barton – ($5,000): Barton is another solid Fantasy Bargain tonight after posting back to back games with at least 35.5 fantasy points. Now the risk we have is his back to back stretch combining to score just 23 fantasy points.
SG – Eric Gordon ($6,000): We looked at the top two potential scoring opportunities tonight. That led us to Gordon as well as the idea of using Davis to carry our FanDuel lineup. Gordon has four 30 plus fantasy performances over his last six games.
SF – Andre Iguodala ($4,700): Tonight's Warriors verse Raptors matchup is an ideal contest to build from. Iguodala is a risk any night of the week but has shown with two 32 plus fantasy performances over his last five games makes him a great play tonight.
SF – Otto Porter ($5,500): Porter is an interesting case this season despite being the Washington Wizards third option. That being said Porter has five 23 plus fantasy performances over his last six games.
PF – Luis Scola ($4,300): Scola is our Fantasy Sleeper of the night against the Warriors tonight. Despite back to back disappointing fantasy performances we expect Scola to bounce back tonight in a game that could see a ton of scoring taking place.
PF – Anthony Davis ($10,900): We could have went with James or any of the other top options but we like Davis. Tonight's Pelicans contest is slotted to see a ton of scoring as well as rebounding options for Davis.
C – Hassan Whiteside ($8,300): While we considered using Andre Drummond tonight we elected to save a few dollars to spend at a few of the other potential fantasy positions. Whiteside has at least double digit rebounds in si of his last eight games.