Strategies
NBA FanDuel Lineup for Wednesday April 5th 2017

The 2016-17 NBA season rolls onto another hump day with an action packed slate of games for Daily Fantasy Basketball owners to cash in on. In all eight games take to the court including a playoff caliber matchup in Boston as the Celtics welcome the Cleveland Cavaliers to town with both teams fighting for the top spot in the Eastern Conference.
This type of matchup is an intriguing one from a fantasy perspective as we expect all of the big fantasy options from both teams to step up tonight. This includes LeBron James who posted a triple double back during their March 1st meeting where the Cavaliers came up on the losing end in Boston. Along with James both Kyrie Irving and Kevin Love are solid fantasy options while Isaiah Thomas is nearly a must play option.
The Daily Fantasy Basketball Options don't end with that contest as some of the other top tier plays include Russell Westbrook, James Harden and Steph Curry. Now with all of those big time fantasy salaries the need to offset some of them will be a big need tonight.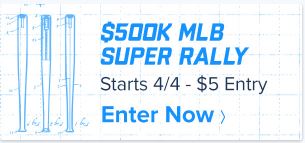 Here are a few solid fantasy sleepers and bargains that we like tonight that will help save you some salary cap space.
Tony Parker/Patty Mills – Point Guard Position
With the Spurs holding a tight hold onto the second spot in the Western Conference tonight's meeting with the Los Angeles Lakers could be one where we could see some veterans get the night off. That being said if Parker gets the start we like him against a bad Los Angeles Lakers team that ranks near the top in fantasy points allowed to opposing point guards. If Greg Popovich elects to rest tonight just flip to Mills as both players sit under the $4,200 point fantasy mark.
Kentavious Caldwell-Pope – Shooting Guard
The Pistons shooting guard is an up and down type of player who can push a GPP lineup into a big time payday but on the other side could cost you money as well. For us we like his play against the Toronto Raptors tonight in a matchup that could see some points scored on both sides of the floor. Add that to fact he has posted over 30 fantasy points in two of his last three games makes him a very interesting play.
Here are the rest of the NBA Daily Fantasy Basketball Options we like for Wednesday April 5th, 2017.
Point Guards – Goran Dragic & Tony Parker
At the top of our fantasy plays tonight is Steph Curry but with concerns over an early blowout of a very bad Phoenix Suns team it could end costing him some fantasy numbers in the end. This turned us to Dragic who will save us some cash despite having a solid fantasy matchup tonight. Over his last six games, Dragic has posted at least 29 fantasy points in five of those games with three of them going for at least 39. Meanwhile as stated as above we like Parker but could substitute Mills in his place if he gets the night off.
Top Tier Fantasy Option We Like: Steph Curry & Kyrie Irving/Isaiah Thomas
Mid Tier Fantasy Option We Like: Ish Smith
Fantasy Sleeper Option We Like: Patty Mills &
Shooting Guards – Kentavious Caldwell-Pope & Trevor Booker
Despite being a high risk high reward type option we just couldn't pass him up tonight as he has been solid of late for his fantasy owners. Meanwhile an early blowout could lead to the Golden State Warriors resting players tonight opening up the door for Booker to take as many shots needed to keep his Phoenix Suns team in the game. Another option is to go with James Harden here while going with to players in the low $5k mark at small forward.
Top Tier Fantasy Option We Like: James Harden
Mid Tier Fantasy Option We Like: Gary Harris & Nicolas Batum
Fantasy Sleeper Option We Like: Eric Gordon
Small Forwards – Harrison Barnes & Andre Roberson
Barnes is one of those players we love to bounce back after a disappointing performance. Over his last three games where he is coming off scoring less than 25 fantasy points, Barnes has rebounded with at least 32 fantasy points in the following contest. Meanwhile, Roberson continues to contribute in the 23-28 point fantasy mark night in and night out while providing a ton of salary cap space. The other move is to go expensive here with LeBron James while moving to either Ish Smith at point guard or a cheaper option at the power forward slot.
Top Tier Fantasy Option We Like: LeBron James
Mid Tier Fantasy Option We Like: Danilo Gallinari
Fantasy Sleeper Option We Like: Michael Kidd-Gilchrist
Power Forwards – Nikola Jokic & Kevin Love
In the end we stacked heavy at the power forward slot with Jokic and Love as they are both solid fantasy options tonight. Jokic is coming off three straight 40 plus fantasy performances and should have a chance to stuff the sheet tonight against the same Houston Rockets team he posted 22 points, 13 rebounds and eight assists on back on the 20th of March. Meanwhile the Cavaliers will need a big game from Love who missed the teams last meeting with the Celtics a game where they needed that third big scoring option.
Top Tier Fantasy Option We Like: Draymond Green
Mid Tier Fantasy Option We Like: Tobias Harris
Fantasy Sleeper Option We Like: JaMychal Green
Center Option – Hassan Whiteside
The debate could be made for a few options tonight for guys like Pau Gasol and Marc Casol. In the end we like Whiteside's matchup against the same Charlotte Hornets team he finished with 39 fantasy points back on March 8th. In a game where he posted 10 points and 15 rebounds. Meanwhile someone like JaVale McGree or Zaza Pachulia could be a surprise option to post 25-30 fantasy points in a game against a very bad Suns team.
Top Tier Fantasy Option We Like: Marc Gasol
Mid Tier Fantasy Option We Like: Paul Gasol & Mason Plumlee
Fantasy Sleeper Option We Like: JaVale McGree/Zaza Pachulia & Alex Len