Strategies
NBA FanDuel Lineup for Wednesday December 6th 2017

The NBA Schedule bounces back for daily fantasy basketball owners tonight on FanDuel with a prime time ten game lineup. A lineup that looks to deliver some prime-time fantasy options to build around including Giannis Antetokounmpo, LeBron James, DeMarcus Cousins and Kevin Durant. Along with these top tier options tonight's NBA schedule features some solid fantasy sleepers to offset the high priced salaries of each of these top tier options.
Here are a few of the top Fantasy NBA Sleepers and Bargains to consider for the action taking to the hardwood tonight.
Patrick McCaw ($4,400): The Warriors point guard/shooting guard should be a heavily used option if he is in the lineup tonight for the Golden State Warriors. With Steph Curry sidelined with an ankle injury McCaw should see extended run with the starting five tonight making his salary an absolute steal tonight.
Kent Bazemore ($5,500): While Bazemore might not be considered a fantasy sleeper he is still a solid option to build around at just $5,500. The Atlanta Hawks shooting guard has a solid matchup tonight against an Orlando Magic team that has struggled at times on the defensive side of the floor including allowing the second most fantasy points to opposing shooting guards.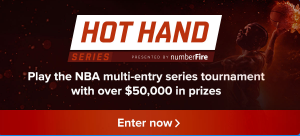 Here is a look at our NBA FanDuel options for Wednesday Dec. 6th, 2017.
Point Guards Options for FanDuel on December 6th, 2017
Rajon Rondo ($6,000): The New Orleans Pelicans point guard is nearly a must use option currently based on his low salary cap number and his ability to post a triple double nearly any night of the week. Rondo has rewarded his owners with three straight double doubles while contributing at least five rebounds in each contests while topping the 30 point fantasy mark.
Reggie Jackson ($5,700): Despite having some solid top tier options at the point guard position we just couldn't pass up the Detroit Pistons Jackson tonight in a contest that could see a ton of points scored on both sides. Add that with the fact that Jackson has been good for his fantasy owners of late posting over 30 fantasy points in four of his last five games makes him a safe play both in GPP and Cash game lineups.
Other Top Tier Point Guard Options: Kyrie Irving & Dennis Schroder
Other Mid-Tier Point Guard Options: Goran Dragic&Dennis Smith Jr
Other Fantasy Sleeper Point Guard Options: Jerian Grant & Mario Chalmers/Andrew Harrison
Shooting Guard Options for FanDuel on December 6th, 2017
Patrick McCaw ($4,400): Here is a FanDuel option you just can't look past tonight as he looks to take over the starting job with Steph Curry out for the near future. While McCaw is dealing with a nose injury he should still see the floor tonight and could see extended minutes. Look for McCaw to net 6 possible 7 times his fantasy value tonight making him a must use option and one that allows us to stack heavy at the small forward position.
Kent Bazemore ($5,500): The Hawks shooting guard is another buy low option tonight as he looks to produce for his daily fantasy owners against a suspect Magic defense. Bazemore enters tonight's contest with three straight 20 plus fantasy performances but showed just last week he has the potential to post over 30 fantasy points against any team in the NBA.
Other Top Tier Shooting Guard Options: Victor Oladipo
Other Mid-Tier Shooting Guard Options: Klay Thompson &Dwyane Wade
Other Fantasy Sleeper Shooting Guard Options: Danny Green & Wesley Matthews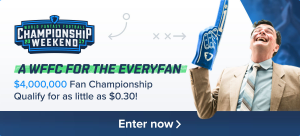 Small Forward Options for FanDuel on December 6th, 2017
Kevin Durant ($10,000): As long as Curry is out and Durant is healthy there is no need to look at the numbers to lock him in as a must use starter. While Durant continues to throw together 30 plus fantasy performances night in and night out we expect to see his fantasy numbers start to increase as the team turns to him to take over the main scoring threat.
Giannis Antetokounmpo ($12,300): Now this is the one spot where we could mix it up a little bit by going with LeBron James to save a few dollars or even with Jimmy Butler to make a more aggressive play at the center position. In the end, it is hard to look past the Greak Freak tonight against a Detroit Pistons team that likes to move the ball. Look for tonight's Pistons/Bucks game to be high scoring and fast paced from the opening tip off.
Other Top Tier Small Forward Options: LeBron James & Jimmy Butler
Other Mid-Tier Small Forward Options: Jonathan Simmons & Jaylen Brown
Other Fantasy Sleeper Small Forward Options: Josh Richardson& Dante Cunningham
Power Forward Options for FanDuel on December 6th, 2017
Kenneth Faried ($5,600) & Trey Lyles ($4,600): As long as Nikola Jokic misses time Faried and his teammate Trey Lyles should be considered not only by themselves as a stack. Faried is seeing extended minutes at the center position while Lyles has seen an uptick in minutes at the power forward position. Entering tonight's contest the Pelicans rank 4th in the NBA in fantasy points allowed to opposing power forwards and that was mostly with Anthony Davis on the floor.
Other Top Tier Power Forwards Options: Aaron Gordon
Other Mid-Tier Power Forwards Options: Thaddeus Young & Kelly Olynyk
Other Fantasy Sleeper Power Forwards Options: Bobby Portis &GorguiDieng
Center Options for FanDuel on December 6th, 2017
Robin Lopez ($5,900): You could go a few directions at the center position depending on the route you take at the small forward position. For us we elected to stack with two of the top three options limiting our cash flow options. This opened up the door for a guy like Lopez who has posted at least 22 fantasy points in five straight games. Add that with the fact he is facing an Indiana Pacers team that ranks first in fantasy points allowed to opposing centers makes him a solid option. You could also consider a guy like Nikola Vucevic or Kevin Love as well.
Other Top Tier Center Options: DeMarcus Cousins, Nikola Vucevic& Kevin Love
Other Mid-Tier Center Options: EnezKanter& Pau Gasol
Other Fantasy Sleeper Center Options: Willy Hernandgomez