Strategies
NBA FanDuel Lineup for Wednesday November 11th, 2015

The middle of the work week has arrived as the NBA delivers an eleven game lineup for fantasy owners to build from. In all this gives us twenty-two different teams to build our FanDuel lineup around tonight. That lists includes top fantasy stars like Stephen Curry, James Harden, Blake Griffin and DeMarcus Cousins.
As we start to build our FanDuel lineup for Wednesday November 11th, 2015 we wanted to start by looking at how each team ranked among pace of play as well as which NBA games have the highest over/under lines. Each of these statistics increases the fantasy value of players playing in those contests.
Looking at the top teams according to ESPN's Hollinger Team Statistics the Sacramento Kings (2nd), Golden State Warriors (3rd), Boston Celtics (5th), New Orleans Pelicans (5th), Los Angeles Lakers (7th), Los Angeles Clippers (9th) and Houston Rockets (10th) are all in action.
Just looking at those teams makes our top four players up above even more intriguing tonight. Along with them a few of the other options we like include point guard Rajon Rondo for the Kings, Evan Turner for the Celtics and Louis Williams for the Lakers.
Now the games that stand out to build from tonight that features high over/unders include the Dallas Mavericks hosting the Los Angeles Clippers (212), Houston Rockets hosting the Brooklyn Nets (206) and the Sacramento Kings hosting the Detroit Pistons (203.5).
Join FanDuel's $400K Wed NBA Super Slam Today!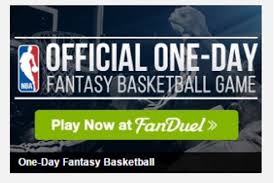 Here is our NBA FanDuel lineup for Wednesday November 11th, 2015.
PG – Stephen Curry ($10,700): It is hard for us to stay away from the Warriors point guard during the early part of the season. We considered going with Kemba Walker and Rajon Rondo tonight to spend a little heavier at another position. In the end we elected to go with Curry tonight against a Memphis Grizzlies team he finished with 43 fantasy points last week.
PG – Rajon Rondo ($6,400): The Kings point guard has been a solid fantasy option of late posting at least 31 fantasy points in three games. Look for Rondo's assist numbers to go up with Cousins back on the floor as well as his opportunities for some baskets in the lane as teams focus on Cousins.
SG – James Harden ($10,100): We love stacking a few of the big Fantasy guns together as we did tonight with Curry and Harden. The Rockets star is nearly guaranteed to deliver at least 35-40 fantasy points night in and night out. You could elect to go with Victor Oladipo and spend the savings at the power forward and center positions.
SG – Louis Williams ($5,200): Williams should see some additional minutes tonight as well as opportunities to score with Kobe Bryant expected to miss the contest. Since we left some cap room available you could also consider using Evan Fournier as well.
SF – Paul George ($8,900): The Pacers small forward has been solid since his 20.1 fantasy performance back on Halloween against a very good Utah Jazz team. Since then, George has posted at least 35 fantasy points in five straight games.
SF – Jae Crowder ($4,700): We love Crowders salary cap number despite seeing a few low fantasy scoring nights. In the end the Celtics small forward has seen at least 31 minutes in four of six contests this season leaving open the door for additional scoring chances.
PF – J.J. Hickson ($4,400): Hickson is our FanDuel Sleeper gamble of the night coming off an impressive 42.1 performance in his last outing. Only concerns are whether or not the Denver Nuggets power forward will get the minutes to put up the numbers.
PF – Dwight Powell ($4,600): Prior to his last game, Powell had turned in four straight games with least 23 fantasy points. That included back to back games with 30 fanasy points.
C – Robin Lopez ($4,600): While we loved the idea of using Cousins as well as Dwight Howard we elected to go cheaper at the center position. Lopez is riding a hot stretch posting back to back 34 plus fantasy nights making him a great option at under $5k tonight.