Strategies
NBA FanDuel Lineup for Wednesday October 18 2017

The start of the 2017-18 NBA Schedule has arrived as another exciting season has tipped off as Daily Fantasy Basketball owners get set to cash in. While we avoided the opening night of the NBA Season with just two games on slate, we have put all of our time into taking a look at tonight's slate that features 11 total games taking to the hardwood.
As we get our daily fantasy basketball action started on FanDuel tonight, the options are endless with some big-time fantasy options available to build around. One of those options is James Harden who got the season started off with a bang last night finishing with 27 points, six rebounds and 10 assists in route to a 49.2 fantasy points.
Now before we get into locking Harden into our starting lineup tonight we need to ask ourselves a few big questions. One of those questions is whether or not we should build around one of the top five point guards. For us we don't While we love Kyrie Irving tonight, we see some solid value under the $7k mark while saving us a few dollars to spend on a few of the other top tier fantasy options.
The second question we are asking ourselves is it worth trying to build around either DeMarcus Cousins or Anthony Davis. Now we don't have the answer to that question exactly but with concerns over how the two will get into the action tonight does leave us a little weary of using either tonight while looking to spend that additional cash elsewhere.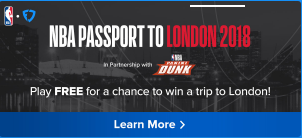 That being said here is who we like tonight as we look to cash in on the NBA action on FanDuel tonight.
Point Guards Options for FanDuel on October 18th, 2017
Goran Dragic, Miami Heat ($6,400): Now while we love the idea of using guys like John Wall and Kyrie Irving tonight, we also love the idea of saving some of that cash to spend heavy at a few of the other key positions. Dragic might not be the top scoring point guard or one that will lead the league in assists, but he does have a solid stat sheet averaging just over 20 points a game last year to go with nearly four rebounds and six assists per game.
George Hill, Sacramento Kings ($6,000): Much like Dragic, Hill provides us with a serious GPP player at a very solid price tag of just $6k tonight. While he will have his hands full going against a very solid defense player like Chris Paul, the Kings will need to look to be aggressive early as they take on a Houston Rockets team that showed on the opening night they can score a ton of points.
Other Point Guard Options we like include Elfrid Payton, Marcus Smart & Yogi Ferrell.
Click HERE To Join FanDuel'S $500K Wed NBA Clutch Shot Encore Today!
Shooting Guard Options for FanDuel on October 18th, 2017
Jaylen Brown, Boston Celtics ($3,700): If you took part in the light slate last night, Brown stepped up big for the Celtics after losing Gordon Hayward to a gruesome leg injury. While we don't expect to see that type of production night in and night out from Brown, it is difficult to look past him tonight as he carries a salary under the $4k mark. This move allows for us to spend on a guy like James Harden who can carry us in both a GPP and Cash lineup.
Victor Oladipo, Indiana Pacers ($6,100): Yes, this might look a little different as we could all imagine building around Harden. That being said we like Oladipo as a bigger player in the Pacers offense as they look for him to step in to replace some of the production they received from Paul George last year. Add that with the fact he will be out of the shadows of Russell Westbrook who limited his production last year.
Other Shooting Guard Options we like include James Harden, D'Angelo Russell and Will Barton.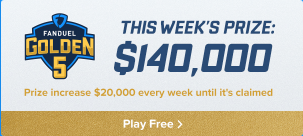 Small Forward Options for FanDuel on October 18th, 2017
Rudy Gay, San Antonio Spurs ($5,500): With Kawhi Leonard out the Spurs will need to turn to a few of their other options to step up. For us that guy could be Gay as he has shown over the course of his career he can score at will and be a true threat. Look for Greg Popovich to turn to Gay early and often as he looks to find someone to step to help carry the offense.
Evan Fournier, Orlando Magic ($5,400): Now this is where our roster could go a few directions as we considered going with Jimmy Butler as well as Khris Middleton. In the end, we liked the idea of spending at both the power forward and center positions opening up the door for a value play. For us one of those options is Fournier who when healthy has shown he is good for between 25-30 fantasy points per night.
Other Small Forward Options we like include Jimmy Butler, Khris Middleton and Josh Jackson.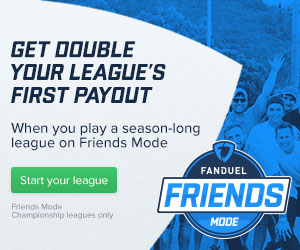 Power Forward Options for FanDuel on October 18th, 2017
Giannis Antetokounmpo, Milwaukee Bucks ($10,200): We are turning back to one of our favorite fantasy options from the 2016-17 NBA Season as we expect to see another MVP caliber season from the Greak Free. Add that with the fact Khris Middleton is healthy and back in the lineup,Antetokounmposhould see less double teams opening up more scoring opportunities.
Aaron Gordon, Orlando Magic ($6,300): For me, Gordon might be one of the most intriguing but frustrating options in all of the NBA. When at his peak, Gordon showed he could score 50 plus nearly any night of the week while providing his fantasy owners 6×8 times his fantasy value. On the other side, Gordon was very inconsistent at times failing to score more than 18 fantasy points in matchups where he had a solid opportunity to produce. That being said we love his fantasy upside tonight against the Miami Heat.
Other Power Forward Options we like include Paul Millsap, Harrison Barnes &GorguiDieng.
Center Options for FanDuel on October 18th, 2017
DeMarcus Cousins, New Orleans Pelicans ($10,200): While we also looked to Nikola Jokic as a top tier candidate, we just couldn't look past both Davis and Cousins tonight. Now his fantasy value could be hurt if Davis has a big-time performance. That being said, Cousins averaged 27 points a game last year against the Memphis Grizzlies with nearly 10 rebounds and four assists in four games.
Other Center Options we like include Nikola Jokic, Andre Drummond & Jusuf Nurkic.