Strategies
NFL 50K Fantasy Draft Freeroll DFS Top Performer


How does $50,000 in free cash sound? It's a generous pool of money and is exactly the amount daily fantasy sports site Fantasy Draft gave away in their 2015 / 2016 NFL Preseason tournament last weekend.  While 50k is a staggering amount of cash to give away it is just the tip of the NFL kickoff for what daily fantasy sports fans can expect from the DFS industry this NFL year.  With announced NFL daily fantasy sports prize pools by the likes of Draft Kings and Fan Dual already far exceeding last year's biggest events its hard not to feel the energy and excitement for this year's daily fantasy sports NFL contests.  Even though the NFL pre-season is unpredictable it is still a great opportunity to not only build a bankroll in some of the available daily fantasy sports Freerolls but a chance to evaluate strategies and players you may have your eye on.  Let's look at the top team from last week's Fantasy Draft $50,000 NFL daily fantasy sports freeroll to start to get an idea of what it will take to create winning DFS teams this year.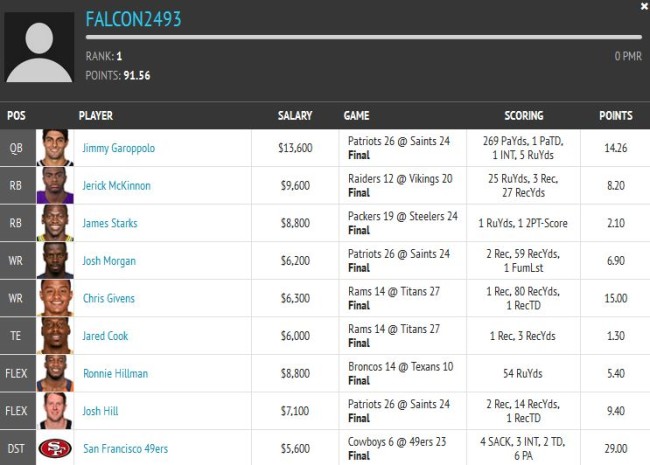 QB – Jimmy Garoppolo / New England Patriots (14.26 points): 269 PaYds, 1 PaTD, 1 INT, 5 RuYds
Back up to Tom Brady it is clear Garoppolo is getting ready to step in as the starter for first four games of the season as Brady serves his suspension from the league.  If last Saturday's comeback performance against the New Orleans Saints is any indication of whats to come daily fantasy sports fans might want to look this QB's way as a cheaper week 1 option.
RB – Jerick McKinnon / Minnesota Vikings (8.20 points): 25 RuYds, 3 Rec, 27 RecYds
As the backup to Adrien Peterson who returns to the NFL turf after a tumultuous year there is not much to analyze with McKinnon.  Nice to see his productivity as receiver and could be someone to watch if Peterson goes out.
RB – James Starks / Green Bay Packers (2.10 points): 1 RuYds, 1 2PT-Score
Backup to Eddie Lacy it is not expected for starts to receive that many touches this year with the exception of maybe huge blowout wins or losses.
WR – Josh Morgan / New Orleans Saints (6.90 points): 2 Rec, 59 RecYds, 1 FumLst
Fighting for the #3 Wide Receiver position is never easy and eight year veteran Josh Morgan is doing just that among a core group of younger teammates making him a less appealing but interesting fantasy option to watch.  If he gets any significant playing time in the Drew Brees lead high flying offense he may be worth a look at some point in the season.
WR – Chris Givens / St. Louis Rams (15.00 points): 1 Rec, 80 RecYds, 1 RecTD
Just fighting to make the team not much to see hear fantasy wise from Givens.  His speed is pretty impressive though for only a potential 5th option receiver.
TE – Jared Cook / St. Louis Rams (1.30 points): 1 Rec, 3 RecYds
Only got to see starting tight end Cook on two offensive drives but he looked healthy and ready to go for  the  season.  If Foles proves to be a QB upgrade for the Rams Jared just might be a great look at the TE position week after week in daily fantasy sports.
FLEX (RB) – Ronnie Hillman / Denver Broncos (5.40 points): 54 RuYds
Hillman has looked great in preseason and looks locked to be C.J. Anderson backup RB ahead of Montee Ball.  A player to watch for sure.
FLEX (RB) – Josh Hill / New Orleans Saints  (9.40 points): 2 Rec, 14 RecYds, 1 RecTD
Ben Watson might be starting but it seems Hill is getting more targets and opportunities which is what can pay dividends in daily fantasy sports.  With such a high powered quarterback behind him in Brees he is certainly one to watch at an often hard to fill position.
DST – San Francisco 49'ers (29.00 points): 4 SACK, 3 INT, 2 TD, 6 PA
Great defense that came through big.  Really highlights how important picking a strong defense is in your daily fantasy sports NFL lineups as those DST points can really start to add up fast.   This one position alone score more then double the fantasy points of any other pick.
In conclusion we first off want to say congratulations to "Falcon2493" for taking down the top prize of $5,000 in the 50k Fantasy Draft NFL daily fantasy sports freeroll.  Should be a nice bankroll booster for the start of the season.  While the NFL preseason is pretty volatile in regards to information and daily fantasy sports performance what it does do is get our minds thinking in the right directions.  It gets us building back up our DFS study habits and approaches to the games.  It encourages us to brush up on daily fantasy sports scoring layouts and rules as well as re-immerses us into the intricacies of daily fantasy sports.  Sad you missed last weeks 50k Fantasy Draft Freeroll?  Well your in luck as they are running an even bigger Freeroll this week!!!  Why not register for the $75,000 Fantasy Draft Freeroll and see if you can become the next big NFL daily fantasy sports winner while at the same time  working on your DFS skill sets for the start of the 2015 /2016 NFL daily fantasy sports season.