Strategies
NHL FanDuel Lineup for Thursday October 20th 2016

The 2016-17 NHL Season takes center stage for FanDuel owners tonight as the lone chance to cash in big. For us it is hard to pass up any night of daily fantasy sports action as we continue to look to cash in on the NHL action while we also start to excited about the upcoming NBA season.
Now that is still a week away so we will turn our full attention to the 11 game NHL schedule taking the ice tonight. That slate features some of the games top NHL stars including guys like Alexander Oveckhin as well as some of the games early leaders in points scored, goals scored and assists.
One of those players is Vladimir Tarasenko who currently sits tied for the NHL in goals scored with four. Other options include Brent Burns who has scored a league high eight points as well as David Pastrnak who has put together three double digit fantasy performances to open the season.
In the end each of those players are a solid fantasy option tonight. Here is the rest of our NHL FanDuel options for Thursday Octboer 20th, 2016.
C – Alex Galchenyuk, Montreal Canadians: While the Canadians center might not be the top notch name he is a solid fantasy option tonight while saving us a few dollars at the position. For us Galchenyuk has a very favorable matchup against a Arizona Coyotes team that has allowed 10 goals through their first two games of the season.
C – Sean Monahan, Calgary Flames: The Flames will look to put back to back double digit fantasy performances together tonight against a Carolina Hurricanes team that has allowed 12 goals over their first three games to star the season.
The other top NHL Centers on FanDuel tonight include Ryan Getzlaf, Steven Stamkos and Victor Rask.
W – Alexander Ovechkin, Washington Capitals: For us this simply comes down to us electing to ride with one of the best players in the NHL. Espicially now that the veteran has found the back of the net for his first goal of the season. In his career Ovechkin has been one of those players who when hot can carry a team for a week straight.
W – David Pastrnak, Boston Bruins: Here is one of those fantasy plays you must continue to ride as he has posted three straight double digit performances to start the season. The Bruins winger is tied for the league lead with four goals as well as tied for the league lead in plus/minus.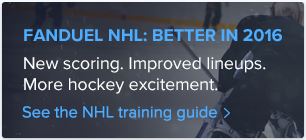 W – Jordan Martinook, Arizona Coyotes: Going with a top tier option like Ovechkin will limit what you can do with the rest of your NHL FanDuel roster. That is why finding a fantasy sleeper like Martinook can offset some of that salary. The Coyotes winger has two goals and an assist over his first two games of the season.
W – Lee Stempniak, Carolina Hurricanes: Staying with Fantasy Sleeper options landed us with the Hurricanes winger. Entering tonight Stempniak has posted two 25 plus fantasy performances over his first three contests while also adding an eight point performance in between.
The other top NHL wingers on FanDuel tonight include Jonathan Drouin, Vladimir Tarasenko and Jamie Benn.
D – Jeff Petry, Montreal Canadians: We strongly recommend looking a few of the Canadians tonight against a Coyotes team that has allowed the most goals to start the season. That helped us turn to Petry tonight as he has started the season with back to back 22 plus fantasy performances add that with his low salary makes him a great fantasy option.
D – Mark Giordano, Calgary Flames: Now for us we elected to go more expensive with our second defenseman tonight. That being said if you want to upgrade at the winger position you could go with someone like Jordie Benn to free up some additional space. That being said Giordano is a solid fantasy option tonight after posting three double digit fantasy performances to start the season.
The other top NHL defenseman on FanDuel tonight include Bren Burns, Oliver Ekman-Larsson and Ryan Suter.
G – Tuukka Rask, Boston Bruins: This move simply comes down to the Bruins matchup against an New Jersey Devils team team that has scored only seven goals over their first four games. While Rask is an expensive option look at his backup if he sits tonight to save a few dollars as well as someone like Michal Neuvirth or Linus Ullmark.
The other top NHL goalies on FanDuel tonight include Michal Neuvirth, Linus Ullmark and Braden Holtby.