Strategies
NHL FanDuel Lineup for Tuesday October 18th 2016

The 2016-17 NHL Season is in full swing as we all look to capitalize on a solid 12 game slate tonight on FanDuel. This provides us all we some solid fantasy options to build around including some of the games biggest stars. At the front of the list includes stars Alexander Ovechkin, Patrick Kane and Vladimir Tarasenko.
Now as we start to look at our top FanDuel options for tonight we decided to take a look at how each of these teams have started the season on the defensive side of the puck. Entering tonight eight teams around the NHL have allowed at least four goals per game despite only a handful of games in the books.
Out of those eight teams at the front of the list is a Carolina Hurricanes team that has allowed nine goals through their first two games. Those struggles could continue on tonight as they face off against a very good Edmonton Oilers team that is led by one of the games top young stars Connor McDavid.
Meanwhile the Hurricanes should have a chance to put up some solid fantasy numbers tonight as well as the Oilers have had their struggles early as well. Entering tonight the Oilers rank 3rd in the NHL in goals allowed at 4.33 through their first three games of the season.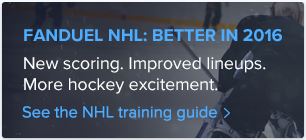 Now lets take a look at our NHL FanDuel Options for Tuesday October 18th, 2016.
C – Connor McDavid, Edmonton Oilers: This was a no brainer tonight as the Oilers center has been red hot to start the season and that should continue against a struggling defense. Entering tonight McDavid has posted over 32 fantasy points in two of his first three games.
C – Ryan O'Reilly, Buffalo Sabres: O'Reilly is a great option at the center position to offset the high salary of McDavid. Tonight the Sabres center will look to ride his two goal/two assist performance in his last game against the Calgary Flames.
Other NHL Center options we like FanDuel tonight include Jordan Staal, Tyler Seguin, Mike Fisher (Fantasy Sleeper), Brad Richardson and Jonathan Toews.
W – Nathan MacKinnon, Colroado Avalanche: We debated going with Alexander Oveckhin as he is could break out with a big game nearly any night of the week. In the end we went with MacKinnon against a Capitals team that has not looked great on the ice this year.
***Join FanDuel's $100K Tue NHL SUPER Blue Line Today!***
W – Vladimir Tarasenko, St. Louis Blues: Tarasenko has been great for his daily fantasy owners in two of his three games this year posting 28.5 and 44.2 fantasy points while finishing with a solid 6.4 fantasy points in his second game of the year.
W – Charlie Coyle, Minnesota Wild: Sticking around the middle tier fantasy options landed us with the Wild's winger. Through his first two games Coyle has been solid picking up one goal, one assist to go along with four shots and four blocked shots to help his fantasy owners.
W – Mikhail Grigorenko, Colorado Avalanche: Now for us we would have loved to have stacked the deck with the top names in the NHL. The downside is we are working with a salary cap and that opens up the door for Grigorenko. The Avalanche winger has picked up  one assists in both games this year while picking up at least 8.5 fantasy points.
Other NHL Winger options we like on FanDuel tonight include Alex Ovechkin, Patrick Kane, Phil Kessel, Joe Colborne and Daniel Winnik (Fantasy Sleeper).
D – Devin Shore, Dallas Stars: The Stars defenseman is riding back to back solid fantasy performances. Now that type of production could increase as Shore practiced with the teams second line on Monday meaning he could see the ice more while playing with some of the teams top scorers.
D – Rasmus Ristolainen, Buffalo Sabres: WE debated using top option defenseman tonight and that would work if you can find some Fantasy Sleeper options at the winger and center position. Now that being said Ristolainen has been good for his fantasy owners to start the season including posting 34.6 fantasy points in the teams last contest.
Other NHL Defenseman options we like on FanDuel tonight include Roman Josi, Bren Burns and Ryan Suter.
G – John Gibson, Anaheim Ducks: Now we like both Gibson and his teammate Jonathan Bernier tonight but reports are indicating that Gibson is the projected starter. For us this simply comes down to their matchup against a New Jersey Devils team that has scored just two goals.
Other NHL Goalie options we like on FanDuel tonight include Martin Jones, Ryan Miller and Al Montoya.