Strategies
Possible Trades As We Approach The Fantasy NBA Playoffs
For most of you GMs, the playoffs are just around the corner. Perhaps you're already locked in for a spot to advance to the playoffs or maybe, you're looking to make a strong push for the final 1 or 2 spots left in your league. Whatever the situation it may be, there are definitive ways to get you over the hump.
First and foremost, if you have any extra baggage on your team that you can afford to let go, do so now. What good is it to have a decent player who may not return for another week or two if you won't make it to the playoffs? You will need every spot possible (especially if there are no IR spots in your league) in order to take advantage of the stats that each player can produce for you. You're better off dropping your injured players and picking up someone healthy from the waiver wire who can give you the stats that you need. Notable players that might be hanging around in your free agent pool are: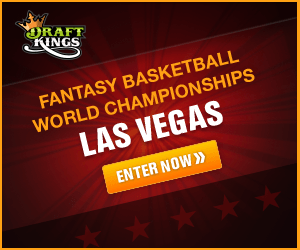 1)      PJ Tucker: Ever since Goran Dragic and Isaiah Thomas have been traded, more opportunity have been given to those on the team. More shots have definitely been given and more roles as well. Tucker has been one of the bigger beneficiaries on the team and can provide you with a solid amount of points, rebounds, steals, blocks, 3-pters, and free throws at the sg,sf position. He can definitely give you stats that are rare for a sg,sf which are defensive stats and offensive rebounding.
2)      Nikola Mirotic: Now that the Bulls are shorthanded and are without superstars Jimmy Butler and Derrick Rose, the need for offensive power will be spread between a few players. Snell, Brooks and Mirotic are the likely candidates who will benefit the most. In fact, Mirotic has been on quite an impressive offensive streak thus far. He has been able to score effectively and produce a hefty amount of points, 3-pters and free throws, not to mention his rebounds and ability to post up modest defensive stats. Mirotic is definitely a great pickup and with Butler and Rose out for at least another week or so, he will help your team significantly for the time being.
3)      Norris Cole: With Tyreke Evans recent ankle injury and Jrue Holiday still up in the air regarding his return to this season, Cole should have a decent role with the Pelicans. Since they are making a push for the playoffs, they will need Cole to step up in a huge way. Perhaps having players such as Anthony Davis, Eric Gordon, Omer Asik and Ryan Anderson can help him rack up more assists. One thing for sure is, Cole can help you out with points, 3-pters, assists and steals.
If you truly want to make the playoffs, you really need to consider dropping excess baggage that you have on your team, especially if you're looking to squeeze into the playoffs. Depending on which stats you need, you will need to do your own research on who to pick up from the waivers.