Strategies
NBA FanDuel Lineup for Saturday January 27th 2018

The NBA schedule continues to deliver excitement tonight with a solid six game slate for DFS owners to cash in on FanDuel. Tonight's slate despite only featuring six contests is filled heavy with fantasy basketball options to build around including guys like Kevin Durant, Stephen Curry and John Wall.
Before we take a look at who we like tonight, here is a quick look at the six games on the NBA Schedule for Saturday January 27th, 2018.
NBA Schedule for Saturday January 27th, 2018
Orlando Magic @ Indiana Pacers
Washington Wizards @ Atlanta Hawks
Charlotte Hornets @ Miami Heat
Boston Celtics @ Golden State Warriors
Brooklyn Nets @ Minnesota Timberwolves
Dallas Mavericks @ Denver Nuggets
Here is a quick look at a few of the NBA fantasy sleepers we like on FanDuel tonight.
NBA FanDuel Fantasy Sleepers for Saturday January 27th, 2018
Jamal Crawford – $4,200
Here is a name you will want to pay close attention to tonight as long as Jimmy Butler is not on the court for the Minnesota Timberwolves. With Butler out the past two games, Crawford has rewarded his DFS owners with two solid performances including a seven-time value performance in the team's last game against the Warriors.
Marcus Morris – $4,600
Another fantasy sleeper we like tonight is Marcus Morris as he should continue to see 25 plus minutes tonight against one of the more up-tempo offenses in the NBA. This should not only add additional scoring opportunities for Morris but also a chance to pad the rebound stat line while adding a few additional chances for assists.
Other fantasy sleepers/bargains to consider include Caris LeVert, Cory Joseph, Ersan Ilyasva, D.J Augustin, Kelly Oubre, Frank Kaminsky & Marcin Gortat.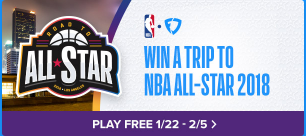 That said here are the NBA Daily Fantasy Basketball options we like for Saturday January 27th, 2018.
Point Guards Options for FanDuel on Saturday January 27th, 2018
Top Point Guard Options: John Wall & Stephen Curry
Mid-Tier Point Guard Options: Goran Dragic & Jamal Murray
Fantasy Sleeper Options: Terry Rozier & D.J. Augustin
The point guard position will be the key to any DFS owner's success tonight with a thin bucket of sleepers and bargains to build around. For us tonight we love the idea of stacking either Wall or Curry with Murray. Wall has a very solid matchup against a Hawks team that is allowing the 5th most fantasy points against the position over the past month. Curry on the other hand has posted at least 40 fantasy points in five of his last six contests. Meanwhile Murray will face off against a Mavericks team that has struggled against point guards ranking 1st in DVP against the position since the beginning of January.
Shooting Guard Options for FanDuel on Saturday January 27th, 2018
Top Shooting Guard Options: Victor Oladipo
Mid-Tier Shooting Guard Options: Gary Harris, Will Barton & Wesley Matthews
Fantasy Sleeper Options: Caris LeVert, Wayne Ellington & Jamal Crawford
Tonight's injury report will play a key role in how you might want to approach the shooting guard position. For us if Jimmy Butler is out, Crawford is a must use option to offset the top point guards as well as Oladipo. If Butler plays you may want to turn your attention to LeVert or even a guy like Jeremy Lamb or Wayne Ellington to offset some salary. That said, Oladipo is the top play of the night at the shooting guard position going up against a Magic team that has struggled against opposing shooting guards this season (4th DVP against Shooting Guards). Along with looking to stack Oladipo with a sleeper option the combination of all three of our mid-tier options is another option to consider to save a few dollars.
Small Forward Options for FanDuel on Saturday January 27th, 2018
Top Small Forward Options: Kevin Durant
Mid-Tier Small Forward Options: Josh Richardson, Otto Porter Jr & Harrison Barnes
Fantasy Sleeper Options: Jaylen Brown, Kelly Oubre & Taurean Prince
As DFS owners look to construct your lineups tonight you will want to continue to monitor the injury report to see if a few players will be in action. One of those options is Durant who despite playing in the team's last contest has found an injury designation tonight. That said if Durant is not ruled out he is a top five fantasy option after coming off a 67.5 performance in his last outing. Outside of Durant, the small forward position lacks another top tier option tonight opening the door for someone like Richardson or Porter Jr to put together big games in matchups against teams that have struggled against the small forward position. Meanwhile Brown should see an uptick in minutes while both Oubre and Prince offers you a solid fantasy sleeper who will face off against teams that currently rank in the top five in DVP against small forwards.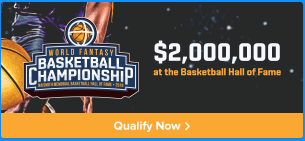 Power Forward Options for FanDuel on Saturday January 27th, 2018
Top Power Forward Options: N/A
Mid-Tier Power Forward Options: Trey Lyles & Domantas Sobonis
Fantasy Sleeper Options: Marcus Morris & Dwight Powell
One night after having guys like Anthony Davis & Kristaps Porzingis to build around the power forward position is very thin tonight with no top tier options to look at. This opens up the door for many DFS owners to look for value tonight and that is the case for us as well. Two sleepers we like tonight include Morris for the Celtics and Powell for the Mavericks. Morris will have a solid fantasy matchup against a Warriors team that likes to move the ball resulting in opposing players to pad their stats (5th in DVP against power forwards). Meanwhile Powell could be in line for an uptick in minutes tonight on the second night of a back to back as the Mavericks look to give Dirk Nowitzki a night off. Along with our sleepers tonight both Lyles and Sobonis are options we strongly recommend as they face off against two teams that rank in the top five in DVP against power forwards over the past month.
Center Options for FanDuel on Saturday January 27th, 2018
Top Center Options: Karl-Anthony Towns, Nikola Jokic & Hassan Whiteside
Mid-Tier Center Options: Al Horford & Bismack Biyombo
Fantasy Sleeper Options: Marcin Gortat
For us tonight the center along with the point guard position is one that you will want to spend some money on in order to cash in. While we expect to see Howard in a ton of lineups, we really can't look past the matchup that Karl-Anthony Towns has tonight. The Timberwolves big man will look to take advantage of a Nets team that ranks 1st in DVP against opposing centers this season. In the team's previous meeting back on January 5th, Towns posted 25 points to go with 23 rebounds in route to a 60.1 point fantasy performance. While Towns is our first option both Jokic and Whiteside both offer the GPP upside we like while Howard is more of a cash game option. As for Horford, Biyombo an even Gortat they are cheaper options at the position that each have a solid fantasy matchup tonight against teams that have consistently allowed a ton of fantasy points to opposing centers.
Tonight's lineup is an interesting one but depending on how the injury report looks later today every DFS owner should have a solid list of options to build around tonight.