Strategies
Tips at Managing Your Fantasy Basketball League

Alright GMs, it's almost about that time where you start to make your push for the NBA Fantasy playoffs in your respective league. If you're atop of the mountain, you should feel pretty good about yourself, but if you're one of those players fighting for the last 2-3 spots in your league, have no fear!
Now is the time to make your move to qualify for the playoffs. There surefire ways to help you remain in the consolation bracket, but there are also great ways to improve your position in the ranking ladder.
First off, if you're one of these players and have an injured player you're stashing, I would highly suggest looking for possible replacements in the free agent pool. Players like Dwight Howard and Kemba Walker lying around on your roster will do more harm than good. Both Howard and Walker are expected to be out for an extended period of time and though they may be able to help you in the playoffs, if you don't even qualify then what's the point, right?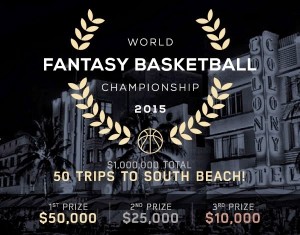 Great replacements for Howard and Walker are Josh Smith and Mo Williams. If you're lucky, they may still be in your free agent pool. Smith will definitely continue to come off the bench, but he has been putting up impressive numbers all across the board including a few 3-pointers per game in his last three outings. Smith is a defensive specialist, but on the Rockets team he is being asked to do more especially with Howard sidelined. Pick up Smith if he is lying around in your free agent pool.
Mo Williams has recently been traded to the Charlotte Bobcats in the wake of the Walker injury. They had a low-end point guard taking over in Brian Roberts, but were not seeing the results they may have hoped for. This is where Williams can provide huge value while Walker is hurt. He has been quoted saying that he doesn't know when he's coming back and its better that he doesn't rush a return. Williams can provide great stats all across the board for you. Expect him to give you a great return of assits, 3-pointers made, free throw %, steals, points and a few rebounds. Williams is definitely a great backup point guard option so if he's free, pull the trigger now!
Also, in light of Kemba's recent injury, Henderson has been stepping it up big time. Mostly known for his ability to attack the basket, Henderson has surprisingly been putting up numbers all across the board. If you can handle his low fg% then go for it! He is definitely going to continue to provide you with FGM, points, FTM, ft%, rebounds, assists and steals with the occasional 3-pointer. Chances are he is still in your pool, so pick him up now!
These are 3 players who you should consider as replacements if you are stashing an injured player or have someone you can drop.