Strategies
Top 3 Daily Fantasy Sports 2017 Upcoming NBA Tournaments and Championships

Given the current upcoming NBA basketball tournaments and championships 2017 appears to be shaping up as another amazing year in daily fantasy sports.  One of the very few times sports, betting and entertainment can all merge together to create a magical gaming experience accessible to the masses, daily fantasy sports is showing no signs of slowing down.  Easy to participate in, stakes for every type of risk level and not overly time consuming daily fantasy sports is the ultimate hobby for even the most casual of sports fan.  In an industry where great sports related events are being thrown more often then not it is always advantageous to monitor the upcoming major tournaments and championships on the calendar just in case you see an event you would really enjoy attending.  From fantasy fan trips, to championship titles, to challenges, to special sporting celebrations the perks and promotions are always innovating within the daily fantasy sports space.  Lets review the top 3 daily upcoming NBA daily fantasy sports events and see if anything catches our eyes as something we might want to try to qualify for.
Daily Fantasy Sports March Event #1 – DraftKings Fantasy Basketball World Championship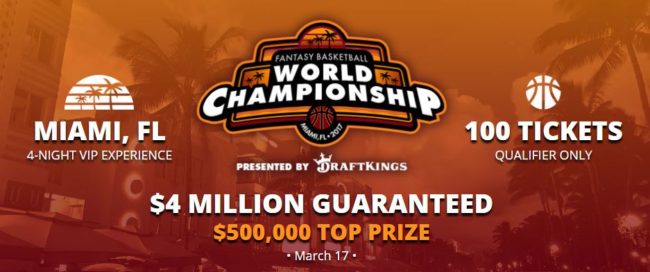 The format for the DraftKings Live Basketball Final will include NBA games on Friday, March 17 and gives players the opportunity to qualify up to 4 times through Monday, March 13.  By participating in the qualifying events you have a chance to win a $46,750 Fantasy Basketball World Championship Package for as little as $4.  You read that right.  You can take your talents to South Beach, Miami in 2017 and compete for your share of a $4,000,000 daily fantasy sports NBA basketball tournaments.  Each package ($46,750 value) includes an FBWC Ticket PLUS a four-night (Mar. 15th-19th) VIP trip to Miami, FL and $1,000 cash for airfare and transfers.  Who would not want to experience Miami, Florida in true VIP-style with the industry-leader in World Championship Live Events.  This FBWC Live Final will be hosted by former NBA pro Shane Battier and include tons to do throughout the entire championship weekend.  What are you waiting for?  Sign up for a DraftKings bonus and start your journey to the championship now!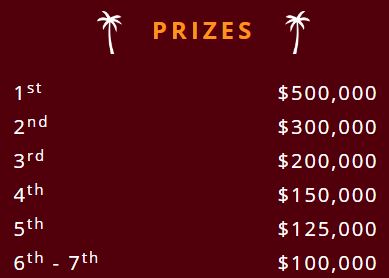 ---
Daily Fantasy Sports March Event #2 – FantasyDraft $16,000 Single Entry Gauntlet

One of the bigger events going on in NBA daily fantasy sports right now, the FantasyDraft $16,000 single entry gauntlet is coming up on February, 1st 2017 and is sure to be an exciting time for its 16 participants.  Now that FantasyDraft has recently acquired FantasyAces we should be seeing a lot more of these big buy in daily fantasy sports tournaments and these new type of exciting industry happenings are certainly something we want to be on the look our for.  Want to compete in the biggest NBA daily fantasy sports basketball contests on the internet.  Sign up for a FantasyDraft bonus and start your quest for qualification and entry today!

---
Daily Fantasy Sports March Event #3 – FanDuel World Basketball Championship

The FanDuel World Basketball Championship (WFBBC) final will commence on Sunday, March 26, 2017, and offers a trip package consisting of $1,000 airfare credit, two (2) nights' accommodations for two (2) people, and entry for two (2) people to the following events: the FanDuel party on March 25, 2017 and the WFBBC live viewing party on March 26, 2017 (collectively, the "Trip Package").  This is also an event that needs to be qualified for so checking FanDuel for upcoming qualifying tournaments is always recommended.  Think your knowledge of sports might be at its peak?  Why not then sign up for a FanDuel account and try to compete with the best in the world.  Who knows… You maybe wearing that FanDuel NBA championship belt before you know it!

Looking for new and exciting goals to try and reach for in 2017?  Qualifying and attending any one of the above mentioned events would be a truly once in a lifetime chance at daily fantasy sports riches and glory.  2017 is set to be an amazing year for daily fantasy sports so grab a FanDuel, DraftKings, or FantasyDraft DFS account and jump into the action today!  Who knows.  You may be headed off to the daily fantasy sports event of your dreams quicker then you think!