Strategies
Top NBA Earners And Their Fantasy Basketball Performance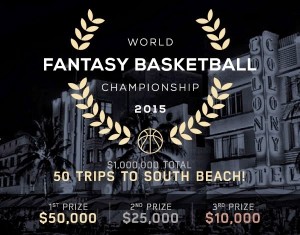 Questions arise every NBA season about if that guy gets paid too much or too little for his production on the court. As many NBA fans Kobe Bryant is the highest paid player in the NBA even though he hasn't been healthy for the past 2 seasons. Bryant signed a 2 year $47 million deal with the Lakers back in 2013 and is going to make $23,500,000 this season. Taking a look at the NBA salaries you get the impression that many of these players are ridiculously over paid. For example, three of the top five NBA highest paid players are currently on IR. Kobe Bryant leads that list followed by Carmelo Anthony ($22,458,401) and Dwight Howard ($21,436,271).
Let's factor in that the other two top 5 highest paid performers in the NBA are Joe Johnson at #2 ($23,180,790) and at #5 LeBron James ($20,644,400). When you really take a look at this list you just wonder what the Hawks were thinking offering the 6'8 Joe Johnson a $100,000,000 contract a couple years back. LeBron James is easily the most dominant, poised, and recognizable figure in the entire league, yet he chose to take less money for his team to have the ability to succeed. That's admirable considering Kobe Bryant gets offered what he demands by Jeannie Buss.
That being said, let's take a look at some stats from around the league at overall production from these players and if they are actually worth the money they are receiving.

#1. Kobe Bryant- 34.5 MPG, 1.5 3PM, 5.7 REB, 5.6 AST , 1.3 STL ,0.2 BLK , 22.3 PTS ($23,500,000)
#2. Joe Johnson- 35.3 MPG, 1.6 3PM, 4.9 REB, 3.5 AST , 0.7 STL, 0.2 BLK , 15.2 PTS ($23,180,790)
#3. Carmelo Anthony- 35.7 MPG, 1.5 3PM, 6.6 REB, 3.1 AST, 1.0 STL, 0.4BLK, 24.2 PTS ($22,458,401)
#4. Dwight Howard- 32.2 MPG, 0.0 3PM, 11.0REB, 1.4 AST, 0.7STL, 1.4BLK, 16.3PTS ($21,436,271)
#5. LeBron James- 36.3MPG, 1.7 3PM, 5.7 REB, 7.3 AST, 1.6STL, 0.7BLK, 26.1 PTS ($20,644,400)
#6. Chris Bosh- 35.4 MPG, 1.4 3PM, 7.0 REB, 2.2 AST, 0.9 STL, 0.6 BLK, 21.1 PTS ($20,644,400)
#7. Chris Paul- 35.0 MPG, 1.6 3PM, 4.8 REB, 10.1 AST, 1.8 STL, 0.2 BLK, 18.5 PTS ($20,068,563)
#8. Deron Williams- 31.0 MPG, 1 .3 3PM, 3.1 REB, 6.2 AST, 1.0 STL, 0.3 BLK, 13.2 PTS ($19,754,465)
#9. Rudy Gay- 35.1 MPG, 1.1 3PM, 5.9 REB, 3.8 AST, 1.1 STL, 0.5 BLK, 20.4 PTS ($19,317,326)
#10. Kevin Durant- 33.8 MPG, 2.4 3PM, 6.6 REB, 4.1 AST, 0.9 STL, 0.9 BLK , 25.4 PTS ($18,995,624)
After re-evaluating and breaking down stats we think it's fair to come to the conclusion that almost every NBA player is over paid in one way or another. You would think for someone to make $20,000,000 a year they should be able to start and perform well in every single game during the season. Yet , this is just not the case. As you can see many of the top 10 earners in the NBA are either regularly hurt or underperforming this season.
Two notable high paid athletes having good seasons off this list of course would be LeBron James and Chris Paul and we can even include Chris Bosh and a resilient Rudy Gay in there as well. But in overall fantasy value, Your best bet would be LeBron or CP3 if you're looking for the most bang for your buck.