Strategies
3 Ways To Become A Daily Fantasy Sports Millionaire in 2016
When you can say to yourself "I am a millionaire" sure does have a nice ring to it when its actually true.  While most of us only dream of having a million dollars in the bank with the introduction of daily fantasy sports for some this has actually become a reality.  Even though winning $1,000,000 is a long shot in daily fantasy sports there are probably more opportunities than most of us think to actually take down such a coveted top prize.  As daily fantasy sports have grown so have the size of the prize pools and bonus promotions which is what makes such large payouts possible.  One such recent example is the culmination of the DraftKings daily fantasy sports $15 Million Fantasy Football World Championship contest that saw Aaron Jones winning a $5 million first-place prize and a championship belt.  Think you would like to try your shot at becoming the next daily fantasy sports millionaire?  Lets review 3 ways to win $1,000,000 playing daily fantasy sports and see if we can build a plan to achieve this potentially life changing monetary plateau.
$1 Million Dollar Daily Fantasy Sports Opportunity #1: FanPicks MLB "Magic Million" Contest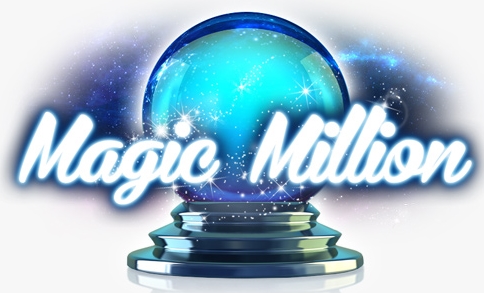 Fanpicks.com is now promoting $1, $5 and $25 buy in "Magic Million" contests where you can win up to $1 million dollars playing daily fantasy sports on their website.  Specially marked "Magic Million" $1, $5 and $25 tournaments give FanPicks players the chance to hit that elusive $1,000,000 windfall.  The bonus games are pretty straight forward and are based on scoring thresholds that vary by sport and are available for the NBA, MLB and NHL.  Build a lineup that scores high enough in a respective sport and win extra money depending on the scoring level.  Bonus payouts of $1 million dollars exist at FanPicks and it is certainly worth checking out and potentially going for.  Think you have what it takes to break lineup scoring records?  Take your skills to FanPicks and sign up for an account and a bonus and take your shot at the million dollar purse. Click HERE to join!

---
$1 Million Dollar Daily Fantasy Sports Opportunity #2: DraftDay "The Perfect Lineup" Contest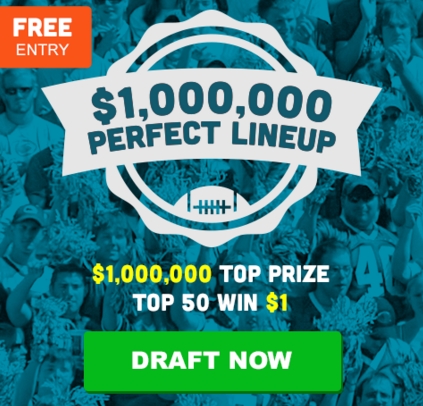 Think you can pick the top scoring player at each daily fantasy sports roster position?  DraftDay lets you take your shot at doing just that and will pay you $1,000,000 if you do so and actually choose "The Perfect Lineup."  This $1 million dollar DraftDay daily fantasy sports bonus promotion is very similar to the FanPicks contest as it to revolves around picking a top scoring lineup in a chosen sport.  While the FanPicks promo is based on total points the DraftDay "The Perfect Lineup" game relies on each individual performance as a gauge for awarding the top prize.  Its a nice a variant on an already amazing concept and is just one more chance for daily fantasy sports players to take a shot at winning a million dollars with little investment.  In fact this contest is often offered for FREE.  So what do you have to lose signing up for a free DraftDay account?  Absolutely nothing and you get to try your luck at taking down a significant amount of DFS money. Click HERE to join!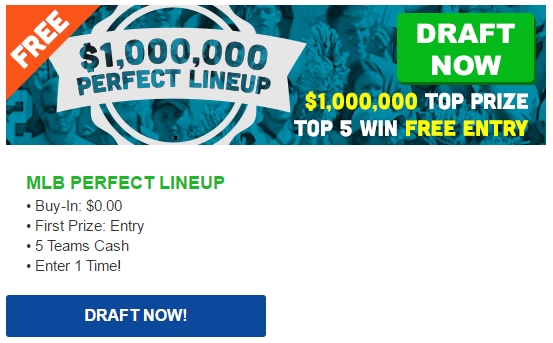 ---
$1 Million Dollar Daily Fantasy Sports Opportunity #3: DraftKings MLB Championships

A time tested tradition now, the DraftKings daily fantasy sports championships are fast becoming legendary in the DFS industry and have created many, many millionaires over the years so far.  With no signs of slowing down we get yet another amazing DraftKings Major League Baseball championship series that is offering of course that $1 million dollar first place prize.  Even though this contest can only be attended by winning a qualifying entry there are 160 tickets available so the chances are very real for anyone to grab their seat in this amazing once in lifetime opportunity taking place in Toronto, Ontario Canada on August 27th.  Always absolutely first class events the DraftKings championships contest are a must dream for every and all daily fantasy sports players.  This DraftKings MLB championships will not disappoint and this is just yet another example of the many different ways it is possible to become a millionaire playing daily fantasy sports. Click HERE to join!
Want to try your luck at becoming the next daily fantasy sports millionaire?  All it takes is signing up for an account at FanPicks, DraftDay or DraftKings and making sure you get into the games that give you the opportunity to make that happen.  What are you waiting for?  These FanPicks, DraftDay or DraftKings $1,000,000 opportunities are there for the taking!