Strategies
Fanduel Fantasy NHL Lineup for Tuesday February 17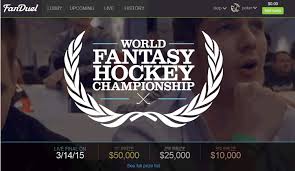 The NHL action continues to roll forward as the action heats up on the ice for Fanduel
owners. Tonight we have a seven game lineup that features some big name stars as well as a few teams that have struggled to slow down opposing teams from scoring.
Of the 14 teams in action tonight, seven of those teams rank in the top 10 for most goals allowed per contest. That includes the Buffalo Sabres who are allowing a league high 3.43 goal per contest heading in tonight's contest with the New Jersey Devils.
This opened up the door for us to use three different players for New Jersey including the veteran Jaromir Jagr. Along with the Devils/Sabres matchup we also like the Columbus Blue Jackets verse Philadelphia Flyers contest. The Blue Jackets are allowing the fifth most goals per contest at 3.13 while the Flyers are allowing the eight most at 2.79 per contest.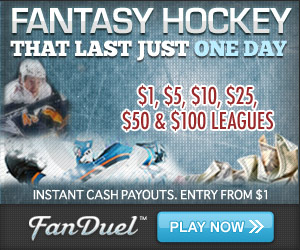 Here is our lineup tonight for Fanduel
.
LW – Alexander Steen ($7,400): The St. Louis Blues Left Winger has a great matchup tonight against the Dallas Stars. The downside has been Steen's ability to stay consistent night in and night out but his double-digit fantasy potential out weighs that.
LW – Michael Cammalleri ($5,400): Cammalleri is one of four Devils we have in the lineup tonight. That being said Cammalleri has been solid for fantasy owners posting four goals in his last 10 contests. This has translated to only three contests socring under one fantasy point in his last 10 games.
RW – Vladimir Tarasenko ($7,400): Tarasenko has been hot for the Blues of late as well as his fantasy owners. In his last two contests the Blues Right Winger posted back-to-back games with at least five points. Add he has six contests in his last 10 with more then five this makes him a must start for fantasy owners tonight on FanDuel.
RW – Jaromir Jagr ($4,700): The Devils Right Winger has great value at $4,700 tonight going against a Sabres team that struggles to limit opposing goals. Jagr has 11 goals and 18 assists in 52 games this season.
C – Claude Giroux ($7,900): Giroux enters tonight's contest for the Flyers tied for eighth in the NHL with 55 points scored. Much of his success has come from setting up his teammates including six assists in his last 10 games.
C – Ryan Johansen ($6,200): The Blue Jackets center has put together a few big fantasy performances over his last ten contests. He was held in check the last time these two teams met but we like the fantasy potential for Johnson tonight.
D – Alex Pietrangelo ($4,600): At the defense position we like to stay conservative giving us two bargain type players tonight. The first is Pietrangelo as the Blues take on a Stars team that is one of only six teams that are allowing more than three goals per game
D – Mark Fraser ($3,000): Fraser is more of a gamble type of bargain that could have a high reward for fantasy owners taking place in GPP tournaments. That being said his matchup against the Sabres is much like many of his teammates. You could consider spending more at this position and spending a little cheaper with your second center.
G – Cory Schneider ($8,400): Schneider has at least four fantasy points in eight of his last 10 contests including five performances of five points or better. With the Sabres struggling to limit goals this could be a easy win for Schneider. Schneider has been confirmed as the man between the pipes tonight.