Strategies
FanDuel NBA Lineup for Monday April 27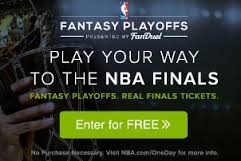 Join the FanDuel PlayOff Challenge Today!
The 2014-15 NBA season is nearing an end but time still remains for fantasy owners to cash in daily on FanDuel
. This includes tonight as the NBA features three playoff contests taking center stage starting at 7pm ET as the Atlanta Hawks take on the Brooklyn Nets in game four. This is an interesting contest to follow as the Hawks look to take a three game to one lead as they return home.
Starting at 8pm ET, the Milwaukee Bucks look to fight off elimination tonight in Chicago as the Bulls have a three game to one lead. The final contest of the Night taking place around the NBA is the Memphis Grizzlies taking on the Portland Trailblazers. The Grizzlies have a commanding three game lead but could be in trouble after losing point guard Mike Conley.
When we look at these three contests, Vegas currently has all three of them under 200 combined points making it difficult to build any lineup around just one team. The one name that makes sense tonight barring a late scratch is point guard BenoUdrih. Udrih is expected to play tonight and will be a key contributor with Conley out of the lineup. The move will also provide your roster some salary cap relief as he sits with a $3,800 salary. Monitor his situation as the day moves along with Nick Calathes stock also rising.
Here is our complete NBA FanDuel
lineup for April 27th, 2015.
PG – BenoUdrih ($3,800): Udrih is in line to be the teams primary point guard moving along the rest of the post season with Conley expected out with no return date. That being said Udrih missed the teams contest on Saturday so monitor his status, if he is ruled out start Calathes in his place.
PG – Derrick Rose ($6,100): The return to Chicago with a chance to close out the Bucks makes Rose a great play tonight. In the team's first two games at home in the playoffs Rose posted back to back 35 plus fantasy performances.
SG – OJ Mayo ($4,800): While Jimmy Butler is having a terrific post season we went expensive at the power forward position. This opened up the door for a FanDuel bargain type of play and Mayo is a great option. Mayo is more of a consistent 17-20 point fantasy star but he did show his potential in game four sxoring 33 fantasy points.
SG – Joe Johnson ($6,400): The Nets shooting guard has  posted three straight 30 plus fantasy performances against the Bulls. Look for that trend to continue in game four as the Nets could be without Deron Williams.
SF – Khris Middleton ($6,600): Middleton the top option on at the small forward position making him an excellent candidate to take up one of the spots. One option could be to go cheap with Jared Dudley here if Udrih is out supplementing the extra salary at both of the positions to go with Butler in place of Mayo.
SF – Mike Dunleavy ($4,600): The Bulls small forward has been consistent this post season posting three straight games with double digits. While he isn't a big time fantasy scorer he has posted over 20 fantasy points in all four of the Bulls playoff games.
PF – Pau Gasol ($8,800): Gasol is a double-double machine every night he takes the floor. In his last ten games, Gasol has posted eight double doubles with only one game in that stretch under 30 fantasy points.
PF –  LaMarcus Aldridge ($9,400): This could be the last time we see Aldridge in a Trailblazers uniform so we expect a big time performance out of him. Aldridge has two fifty plus fantasy performance to go with a 39.9 fantasy performance this post season.
C – Brook Lopez ($8,500): You could go a few ways at the center position but Lopez makes sense for everyone involved. Lopez has posted three straight 34 plus fantasy performances in the post season but showed before the playoffs he has the ability to post consistently in the 40 plus range.