Strategies
Fanduel NHL Lineup for Friday March 20th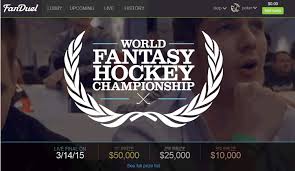 Steven Stamkos, Ryan Getzlaf set to carry FanDuel
owners on the first day of spring. The NHL action is limited tonight with only a three game lineup to build your rosters around. This opened up the door for two of the top scorers in the NHL on tonights lineup.
The Tampa Bay Lightning center is putting together another fine season with the club in 2014-15. Stamkos enters tonight's game ranked ninth in overall points along with second overall in goals scored. Over his last ten contests, Stamkos has put together five contests over five fantasy points including a 13.4 point performance in the teams last outing.
While Stamkos has been hot, Getzlaf sits tied in scoring with 65 total points. That being said Getzlaf has done most of his damage finding his teammates as he enters with 42 assists on the season. The Aneheim Ducks center hasn't been as solid as Stamkos in fantasy numbers of late he has put up four games over five fantasy points.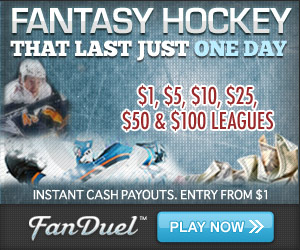 Here is our complete NHL FanDuel
roster for Friday March 20th, 2015.
LW – Michael Cammalleri ($5,700): We could have built our entire lineup around the New Jersey Devils tonight. The Devils are going up against a Sabres team that ranks in the top of fantasy points allowed to the left wing position.
LW – Patrick Maroon ($5,100): The Aneheim Ducks left winger has posted at least two fantasy points in three straight contests including 4.8 in his last outing. We elected to stack both Maroon and Getzlaf tonight against an Avalanche team allowing the tenth most goals in the NHL.
RW – Michael Ryder ($3,900): Looking for a bargain we elected to go with the Devils right winger. We do recommend monitoring his situation as he has been a healthy scratch for most of the season despite appearing in back to back games for the team.
RW – Jarome Iginla ($6,400): Iginla is a perfect option tonight as he has been as consistent as any of the guys on the ice tonight. He has posted at least a goal or assist in seven of his last ten games. This includes his current three game scoring streak posting two goals and an assist
C – Ryan Getzlaf ($9,100): On a night with limited action we elected to go with Getzlaf as the center of roster along with Stamkos. Over his last four games, Getzlaf has posted at least three fantasy points in three of those.
C – Steven Stamkos ($8,400): The options of stars to use tonight so we elected to use Stamkos who is second in the NHL in goals scored. Stamkos is coming off an impressive 13.4 fantasy point performance in his last outing for his fantasy owners.
D – Eric Gelinas ($4,400): Gelinas has a perfect matchup tonight against a Sabres team allowing the second most fantasy points on the season to opposing defenseman. The Devils defenseman is also coming off a three point fantasy performance in his last contest against the Pittsburgh Penguins.
G – Keith Kinkaid ($6,000: The decision was made easy to start Kinkaid tonight against the Buffalo Sabres. The Sabres enter tonight's contest averaging fewer than two goals a game on the season. Kinkaid has shown over his last five contests that he can contribute posting at least six fantasy points in three of those.